Summary
Want to shrink volume and resize partition on server system? You can learn at this page to shrink volume on sbs 2011.
Table of Contents
Introduction
There have been various issues with how to shrink volume on Windows Small Business Server (SBS). One of these many issues has to do with the fact that SBS cannot be partitioned using the popular Windows partition manage utility called the Disk Management Tool. Another fact is that no matter how much you resize your C drive when using Windows SBS, you will always run out of space. Another problem you may face again is that there is no way you can carry out a partition process without having to install a whole new of another OS on the hard drive. That is sad really. This article will be teaching you how to easily do that with IM-Magic Partition Resizer.
The Needs for More Space on SBS 2011
The reasons for more space on SBS 2011 are the same with every other server and Windows. When it comes to interacting greatly with your computer, having as more space is very important in data computation. There are so many reasons why you need space on your SBS 2011. One prime reason why you do so is that a full hard drive will definitely make your computer drag in executing the easiest of tasks. You do not know how frustrating that could be until you experience it. It is any user's nightmare. Another reason why computer space is necessary is that you need an amount of space on your for some apps on your computer to run well. A perfect example of an app that could malfunction is the Microsoft Office app. Also, your OS full operability is dependent on enough free space.
Rule out Using Disk Management Utility
As cursorily earlier mentioned, the Disk Management Utility does not work for partitioning or shrinking on your SBS 2011. So you should not go there expecting you would be able to shrink volume on your SBS with the utility, you will be very disappointed. However, the plot twist is that there is a way to use the same Disk Management Utility to resize volume. To do so, make sure your hard drive is in NFTS. Also, just performing any core alteration on a computer, be sure you have administrative access. To begin, make sure you have erased all virtual memory from the hard disk.
How to Use the IM-Magic Partition Software to Shrink Volume on SBS 2011
While the above ways to use Disk Management are arduous, there is a better way to shrink your volume on SBS 2011. A very good thing about this is that it also comes with a data security guarantee. You do not have to worry about losing any part of your data when using the IM-Magic software. And using the partition manage software to shrink volume is quite easy. First, install the app, launch it. Then, pick the hard disk you will like to resize by clicking "Resize/Move".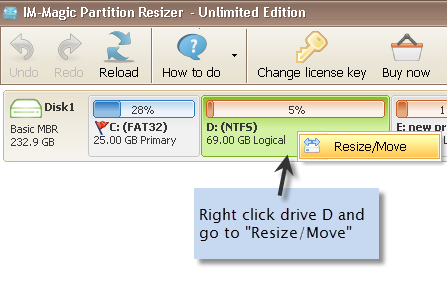 Then shrink the disk close to the one you want to extend.
Steps to shrink volume and resize your c partition
After created the unallocated space, then hold the cursor over the drive and begin the process of extending the partition.
Steps to shrink volume and resize your c partition
Then click save to apply the changes.