You want to upgrade Windows 8 operating system on PC but system partition gets full after the Windows 8 upgrading? You may upgrade Windows 8 to Windows 8.1 or Windows 10, but sometimes the free space on system partition will be eaten up after system upgrading. What can you do to fix low disk space problem on system partition when it is nearly full due to Windows 8 upgrading?
Why System Partition Gets Full after Windows 8 Upgrade?
It is a common situation that system partition might be full after Windows 8 upgrading. Here are some possible reasons:
1. After installing Windows operating system on your PC, you may need to download and install some programs on your computer. Usually, Windows system installs all programs on system partition by default. Therefore, the available space on system partition will be occupied after installing too many programs on it.
2. Sometimes, when you install some application which is used to record or edit videos, it will automatically produce a folder in C drive to save the video files.
3. Some anti-virus software will occupy several MB or GB space on C drive to save some suspicious files.
4. Internet temporary files, log files, recycle bin files, etc will also occupy free space on system partition.
What can you do when system partition is nearly full and reports low disk space warning after upgrading Windows 8?
Common Solutions for C Drive Full Problem after Upgrading Windows 8
It probably affects the performance of PC when there is not enough free space on system partition C drive. When you realize that C drive gets full after upgrading Windows 8, you may try following common solutions:
>> Move all files stored on desktop of your PC to another partition
>> Empty recycle bin to free up disk space
>> Uninstall unnecessary files from C drive or install all applications on another partition
>> Free up disk space on C drive
Free to Extend System Partition When It Is Full due to Windows 8 Upgrade
If system partition still does not have enough free space after trying all common solutions above, you can resolve the C drive low disk space issue thoroughly by extending its size. You can use Windows built-in Disk Management to perform partition resizing in order to extend C drive after upgrading Windows 8 to Windows 8.1 or Windows 10. Both Windows 8 Disk Management and Windows 10 Disk Management allow users to redistribute disk space easily within a few steps.
Step1. You can run Disk Management on your PC and then shrink a partition that has enough free space so that you can produce an unallocated partition on your computer.
Step2. After getting unallocated space, you can add it to system partition so as to extend its size.
Pay attention:
You cannot add the unallocated space to system partition when there is other partition showing between the C drive and unallocated partition. However, when you shrink any partition under Disk Management, the unallocated partition cannot be contiguous to the C drive. In order to produce contiguous unallocated space to C drive by using Disk Management, the only method is to delete the D drive.
Partition Magic Download to Resolve C Drive Full after Windows 8 Upgrading
If you are unable to extend C drive with Disk Management because the extend volume option is grayed out, another choice is to use partition magic software. IM-Magic Partition Resizer Free has the ability to extend C drive when the partition is nearly full after Windows 8 upgrading. This free partition software is able to work on all Windows platform including Windows XP, Vista, 7, 8, 10.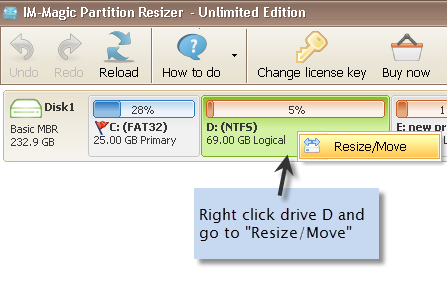 Download IM-Magic Partition Resizer Free Edition