Unable to Extend C Drive on Windows Server 2016
If you have been using the Windows Server 2016 for a while now, you may have noticed the unreasonable space that it allocates to the system partition. Windows Server 2016 and its newer version up to 2019, no doubt, features amazing updates and unique options but these system utilities start to consume significant GBS after few updates. Additionally, the ability to resize or extend the c-drive is not available in the Windows Server 2016 at the time of installation. Low disk space can cause your computer to slow down, cause errors while performing operations, and may accumulate it with viruses. Therefore, it is necessary to find ways to extend c-drive on windows server 2016.
How to Increase Disk Space
Before getting to the actual solution, you can also use the following built-in utilities to free up space in the c-drive.
Disk cleanup
Deleting unnecessary system and application programs
Deleting temporary files
If the following solutions do not work for you and the disk space problem remains, follow the complete article below.
Unable to extend c drive server 2016
Many people cannot extend c-drive on Windows Server 2016 using the built-in Disk Management Software. Disk management software allows you to shrink the space from a data partition and mark it as unallocated space. The unallocated space is grayed out after this.
Extend C drive: Grayed Out Unallocated space.
If the unallocated space that is being grayed out is not available exactly next to the c-drive, you cannot extend the c-drive using the disk management software. This is where most people fail to add the unallocated space the system partition. And to be honest, it is certainly a complicated task to perform these operations using Disk Management. Moreover, there is a risk of losing data, crashing OS, and damaging the partition.
To combat this problem, the best solution is to use a third-party partition management software.
Extend Partition with IM-Magic Partition Resizer Server Edition
As the name suggests, IM-Magic Server Edition allows its users to undertake disk management operations on all versions of Windows Server. It can help you resize, shrink, extend, create, delete, and format your partition easily. To extend c-drive on Windows Server 2016, follow the steps below

[Guide] Steps to extend volume without data loss

This step by step guide will show you the right way to extend any volume using  IM-Magic Partition Resizer Unlimited edition.
Step-1  Download install, and launch the program.
Step-2 Right click the large volume to produce unallocated free space.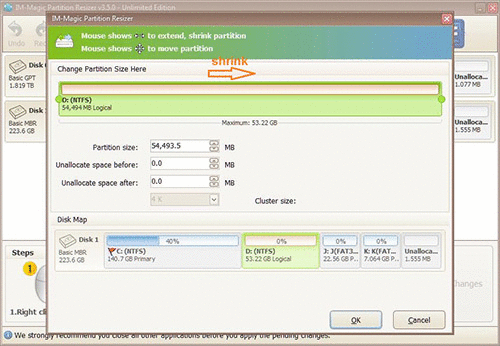 Steps to resize your disk partition
Step-3  Then right click c and drag the border to acquire the free space.

Steps to resize your disk partition
Step-4 Apply the changes.
You are done
The best thing about using the IM-Magic Server edition is that this advanced disk management software provides 100% data security and is user-friendly for the best UX.