Summary
Unable to extend volume on Windows sbs 2011? If the extend volume option grayed out when you want to extend your partition at Disk Management, you will need this wonderful tool.
Table of Contents
Unable to Extend Partitions at Disk Management
Whenever we come across the fact that a particular volume or disk drive is probably getting full. We automatically start to find ways to extend the volume. And the most frequent of them all is using "Disk Management" Now, disk management is a disk prompt given by Windows to be used by the users. It basically controls various disk operations regarding formatting, deleting, extending or merging the volumes or drives.
But when we finally open Disk Management all ready to extend the volume, we choose our disk and right click over it. There it is staring in our face, extend volume greyed out it means we cannot extend partition using disk management anymore.
Why Disk Management fails to extend volume
The most specific reasons as to why disk management fails to extend the partition of our particular drive are the unavailability of the unallocated space. Unallocated space refers to the free space retrieved by the Windows from other parts of the drives, which has to be added in a particular drive to extend the space.
The issue is likely to arise in SBS 2011 server edition of the Windows, but other operating systems may have the same type of error.
But in this case, as no unallocated space is present, we are unable to extend volume. Another essential factor in this whole equation is the no authority as an administrative. Admin or administrative is the primary user of the Windows and has got permissions for various critical services and programs of the windows to operate with.
If you haven't made your way of extending the volume on your drive with Disk Management, these two factors are the main reasons behind it. But if you had some stroke of luck and pulled your way through extend option using Disk Management, you still can't perform the action without fully formatting or deleting the volume first. Which means all of your valuable data will be lost.
How to Extend Partitions
If you are having the same problems as described above, don't worry we might have just the right tool for you. IM-Magic Partition Resizer Server Edition, it is basically a disk management tool which can format, delta, extend, merge or create partitions without ever harming your data or important files.
IM-Magic Partition Resizer is almost free to use in accordance with our terms of use and privacy policy. Server edition can easily be downloaded and used for various disk operations, but in case of expiration of trial version, you would have to buy the software.

Extend volume with IM-Magic Partition Resizer Server Edition
It is a stepwise guide which will tell you how to extend the volume on the drive using IM-Magic Partition Resizer Server Edition;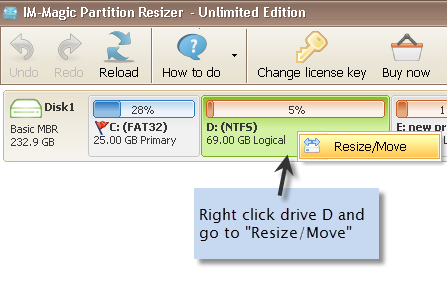 Resize partition with IM-Magic Partition Resizer
[Guide] Steps to extend volume without data loss
This step by step guide will show you the right way to extend any volume using  IM-Magic Partition Resizer Unlimited edition.
Step-1  Download install, and launch the program.
Step-2 Right click the large volume to produce unallocated free space.

Steps to resize your disk partition
Step-3  Then right click c and drag the border to acquire the free space.

Steps to resize your disk partition
Step-4 Apply the changes.
The volume of your particular drive has been extended successfully.
If you want to use this fantastic Server edition or need further information, feel free to visit our website;