Summary
Unable to extend volume disk management server 2008? don't worry, this page will tell you how to enable extend volume in Disk Management, and provide you with the est solution to extend partitions.
Table of Contents
Unable to Extend Volume with Disk Management
Trying to resize the volume in the Windows 2008 server could prove problematic especially when the extend volume option in the C drive is grey. There are a lot of reasons that culminate in the C drive being full and having not enough space. It could be due to some pop-up files, windows updates, junk files, system cache, etc. All of these would take up a lot of the volume available in the disk. It has not been easy dealing with the spaces some of these redundant files take over in the past and finding a way to resize partition Server 2008 so that the PC can perform at its optimum level.
Not to worry though, if you have had this problem in the past, there is an effective solution available to fix it now and allow you to enjoy more space in your PC. A lot of the partition system extension methods have come in the past and have done the job in some ways but has not been truly satisfactory.
How to Extend the Partition with IM-Magic Partition Resizer
The IM-Magic Partition Resizer that is particularly built for the windows server provides the perfect opportunity for you to be able to expand your C drive and get more space in your personal computer. This app comes with a 1-second extending speed, and it's 100 percent safe. With this app, you can perform a lot of functions that would save you a lot of spaces on your C drive. Some of the functions it performs include, shrinking, extending, resizing, and moving window server partitions. All of these functions are performed efficiently and effectively without losing data. It is also compatible and safe on all windows servers and trusted by a lot of the top technological and logistics firms. Other functions performed by this amazing app include the creation of partition, wiping of partition, copying of partition, cleaning up of a disk, defragment, etc.

Steps in Extending the C Drive with Partition Tool
In extending the volume of your C drive by using our app, follow these simple steps.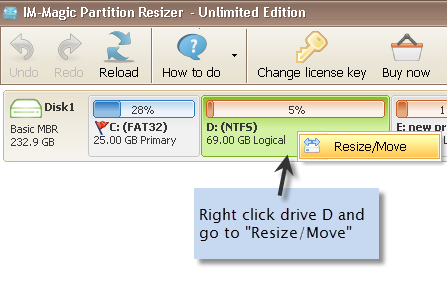 Extend Partitions with IM-Magic Partition Resizer
[Guide] Steps to extend volume without data loss
This step by step guide will show you the right way to extend any volume using  IM-Magic Partition Resizer Unlimited edition.
Step-1  Download install, and launch the program.
Step-2 Right click the large volume to produce unallocated free space.

Steps to resize your disk partition
Step-3  Then right click c and drag the border to acquire the free space.

Steps to resize your disk partition
Step-4 Apply the changes.

With the IM-Magic Partition Resizer, extending your C drive is simple and straightforward by just following these simple steps. Unlike some apps which promise to do the same thing only to end up jeopardizing your PC, we are different as the whole process involved in carrying out this C drive extension is safe.