Windows 10 Redistribute Disk Space
Why do you need to redistribute disk space on Windows 10? In most case, you may want to reallocate disk space because there is not enough free space on system partition on Windows 10. This kind of problem usually occurs since you have stored too much data on the system partition or C drive has insufficient free space after upgrading system to Windows 10 from Windows 8.1 / 7. If you want to redistribute disk space in Windows 10 for free, this page will share all possible free methods to reallocate Windows 10 hard disk space without repartitioning disk or losing any data.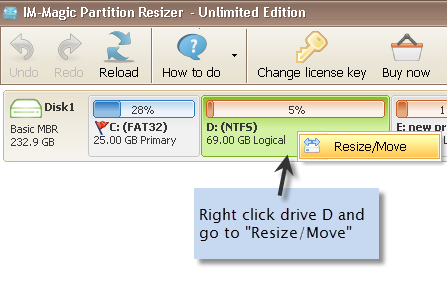 Windows 10 Redistribute Disk Space with Built-in Tool
You can rely on Windows built-in tool to redistribute disk space when system partition runs out of disk space:
1. You can open Windows 10 Disk Management to redistribute disk space. With this method, you do not need to delete or move any data. It allows you to add free space from another partition on the same hard disk to the system partition which runs on low disk space.
2. You can also run Diskpart command on Windows 10 to resize disk space without deleting any data. Diskpart command is another built-in tool in Windows 10, with which you can resize hard drive.
Problem you may meet with Windows 10 built-in tool
1. The Windows Disk Management is grayed out when you attempt to extend the volume size. You run into this situation usually because that the unallocated space is not contiguous to the system partition you want to extend.
2. Diskpart command prompt the selected drive cannot be extended. This problem usually occurs since Diskpart does not support to extend system partition or FAT32 partition.
Windows 10 Reallocate Disk Space without any Tool
If you fail to reallocate disk space with Windows 10 built-in Disk Management or Diskpart command, you can also resize hard drive without relying on any tool. What you can do is to repartition the hard disk.
1. You should backup all important data via another hard drive or external hard drive. Or you can also backup data through cloud storage media.
2. You can delete the partition on Windows 10 after opening Disk Management and then reallocate disk space.
3. Assign a new drive letter to each partition and format the partition to make it usable.
Pay attention:
1. It is very important to backup data before repartitioning hard disk because it usually deletes all data after deleting the partition.
2. You had better not repartition hard disk if you do not know clearly how to repartition a hard drive because it is not so simple as you think.
Free Partition Software for Windows 10 Disk Resizing
Without any limitation, you can easily resize hard drive on Windows 10 with help of partition software. IM-Magic Partition Resizer Free is a completely free partition manager that is able to work on all Windows operating system, so you can install it on Windows 10 computer when you need to resize hard drive to fix low disk space problem or other issues. With this free partition software, you are able to:
Redistribute disk space when Windows 10 reports low disk space alert on C drive
Reallocate disk space for Windows 10 partition which runs out of disk space
Shrink partition to create unallocated space so that you can add it to the partition that has insufficient free space on Windows 10
Expanding NTFS partition and FAT32 partition without reinstalling system or touching any data
Redistributing Windows 10 space without rebooting PC or hurting the hard drive
Download IM-Magic Partition Resizer Free Edition


More Related Articles You May Like
Copyright © 2017 IM-Magic Inc. All rights reserved. Windows® is trademark of Microsoft Inc., and Partition Magic® is trademark of Symantec Inc registered in the U.S. and other countries . IM-Magic's software is not developed by or affiliated with Microsoft nor Symantec Inc.