All Windows 7 and Windows 8 users are allowed to upgrade their PC to Windows 10 operating system for free, but many users run into a problem when they try to upgrade to Windows 10. Everything goes well at the beginning, but Windows 10 upgrade fails finally showing error message like "Windows needs more space…"
If you receive the alert message saying there is not enough free space for Windows 10 upgrade, it usually means that the C drive is running on low disk space because Windows operating system is installed on C partition. What can you do when Windows 10 upgraded failed because there is insufficient free space on C drive?
Solutions for Windows 10 Upgrade Failure When C Drive Runs on Low Disk Space
When Windows pops up message saying that Windows needs more space in order to complete the Windows 10 upgrade, it also gives you some options to resolve the problem:
Option 1: Use Disk Cleanup to free up space
Option 2: Choose another drive or attach an external hard drive with xx GB available
If you choose option 1, you can clean up some cookies and caches, Internet temporary files, recycle bin files, etc so as to free up some free space on C drive. Usually, it is easy to perform disk cleanup, but it cannot resolve the problem thoroughly. Probably, you still need several GB free space to upgrade to Windows 10, but disk cleanup may only free up several MB free space.
How to free up disk space on C partition?
To free up disk space on C drive, you can follow this guide:
Right click C drive and click "Properties" > click "Disk Cleanup" button > select the files you want to delete and click "OK" button
If you choose option 2, you can fix the problem thoroughly be adding another drive or attach an external hard drive. Usually, you can choose an SSD drive and install it on your computer for Windows 10 upgrade because an SSD drive usually works much faster than basic hard drive.
Other methods to free up disk space on C drive for resolving Windows 10 upgrade failure problem:
In addition to using Disk Cleanup and add another drive, there are some other methods to fix C drive low disk space problem so that you can successfully upgrade to Windows 10:
1. Delete all unnecessary files stored on C drive
2. Uninstall all programs on C drive and then install them to another drive like D, E, F, etc
3. Defragment files on C drive
4. Resize C drive to change its volume size
Among those solutions, the best way is to resize C drive to resolve the problem. Therefore, this article will share solution for C drive resizing later.
How to Increase C Drive Space for Windows 10 Upgrade?
Since Windows 10 upgrade failed due to not enough free space on C drive, you can increase the size of C drive to fix the system upgrade problem.
1. You can run Windows 10 Disk Management to mange disk space for free. After accessing Disk Management of Windows 10, you can reallocate disk space for each partition by shrinking partition and extend partition. Therefore, you can shrink other partition on the same hard disk to create some unallocated space and then add the unallocated space to C drive to increase its size.
2. You can also rely on free partition magic to resize C drive. IM-Magic Partition Resizer Free is compatible with all Windows platform, so you can use it to extend C drive system partition space so that there will be enough free space on system partition to upgrade to Windows 10.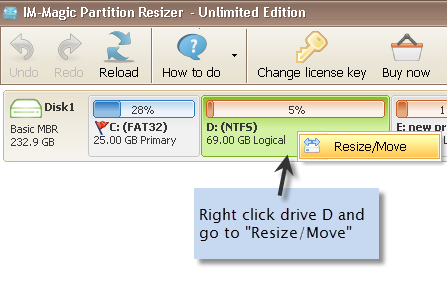 Download IM-Magic Partition Resizer Free Edition