You receive not enough disk space error while Windows 7 installation on your computer? This error message usually shows on C drive when you attempt to install Windows 7 or upgrade the Windows operating system to Windows 7 on your computer. If PC reports low disk space warning on system partition and does not allow you to install the Win7 operating system, you may need to do something to fix the problem so that you can perform system install successfully.
Freeware Partition Magic for System Partition Expanding to Install Win7
If you failed to expand C drive with help of the Windows 7 built-in tool, you may need to rely on partition magic for Windows 7. A common reason why many Windows 7 users cannot extend C drive under Disk Management is that Disk Management tool cannot move partition, so you cannot move the unallocated space close to C drive. Freeware Partition Magic like IM-Magic Partition Resizer Free resolves this problem perfectly because it has the function of moving partition.
This free partition magic software enables you to squeeze free space from any partition on the same hard drive and then you can add the free space to system partition without touching any old data stored on each partition.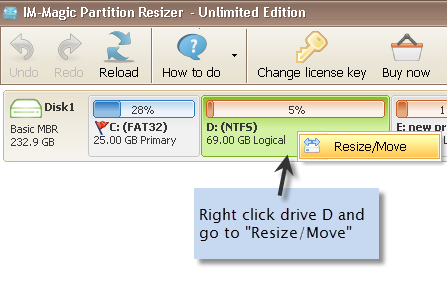 Download IM-Magic Partition Resizer Free Edition


Why Windows 7 Install Fails with Not Enough Space on C Drive?
When you install or reinstall Windows 7 on your computer, it is usually installed to C drive. Windows needs some free space in order to install the Windows 7 operating system. The system installation will fail when there is no free space or the available space on C drive is not enough. Usually, PC will indicate you how much free space it needs for C drive in order to install the Windows 7 operating system, so you need to expand the size of C drive to make its available space enough for system installation.
Fix Insufficient Space on System Partition by Free up C Drive
You can free up disk space on C drive to resolve the insufficient disk space problem in order to install Windows 7 operating system on PC. Usually, you can do following things to free up disk space on C drive when it reports low disk space alert message:
1. You can uninstall old or unnecessary programs from C drive. You had better install all programs on another partition like D drive instead of C drive.
2. Delete some old or unnecessary files on C drive
3. Move some data which is not related to system to another partition
4. Run Disk Cleanup to free up disk space on C drive
Extend System Partition That Has Low Disk Space for Win7 Installation
The best way to fix system partition low disk space problem is to increase its size. Without any partition software, you can extend system partition on Windows 7 with following two methods:
Method1: You can delete one or more partitions on your computer so that you can add the deleted partition space to system partition. When you delete a partition, its space will show as unallocated under Disk Management. In this situation, you can add the unallocated space to C drive to increase its size because Windows 7 Disk Management has the ability to extend volume with contiguous unallocated space.
Method2: Windows 7 Disk Management also has the ability to shrink volume, so you can shrink partition instead of deleting partition under Disk Management to get unallocated space.
In order to successfully add unallocated space to system partition on your computer, you have to make sure that the unallocated space is adjacent to the C drive.
Last updated on 01/05/2022