How do you know that Windows 8 running on low disk space on C drive system partition? On the one hand, the C drive will show red bar when it is nearly full. And on the other hand, Windows 8 will pop up low disk space warning message when system partition C drive runs out of disk space. Whether you find that the C drive shows red bar or Windows 8 keeps saying C drive is running on low disk space, it is necessary to fix the problem if you do not want to encounter further problem resulting from low disk space issue.
Solutions for Windows 8 Fix Low Disk Space on C Drive
You usually have two choices to fix system partition low disk space problem:
1. Free up disk space on C drive on Windows 8
One possible solution to fix Windows 8 C drive low disk space issue is to free up disk space on the C partition. In order to free up disk space on Windows 8 C drive, you can perform following operations:
>> Run Windows 8 Disk Cleanup tool to delete some temporary files, cookies, recycle bin files, log file, etc
>> Show all hidden files on C drive and then delete all unnecessary files
>> Uninstall old and unnecessary programs or applications
Usually, it cannot get much free space by deleting some unnecessary files or free up disk space on C drive. Most of data stored on C drive cannot be deleted because it is related to operating system.
2. Windows 8 Disk Management to extend C drive
In most case, it is highly recommended to extend C drive when it runs out of disk space on Windows 8. Windows 8 Disk Management has ability to manage disk space for free without deleting any data. You can open Disk Management on Window 8 and right click a partition that has enough free space and then click "Shrink Volume" to get some unallocated space. Then, you can add the unallocated space to C drive so as to get it to extend. You have to make sure that there is no other volume between unallocated space and C drive in order to increase the size of C drive with the unallocated space. In many situations, Windows 8 Disk Management grayed out and fails to extend volume because the unallocated space is not contiguous to the system partition.
How to Disable Low Disk Space Alert on Windows 8?
Sometimes, you may feel it boring to frequently receive low disk space warning message on your computer, in which situation you can disable the low disk space warning. Here are steps to disable low disk space alert on Windows 8:
1. Click "Start" > click "Run" > type "regedit.exe" to open Registry editor
2. Open one by one: HKEY_CURRENT_USER\ Software\ Microsoft\ Windows\ CurrentVersion\ Policies\ Explorer
3. Right click in blank area to create a new DWORD value. Then, name it "NoLowDiscSpaceChecks" and type "1" as value data and then click "OK"
Now, you can close the Registry Editor and your computer will no longer report low disk space warning message even if system partition runs on low disk space.
Free to Resolve Problem When Windows 8 System Partition Runs out of Space
If you fail to resolve the problem when Windows 8 says system partition is running out of disk space by deleting files, free up disk space or relying on Windows 8 Disk Management, you have another choice to fix the low disk space problem by using Windows 8 partition software. IM-Magic Partition Resizer is such a partition manager tool, which allows you to resize disk partition on Windows 8 so as to reallocate disk space when system partition has not enough free space.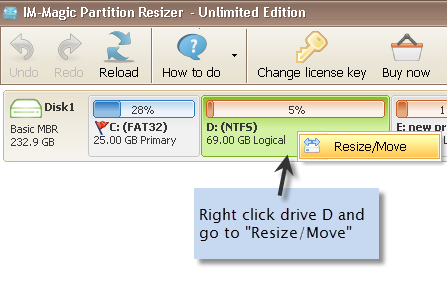 Download IM-Magic Partition Resizer Free Edition