Windows Cannot Reformat NTFS Drive to FAT32
On Windows OS, you are allowed to reformat a drive to NTFS or FAT32 file system. However, some people find that there is no option for FAT32 file system sometimes when they format a NTFS drive to change its file system from NTFS to FAT32.
You probably know different methods to reformat a hard disk drive on different Windows systems, but why there is no FAT32 option for formatting a drive?
Reason:
The most possible reason is that the NTFS drive that you want to reformat has a capacity larger than 32GB (show as the picture below):

Windows operating system is able to recognize an FAT32 drive in any Capacity, but it does not allow you to reformat a drive which is larger than 32GB to FAT32 file system.
Other Methods for NTFS to FAT32 Converting When Reformat Failed
In addition to reformat, there are some other methods to change a NTFS partition to FAT32 on Windows operating system, such as repartitioning hard drive. When you want to take any measure to convert partition file system, you had better backup data in advance!
==> To get more methods to change a disk drive from NTFS to FAT32 without formatting partition or losing any data, please read this article: Convert NTFS to FAT32 without data loss
Cannot Reformat NTFS to FAT32 on Windows 10
Windows 10 is the latest Windows operating system for personal computers. In order to meet the high performance of Windows 10, it is usually recommended to format hard disk drive to NTFS file system. Sometimes, you may find that there is no FAT32 option when you attempt to format a NTFS drive on Windows 10 even if its capacity is less than 32GB. This problem might be caused due to following reasons:
1. There is no proper driver device that is compatible with the FAT32 file system.
2. System suggests you to use a NTFS drive for a better performance
==> If you insist on convert NTFS to FAT32 on Windows 10, you can read this article: Free to convert NTFS to FAT32 in Windows 10
Related Page:
>> Convert NTFS to FAT32 Windows XP
Windows XP was released in 2001 and Microsoft stopped providing support for Windows XP in 2014, so you have to pay more attention to the security of data when executing any task on Windows XP.
>> Convert NTFS to FAT32 Windows 7
Windows 7 came to public in 2009, which supports both NTFS and FAT32 file system on internal hard disk or external hard disk.
>> Change NTFS drive to FAT32 file system Windows 8
Microsoft released Windows 8 in 2012. Its interface is quite different from Windows XP, but it also supports NTFS and FAT32 file system.
Free to Change NTFS to FAT32 When Reformat Cannot Complete
When you change file system of a partition from NTFS to FAT32 whether by reformat or reparation hard disk, it probably causes data loss if you forget to make a backup in advance. In fact, you are able to convert NTFS to FAT32 without touching any original data on the disk. What you need is to use a partition tool IM-Magic Partition Resizer. It is able to change NTFS to FAT32 without having to reformat partition or erasing any data by following the steps below:
Step1. Right click the NTFS partition and choose "Convert to FAT32" option.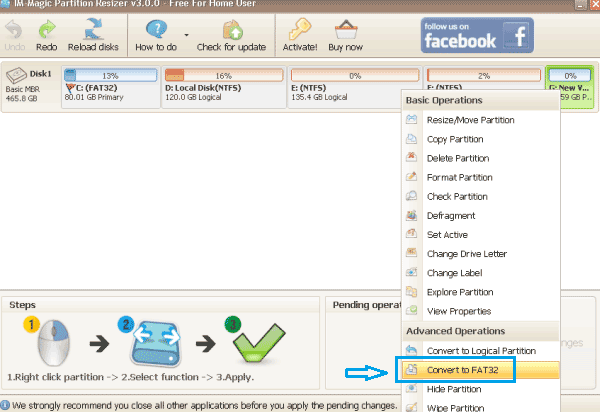 Step2. Click "OK" to confirm the converting and then click "Apply Changes" button.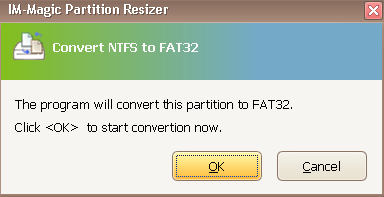 Download Proper Version of IM-Magic Partition Resizer
For Windows 10/8/7/Vista/XP/2000 ==> Download IM-Magic Partition Resizer Free
For Windows Server All versions ==> Download IM-Magic Partition Resizer Server
More Related Articles You May Like
Copyright © 2017 IM-Magic Inc. All rights reserved. Windows® is trademark of Microsoft Inc., and Partition Magic® is trademark of Symantec Inc registered in the U.S. and other countries . IM-Magic's software is not developed by or affiliated with Microsoft nor Symantec Inc.