Table of Contents
Introduction
One of the most debilitating factors of using Windows is that sometimes you are not able to control the various disk operations like extending or formatting a particular drive, just because Disk Management won't let you do that and that specific option is greyed out from the options list.
Many factors contribute to developing such a situation and should be dealt with accordingly. Like you get an error that Windows server 2012 r2 cannot extend volume regardless of the volume or disk you choose or the specific Server which you are using as your operating system.
But lucky for you we have a fantastic partition tool for you "IM-Magic Partition Resizer Freeware Edition" it can handle all the disk operations related to extend, merge, shrink or format the disk drive. It is a freeware which you can download free of cost from our website and use it to resize server 2012 partitions including to extend partition as well.
Disk Management fails to extend volume
Windows has supplied the user with this tool called "Disk Management" and is supposed to cover various disk operations of your choice, but in general, it has its own limitations;
You cannot extend or shrink the C drive, due to administration privileges
Various options like extending and formatting are greyed out
Allocated space could not be provided to the drives of our choice
Without formatting a drive, there is no chance for you to extend or shrink it in size
Substantial data loss and system failure is likely to occur
It does not provide a user-friendly or straightforward interface to work with
These were various limitations of the Disk Management and why it fails to extend or merge drives altogether. That is why we have IM-Magic Partition Resizer Freeware edition, a free and easy to use tool for day to day disk operations. It helps you maintain large server infrastructures without losing any data. It is compatible with Windows Server 2012 r2 and also with almost all types of Server edition of Windows.
How to extend volume when Windows server cannot extend volume
This step by step guide will show you the right way to extend any volume using IM-Magic Partition Resizer free edition;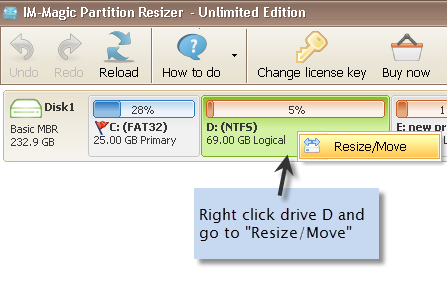 Resize partition with IM-Magic Partition Resizer
[Guide] Steps to extend volume without data loss
This step by step guide will show you the right way to extend any volume using  IM-Magic Partition Resizer Unlimited edition.
Step-1  Download install, and launch the program.
Step-2 Right click the large volume to produce unallocated free space.

Steps to resize your disk partition
Step-3  Then right click c and drag the border to acquire the free space.

Steps to resize your disk partition
Step-4 Apply the changes.
You have successfully extended the volume of the particular drive. Using IM-Magic Partition Resizer is as easy as it gets, you don't need to worry about the important files or data, all your settings and files will be right there where you left them.
To download this free software or for further information, please visit our website;