Summary
Solution for Windows Server R2 editions running ouf space is to resize disk partition with IM-Magic Partition Resizer Server without losing data.

Download IM-Magic Partition Resizer Server for Windows Server R2 Edition when its running out of disk space to resize partition without harming the current system and data, even the RAID array!
C Drive Is Running Out of Space? Extend It Now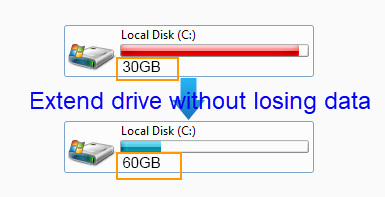 C drive plays an important role on Server 2003/2008/2012/2016/2019 R2 since it is the system partition. When it is running out of space, you need to look for another partition that has much free disk space and use IM-Magic Partition Resizer Server to get C drive extended. You can free download the software and use it to resize partition server 2008 r2 without deleting files from it.
Also read: how to resize Windows server partition without data loss
How Can You Extend C Drive on Server 2003 R2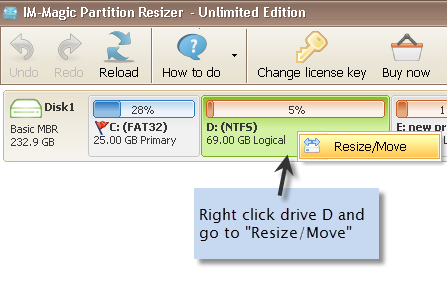 How to redistribute disk space in Windows Server 2000/2003/2008/2012
Step 1:
Right click a partition that still has lots of free disk space and select "Resize/Move" option.
Step 2:
Drag the arrow to shrink the selected partition, and then you can see an unallocated volume.

Steps to resize your disk partition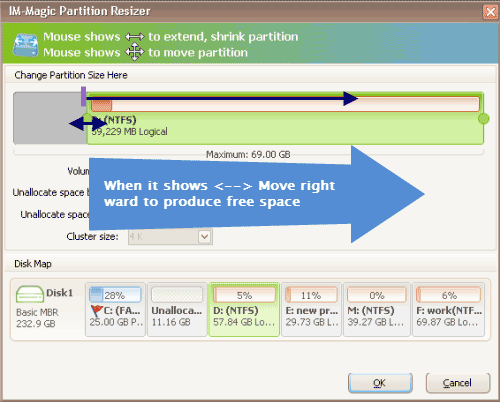 Shrink other large partition to produce free space for C drive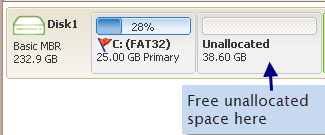 Step 3:
Move the unallocated volume close to C drive. Right click C drive and select "Resize/Move" option.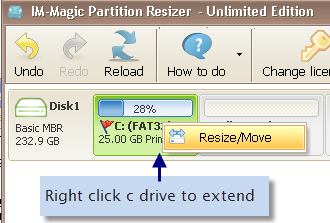 Right click c drive to get started with extending c

Steps to resize your disk partition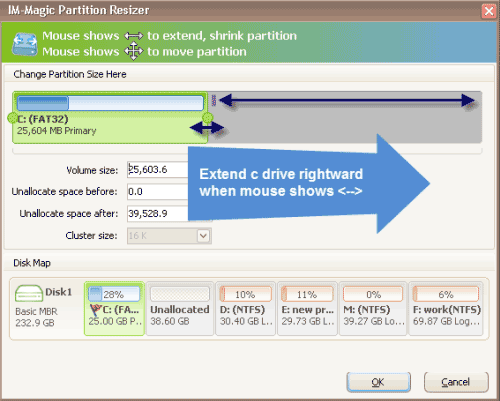 Step 4:
Drag the arrow to enlarge the size of C drive. Click "Apply " button to extend C drive.

Need to Extend Server Disk Partition
It is true that computer users often meet different kinds of problem on their hard disk drive, so do Windows Server 2003 R2 users. Disk partition running out of space is one of problem that can often occur on Server 2003 R2. This kind of problem can slow down your computer and affect the performance of your computer, so questions about disk partition running of space can often be found on different forums. Take some cases of example:
1. I need a help please! I received a warning message that there is only 80MB free disk space left on C drive when I logged into my Server. I did a disk cleanup on this drive, but it only free up little disk space. Can I move files from C drive to the D drive since it still has a lot of free disk space? Or what should I do that can help me fix the low disk space on Windows Server R2 C drive?
2. Oh my God! I really don't know what happened. When I boot my Server, it says you are running out of disk space on C drive. It also asks me to delete or move some files to free more disk space on this drive. I have stored so much data on this drive; it is waste of time to move files. But I cannot delete any file from this drive. Is there a way that I can solve the low disk space problem without moving or deleting files?
100% Safe to Extend Disk Partition
No matter you receive low disk space warning on C drive or you want to extend a disk partition due to other reasons. IM-Magic Partition Resizer Server is 100% safe for data stored on the disk. On the one hand, it doesn't require you to delete or move any file from C drive or other partition to perform disk resizing. You can even merge unallocated partition c drive server 2003. What is more, this powerful partition tool does no harm to system even if the computer is turned off unexpectedly before partition resizing is completed. When you reboot your computer, the partition and system can restore to original status.
About Windows Server 2003 R2

Windows Server 2003 R2 was released after Windows Server 2003. It has all functions of Windows Server 2003 and provides a more efficient way to manage and control the access of local and remote resource, so enterprise can benefit from a lower cost and better efficiency. Windows Server 2003 R2 offers a safer and more reliable Web platform.