Summary
This article is about how to wipe C drive without CD, I will introduce a safe and effective tool to manage C drive, with it, you can easily permanently wipe C drive.
Table of Contents
Can You Permanently Wipe C Drive without CD
When you want to remove the data from C drive, you will find that it is not able to format your C drive. But what if you have some very private files on it, and you want to permanently format it? Don't worry, there is still a way you can try to permanently wipe your C drive.
If you don't want to wipe C drive with CD, you can try a professional wipe program, like IM-Magic Partition Resizer, it has a free version, which is very useful, it can safely and permanently wipe your C drive without other CD, and it can also help you manage your C drive space, help you make full use of your C drive, you can extend, shrink, merge your C drive with another disk partition, it can help you to better manage your disk partition.
If you use Windows system on your computer, you don't need to worry about system compatibility problem, IM-Magic Partition Risizer supports all the Windows system.

How to Permanently Wipe C Drive without CD Safely
After you installed IM-Magic Partition Resizer free on your computer, you can use it to permanently wipe C drive on your computer, just follow the instructions to make it.
Step 1: Run IM-Magic Partition Resizer free on your computer, it will list all your disk partition on your computer system. Choose C drive, right-click the C drive, choose "Wipe Partition" option. Confirm to wipe it.
Step2: Apply Changes and finished.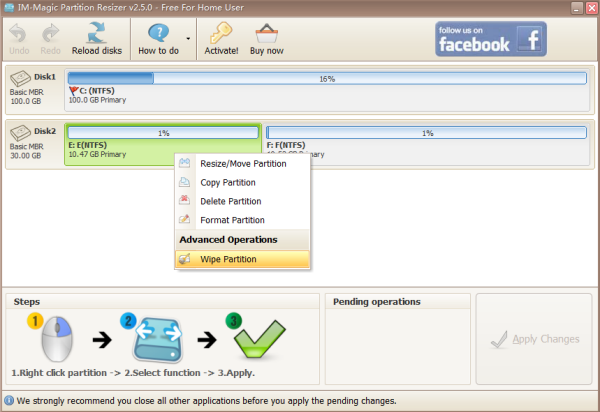 Permanently wipe C drive without CD
Attention:
This is an irreversible action on the disk, because this is a permanent overwriting, which makes your data can never be recovered. This action will 100% ensure your disk data privacy, and you also need to make sure there is no important data you would need.
How to Make Full Use of Disk Partition
If you want to make full use of disk partition, you can extend your partition which needs to store a lot of data, or you can just merge a partition which is free to be write with C drive, or move some space from another big size partition to C drive.
IM-Magic Partition Resizer can help you make it. Want to learn more about merge partition, please go to https://www.resize-c.com/