Summary
This article is about how to wipe disk partition safely, you will know how to erase disk partition without software, and how to wipe disk partition with an effective freeware safely.
Table of Contents
Disk partition wipe
Best Free Wipe Disk Utility/Software
If your disk drive has been used for a long time, you may find your disk drive run slowly and the space becomes less and less.
How to solve this problem?
You can wipe your disk partition and manage the partition space in a better way. Wiping disk partition is an effective way to make better use of the partition.
Some SSD brand manufacturers, for example, Kingston, Samsung, have their own SSD erase tool, you can use it to wipe your SSD.
Here I would like to recommend a useful disk partition management freeware for you, IM-Magic Partition Resizer Free. This is a freeware for disk partition management, it can safely wipe disk partition and make it possible to resize the whole partition. It also has a good compatibility for computer system, it supports most Windows system including Windows 7/8/10/vista. I cannot believe that it is totally free.

Wipe Disk Partition on Windows 10/8/7
Step1: First of all, you need to download this disk partition wipe software to your computer.
Step2: Run the software, select your disk drive you want to wipe, right-click it, choose "Wipe Partition" option, confirm your act and apply changes.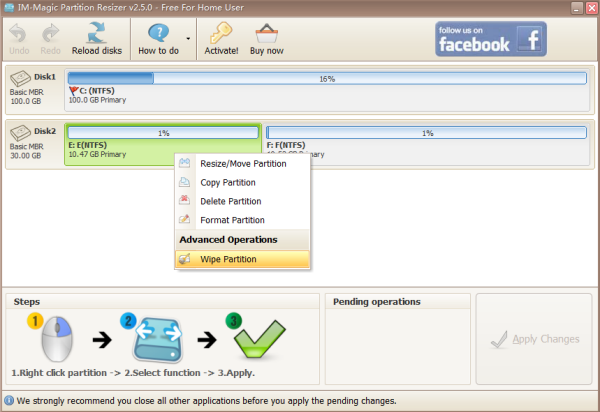 Wipe disk partition on Windows 10/8/7
Wipe Disk with CMD
If you don't want to install any software on your computer, you can also use system built-in function CMD command line to erase the disk partition on your computer.
Attention:
CMD command line is very dangerous, if you make a little mistake during the process, you may erase other disk partition on your computer. You must be very careful.
1. Run CMD command on your computer.
Wipe disk with CMD
2. Type "diskpart" on the command window.
Wipe disk with CMD
3. Type "list disk" on the window and enter
Wipe disk with CMD
4. Type "select disk 2" .
Wipe disk with CMD
5. Type "clean".
Wipe disk with CMD
After it finished, your disk partition has been wiped successfully.
To be honest, CMD is not a very effective way to wipe your disk partition, disk partition erase tool is still the best choice.