Summary
C drive run out of space in Windows server 2012 r2? Don't worry, this article will show you how to resize c drive without losing data in Windows server.
C drive is full on Windows server
No matter you are using windows laptop, desktop or server, the annoying problem of low space at C drive is always there. C drive is the system drive and windows updates and many other softwares regularly write or add files into the C drive. So sooner or later the C drive will be full. After having a low space at C drive, there are only 2 possible solution. Increase the C drive by adding space or reinstalling the partition. There is another way where you can free up space by deleting unnecessary data but it's just a temporary solution. There are other issues too such as which tool should be used, what is the best way and how to do it. In this article I will try to help you guide you through the Windows Server 2012 r2 resize c drive without losing data.
Limitations of Windows' standard Disk Management tool
You can resize C drive server 2012 r2 by 2 possible ways. You can use the windows built-in disk management or third party partition manage software. The windows tool is obviously safe since it's a built-in tool of the operating system. But limitations are still there which lead to third party software still required in most of the time. Most of the time the disk management tool os windows is used to extend, create, delete or merge drive. But the problem starts when certain criteria of extending disk drive is not met. To extend a drive's volume there must be an adjacent unallocated space next to it's right side. Sometime you need to delete an entire drive in order to fulfill this criteria. It can lead to data loss or system instability. Sometime you will find that after shrinking drive D, Unallocated space is next to D rather than C, so Extend Volume is disabled or grayed for C drive.
Which tool should be used to resize c drive server 2012 r2
All these common limitations of windows disk management tools are always there. Yes windows have updated the operating system several times but the issues not resolved. That's why using 3rd party partition resizing tool such as IM-Magic-Partition resizer is much easier to use. It has no limitations like the disk management tool of windows. Most of the 3rd party unreliable partition tools have data safety problem. They are known as data killer but IM-Magic-Partition resizer is completely free from these problems.
How to resize c drive server 2012 r2 with IM-Magic-Partition resizer?
Most of the unreliable 3rd party tools have their own issues and most of the time there is the risk of losing data. But IM-Magic-Partition resizer is completely safe and you will be able to resize c drive server 2012 r2 easily and without any hustle. It's a freeware means you can use it by simply downloading it from the website. After downloading, simply follow the below steps,

Run the IM-Magic-Partition resizer & find the list of disk partitions
Find the partition which you want to resize, right-click and choose "resize/move partition," option.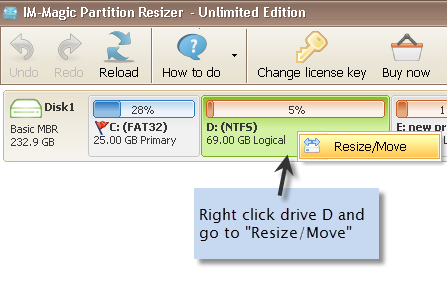 Steps to resize c drive space in Windows server
Use your mouse to extend or shrink the partition.
Steps to resize c drive space in Windows server
Apply the changes
There are other useful features of the IM-Magic-Partition resizer including resizing partition, wiping partition, copying partition, converting disk type. It works on all windows servers such as 2000/2003/2008/2012/2016/2019 including 32 & 64bits SBS etc. No downtime While you Resize partition windows server 2019. It's worth a try.