Are you looking for partition magic/manager for Windows 10 disk space resizing? Many people reflect that they often meet this or that kind of problem on Windows 10, while low disk space is one of the mot common problems. Is there any way to resize partition on Windows 10 without touching any data stored on the hard drive? The answer is yes! You just need a partition magic that is able to work on Windows 10. Today, we will introduce partition magic to resize hard disk without repartition hard drive or reinstall system - Partition Resizer Free, a completely free utility for you to do the job as PartitionMagic.
IM-Magic Partition Resizer VS Symantec PartitionMagic VS Partition Management
This following table shows the comparison among these utilities, especially the one between Powerquest Partition Magic and Partition Resizer.
Note: PowerQuest PartitionMagic is no longer available from the year 2009. We would recommend you use free tool Partition Resizer to do the jobs of the old Symantec Partition Magic.
How to use IM-Magic Partition Resizer 100% freeware on Win10
IM-Magic Partition Resizer Free is a free partition magic, which is able to work on all Windows platform including Windows 10/11. With this free partition magic, you are able to extend, shrink and move partition without having any influence on the operating system drive or other hard drives.
Example#1: How to shrink and extend a drive safely without losing data
For Windows 11/10/8/7/Vista ==> Download IM-Magic Partition Resizer Free (Free)
Step 1: Complete the downloading and installation. Open the software, right-tap on a partition having sufficient space and choose "Resize/Move."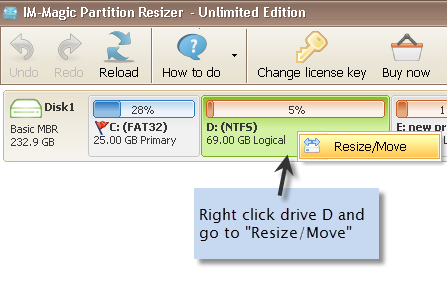 Step 2: Move the border of the large drive to shrink some unallocated space.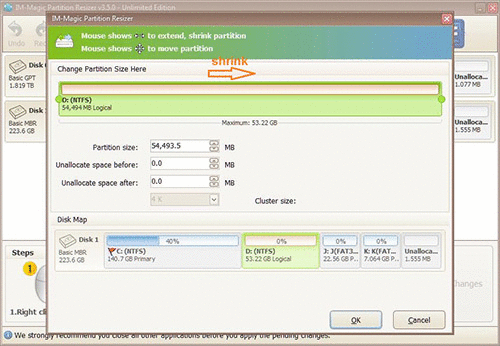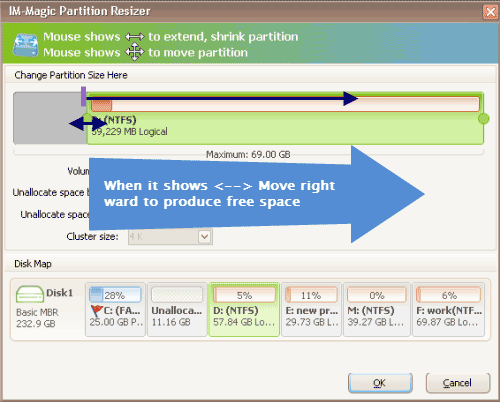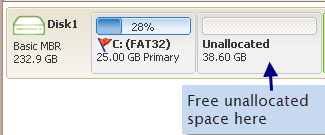 Step 3: Right click on C drive and opt to "Resize/Move."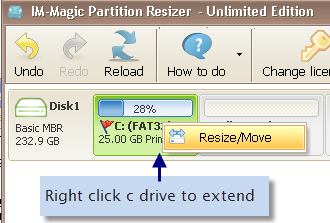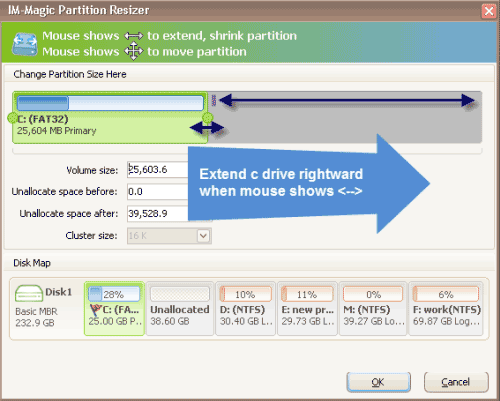 Step 4: Move the c drive border to claim the unallocated space. Tap the "Apply" button, and then you will have a bigger volume.

If there are partitions that stand in-between, you may move partitions safely with Partition Resizer.
Quick link: Top free ways to shrink D extend c drive free in Windows 10
Move Partitions Without Losing Data
Note: Disk Management and Diskpart cannot move partitions.
The following video shows how to move partitions without losing data with Partition Resizer.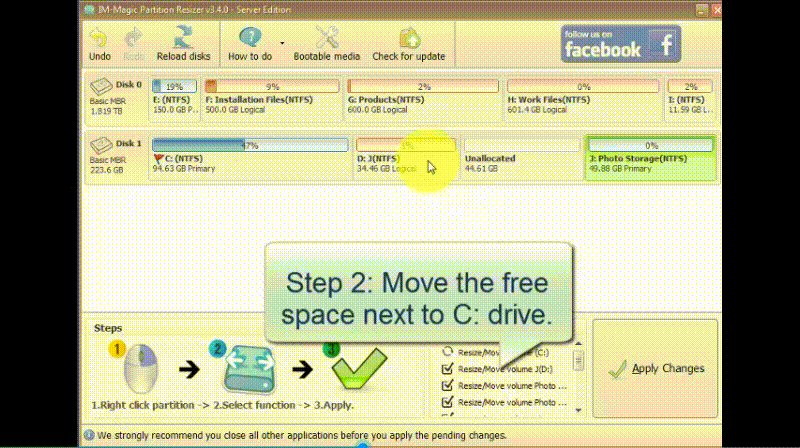 Also read: how to add unallocated space to c drive
Clone disk with Partition Resizer
You may copy a partition for backup or clone a disk for backup with the free tool Partition Resizer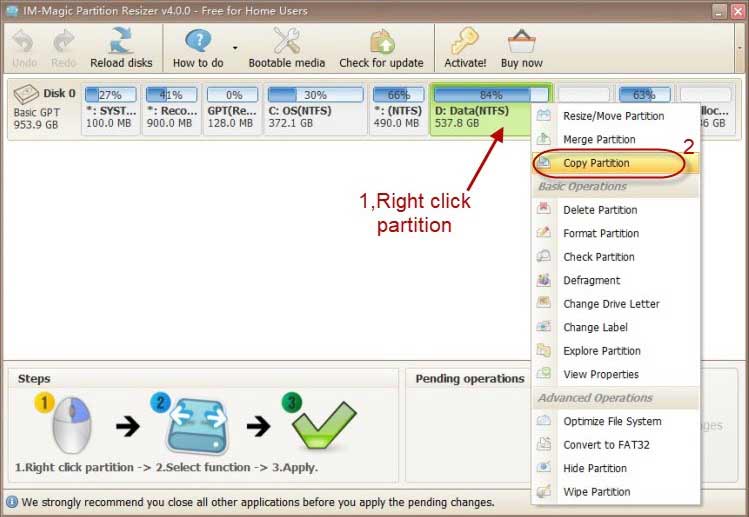 Also read: how to copy partition for data backup
More functions available from free tool Partition Resizer
Merge partitions
Delete partition
Format partition
Check partition to find and repair bad blocks
Defragment
Change disk drive letter
Change drive label
Convert disk from basic to dynamic
Convert disk from ntfs to fat32
Wipe partition...
More video guide? -> Check it here: https://www.resize-c.com/video/
Why Freeware IM-Magic Partition Resizer?
It works with Windows 11/10/8/7 while old powerquest partition magic (Symantec PartitionMagic) only supports Windows XP.
It is completely free of charge
It is 100% safe to resize, move, shrink partitions without losing data
Windows Disk Management VS Partition Resizer
Windows 10 allows you to perform partition resizing. However, there is a terrible problem to resize disk space with Windows 10 Disk Management, namely, it will be impossible to extend disk partition if there is not contiguous unallocated space since Disk Management does not allow users to move partition together with other limits such as:
Cannot extend fat32 c drive even with right side contiguous unallocated space
Needs contiguous unallocated space on the right side of NTFS volume for expanding
Cannot shrink fat32 volume
Cannot obtain unallocated space from logical drives...
Possible Solutions for Windows 10 Partition Redistributing without Partition Magic
When disk partition runs on low disk space, you can also try following methods to redistribute disk space without relying on any partition magic:
1. You can move all important data to an external hard drive and then repartition hard disk on Windows 10. When reallocating disk space for each drive, you should reasonably redistribute the disk space to avoid running into the same low disk space problem again.
2. You can reinstall Windows 10 operating system to fix low disk space problem on system partition. You need to reformat system partition when reinstalling system, so you had better backup important data.
3. If you do not want to reinstall system or repartition hard drive, you can also perform redistribute disk space with Windows 10 Disk Management.
4. In most case, you may need partition magic to resize hard drive when system partition is running out of disk space. If it is a data partition that runs on low disk space, you have no need to resize hard drive because you can simply delete some unnecessary files or move some data to another drive. Of course, if you do want to resize a data partition, you can also use partition magic. On Windows 10, Disk Management works as a partition magic, with which you are able to extend volume, shrink volume, format volume, delete volume, etc. Therefore, you can free perform partition resizing on Windows 10 with Disk Management.
All possible solutions above have their disadvantages, but it is totally free and you can resize hard drive without relying on any partition magic.
Windows Built-in Disk Management vs. Partition Magic
Disk Management is Windows built-in disk management tool, which works similarly to a partition magic. You can resize hard drive with Disk Management without installing any third-party partition magic software. You have no need to reinstall system or reparation hard drive by using Disk Management to manage disk space on Windows 10 with certain conditions.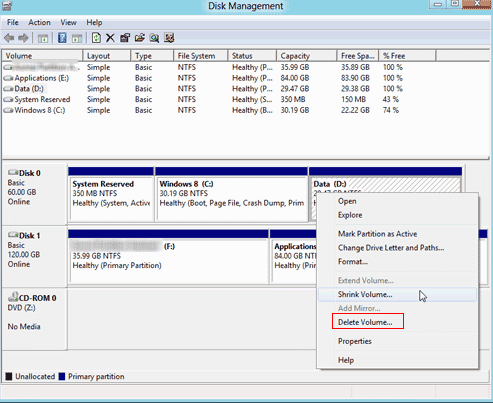 Delete volume in Windows disk management
Video - how to shrink, delete, extend volume with disk management
More details, please go to Windows 10 disk management
Windows 10 Partition Magic Shrink Volume to Squeeze Unallocated Space
Is there any unallocated space when you want to extend system partition on Windows 10? Simply say, partition resizing is a process to move some free space from another partition and then add the free space to the partition that runs on low disk space. Therefore, you need to squeeze some unallocated space from other partition (s) that has enough free space.
Windows 10 Disk Management has the same function like partition magic, which provides "Shrink Volume" option, with which you can shrink the select volume to get some unallocated space.
Quick link: Shrink D and extend c drive free in Windows 10
Add Unallocated Space to Windows 10 System Partition with Partition Magic
When you get unallocated space after shrinking partition on Windows 10, you can add the unallocated space to the system partition which runs on low disk space. Similar with partition magic, Disk Management on Windows 10 also provides another option "Extend Volume", which allows you to extend system partition or data partition as long as there is contiguous unallocated space. If there is no contiguous unallocated space, partition magic is needed to create contiguous unallocated space.
Why Need Partition Magic for Windows 10?
You probably need partition magic when disk partition, especially system partition has not enough free disk space. Usually, when a system partition runs out of disk space, it might cause many troubles to your computer, such as:
Your computer runs slower and slower day by day
You are not allowed to install Windows 10 updates due to space limits
Your frequently run into Windows 10 system crash problem
More other unknown disaster
If you run into similar trouble due to system partition low disk space, you need to extend the system partition with partition magic for Windows 10.
Last updated on Feb 7, 2023