Summary
Disk space in low disk space? Here I will show you how to free up disk space on server 2012 r2, and extend the c drive space easily.
4 Ways to free up disk space on server 2012 r2 with/without software
Using the same PC or server for a couple of years can fill up a lot of disk space. This does not mean that you use external devices or take the aid of usb or hard drives to put your documents in when there are a lot of important stuff that we cannot get rid of.
How to free up disk space without software? You may delete junk files, empty the recycle bin, move the software installation folder to another drive or uninstall not the programs that are not often used may quickly free some disk space on your server 2012 hard drive or ssd. Here are 3 basic ways that may save up to several GB in disk space without any software.
#1 Delete junk files, recycle bin files, temp files
It may save up to about 1GB depending on the exact size of your trash or temp files from your Server 2012 trash bin or temp files folder. Here are the steps to remove and clean them.
Deleting the recycle bin files may save a little space depending on how many files it saved. It does need a complicated process to get the trash files emptied since a simple right clicking the trash folder may lead to an empty the trash bin click and all the recycle bin files will be gone.
Where are the server 2012 temp files and how to clear them?
There is one easy way to clean the temp files by using Disk Cleanup.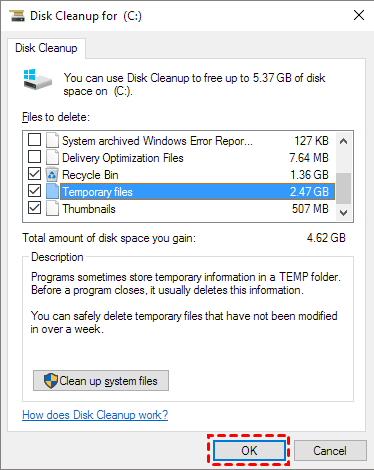 This is the way to open this disk cleanup on server 2012.
1, Open your computer, Right click C drive in THIS PC ->Go to option 'Properties'
2, Click on Disk Cleanup in the property tab options
3, Click the suggested columns (in the above image) to clean and free up c drive space
The OS temp files is on the folder under this path:
C:\Documents and Settings\owner\Local Settings\Temp
Also read: how to delete temp files on Windows server 2012 r2
Reference:
https://learn.microsoft.com/en-us/windows-server/storage/file-server/disk-cleanup
https://answers.microsoft.com/en-us/windows/forum/all/local-settingstemp/acf9d7a7-cff5-44a6-82d7-6a2464a249f4
#2 Clean page files on Windows Server 2012
The page file may take a lot of disk space on your machine that you may get it disabled by selecting the No paging file option under System Properties under Advanced tab for your drives.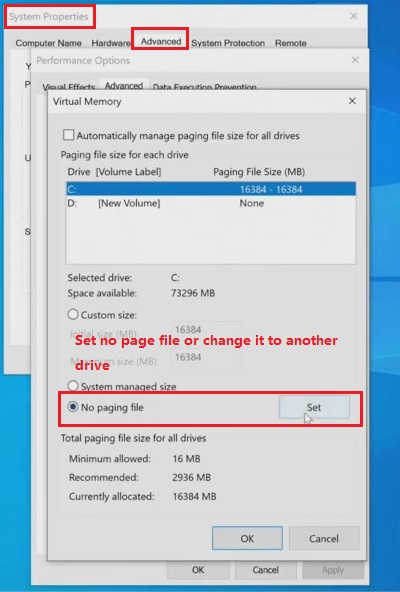 This following video will help you see how to disable the paging file on your computer.
If you want to clean more disk spaces without software, you may read the following post.
Related article: several ways to run disk cleanup on Windows server 2012
#3 Remove software that is not frequently used
Removing or uninstalling programs that are not often used may save a lot of free space when some large programs may take hundreds of MB disk space.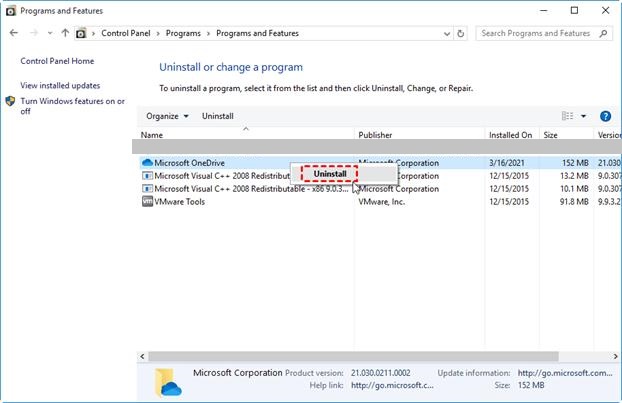 #4 Extend the disk space on Windows server 2012 with software (May save up to hundreds of GB space depending on your disk)
IM-Magic Partition Resizer Server will help you free up disk space to as much disk space as your disk has such free space by shrinking large volume to produce free space on the same disk or you may add available free space to your computer from a new disk that was constructed to your pc with RAID ARRAY.
It will help you expand, shrink and merge partitions, you can also shrink volume to extend c drive if you don't have unallocated space on the disk. All that is done within minutes. No data will be lost and you do not even require any special assistance. Disk defragment is also available on this tool.
Steps to extend the disk space on Windows server

Step 1: Download the Partition Resizer Server edition/unlimited edition software and run it.
Step 2: Click on the volume you want to get the unallocated space from, usually a large drive that has free space.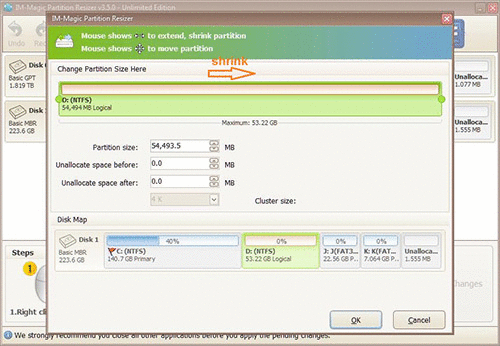 Steps to extend partition in Windows server
Step 3: The edited partition will produce a lot of unallocated space, then move it to the target drive that needs extension and combine them together to increase size with Partition Resizer Server.
Steps to extend partition in Windows server
Step 4: Immediately, you will get a pop-up screen asking you for permission to start the process, click "Yes" and when done, save all the changes you have done.
IM-Magic Partition Resizer is the perfect software that will help you free space without losing any valuable data. This can be done in very easy steps. You do not even need any technical assistance. By having some basic knowledge concerning IM-Magic Partition Resizer and following these easy steps you can carry out the disk cleaning on your Windows server 2012.
There are several files that are present in our system that are of no use to use. Furthermore, several superseded updates also take up our disk space. You can delete this unwanted data by using IM-Magic Partition Resizer.
Why IM-Magic Partition Resizer is the best option for you for disk cleanup
IM-Magic partition resizer is providing numerous features. The specifications of this partition resizer will help your system run faster. The excellent features will benefit your PC in numerous ways.
Disk Cleanup
This is the most significant feature of IM-Magic partition resizer. If you cannot figure out what your disk storage is filled with, you can take the help of this software and free your disk from that unwanted data within minutes.
It will also help you Extend C system Drive. If you are running out of space and you have important data that you cannot miss you can increase the boot volume without having to format your disk. Moreover, it will also save you from reinstalling your operating system and moving files to any external drive. The old components are replaced with versions that are new, that you might not need. You can remove or delete these components one by one to make more space.
Rollback Tech
IM-Magic Partition Resizer comes with a unique rollback power technology. It will give users the assurance that their files and folders are safe and secure. It provides a 100% safe process. 100% genuine and authentic process where there will be no harm to your system even if the computer shuts down between the process of resizing.
Shrink or Extend Partition
You can shrink your data and make up more space without deleting your files or transferring them to any external device. It will carry out the process of decreasing a large volume to a smaller version. No formatting is required. The process will take minutes and your data will remain safe and untouched.
Safe Process
With the availability of IM-Magic Partition resizer your disk partition will remain untouched. You can easily rearrange your important data and use this freeware for better functioning of your computer system.
IM-Magic Partition Resizer freeware is a very important tool that is especially designed to help users free space on the hard drive of their respective computers.
These simple and easy steps will help you make up more space in your Windows Server r2. The process is easy. All you need is some significant knowledge concerning the disk cleanup process and you are good to go!
Also read: how to resize partition without losing data on Windows server 2012