Summary
Disk space in low disk space? Here I will show you how to free up disk space on server 2012 r2, and extend the c drive space easily.
How to free up disk space on server 2012 r2
Using the same PC for a couple of year can fill up a lot of space. This does not mean that you use external devices or take the aid of usb or hard drives to put your documents in. Moreover, there is a lot of important stuff that we cannot get rid of. However, there is a way through which you can delete all the unnecessary data in your PC.
IM-Magic Partition Resizer is the perfect software that will help you free space without losing any valuable data. This can be done in very easy steps. You do not even need any technical assistance. By having some basic knowledge concerning IM-Magic Partition Resizer and following these easy steps you can carry out the disk cleaning on your Windows server 2012.
There are several files that are present in our system that are of no use to use. Furthermore, several superseded updates also take up our disk space. You can delete this unwanted data by using IM-Magic Partition Resizer.
Extend the disk space on Windows server
IM-Magic Partition Resizer is the best software that will ease your tension. It will not just help you free space. It will help you expand, shrink and merge partition, you can also shrink volume to extend c drive if you don't have unallocated space on the disk. All that is done within minutes. No data is loss and you do not even requires any special assistance. Disk cleanup facility by IM-Magic Partition resizer. This can be done on your Windows server or your PC.
As you use your Windows Server for a longer period of time, your disk space gets accumulated with files such as Windows Updates, Service Pack and hotflix installations. IM-Magic Partition Resizer will help you get rid of everything.
Why IM-Magic Partition Resizer is the best option for you for disk cleanup
IM-Magic partition resizer is providing numerous features. The specifications of this partition resizer will help your system run faster. The excellent features will benefit your PC in numerous ways.
Disk Cleanup
This is the most significant feature of IM-Magic partition resizer. If you cannot figure out what your disk storage is filled with, you can take the help of this software and free your disk from that unwanted data within minutes.
It will also help you Extend C system Drive. If you are running out of space and you have important data that you cannot miss you can increase the boot volume without having to format your disk. Moreover, it will also save you from reinstalling your operating system and moving files to any external drive. The old components are replaced with versions that are new, that you might not need. You can remove or delete these components one by one to make more space.
Rollback Tech
IM-Magic Partition Resizer comes with a unique rollback power technology. It will give users the assurance that their files and folders are safe and secure. It provides a 100% safe process. 100% genuine and authentic process where there will be no harm to your system even if the computer shuts down between the process of resizing.
Shrink or Extend Partition
You can shrink your data and make up more space without deleting your files or transferring them to any external device. It will carry out the process of decreasing a large volume to a smaller version. No formatting is required. The process will take minutes and your data will remain safe and untouched.
Safe Process
With the availability of IM-Magic Partition resizer your disk partition will remain untouched. You can easily rearrange your important data and use this freeware for better functioning of your computer system.
IM-Magic Partition Resizer freeware is a very important tool that is especially designed to help users free space on the hard drive of their respective computers.
These simple and easy steps will help you make up more space in your Windows Server r2. The process is easy. All you need is some significant knowledge concerning the disk cleanup process and you are good to go!

Steps to extend the disk space on Windows server
Step 1: Download the Partition Resizer Server edition/unlimited edition software and run it.
Step 2: Click on the volume you want to get the unallocated space from.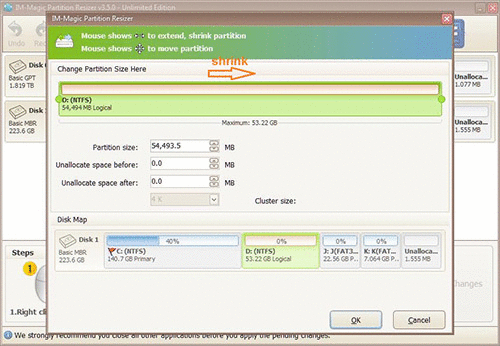 Steps to extend partition in Windows server
Step 3: The edited partition will appear as unallocated space, then move it to the drive that needs extension and combine them together to increase size.
Steps to extend partition in Windows server
Step 4: Immediately, you will get a pop-up screen asking you for permission to start the process, click "Yes" and when done, save all the changes you have done.