Summary
If you want to extend your partitions easily, sometimes you can merge the partition with another one which has a lot of unallocated space there. This article will show you how to use the easiest way to merge your partitions.
C Drive is out of Space
If you don't manage your hard disk partitions, you will find your C drive is about to run out of the space, and your computer run slower and slower, and you can not install any programs on the computer. How to fix it?
How to Free up the C Drive Space
How to increase the C drive space in Windows server 2019? When the computer operates, it will produce some temp files on your system drive, after some time, these files can occupy a lot space. So first of all, you can delete some temp files and useless data on the system drive to free up the C drive space .
Then you can uninstall some useless programs to free up space. You can also try some clean up programs to help you.
Add Disk Space to C Drive in Window Server 2019 with Disk Management
The second solution to increase the C drive is to add disk space to C drive in Windows server 2019 with Disk Management.
Disk Management is system built-in partition manage tool, you can use this function to extend, shrink, format partitions. You can right-click the "Computer" and choose "Manage", enter "Disk Management", then you can have all your disk partitions on the list. You can just right click the partition to perform operations.
But you need to know, Disk Management tool works only when your files system is NTFS, and you can not extend the partition if there is no unallocated space adjacent to the partition you want to extend.
Extend C Volume Server 2019 with Partition Manage Tool
What if the "Extend Volume" grayed out when you try to extend the C drive with Disk Management on Windows server system?
You can try a partition manage tool, this also the easiest way to increase the C drive, with it you can better manage your disk partitions. Here I would recommend IM-Magic Partition Resizer, which is an effective partition manage program. For all the server systems, IM-Magic Partition Resizer Server will be the best choice to extend C drive space, it is 100% safe and useful, and easy to use.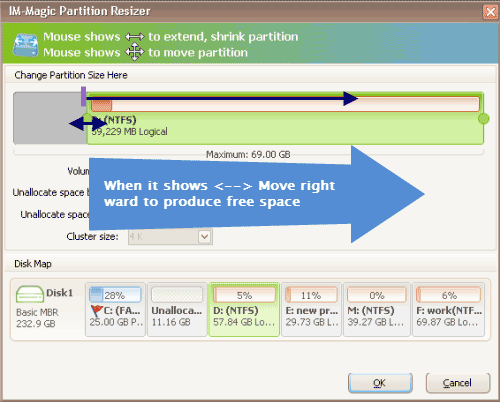 Extend partition when the extend volume greyed out on server sbs 2011
After you install it on your computer, you will see the partitions on the program window, then right click the C drive, choose "Resize/Move Partition" option, then you can move the mouse to change the disk space.
[Guide] Steps to extend volume without data loss

This step by step guide will show you the right way to extend any volume using  IM-Magic Partition Resizer Unlimited edition.
Step-1  Download install, and launch the program.
Step-2 Right click the large volume to produce unallocated free space.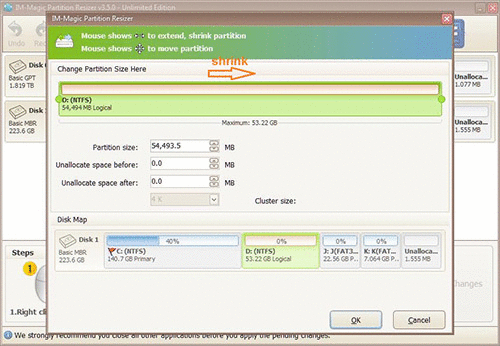 Steps to resize your disk partition
Step-3  Then right click c and drag the border to acquire the free space.

Steps to resize your disk partition
Step-4 Apply the changes.