Summary
Sometimes you may find the "extend volume" under the Disk Management module greyed out on Windows server 2019 when you try to extend your partitions, don't worry, this article will show you how to extend partition even when the extend volume greyed out.
Table of Contents
Introduction
Windows users are scattered around the globe, they love to use its services and multiple tools to ease up their life's jobs. Windows has launched and introduced many useful tools and tips to solve the problems of the Users and to Troubleshoot them. One of the tools offered by windows is Disk Management which allows you to extend, delete and merge partitions, but it also has its limitations.
Extend Volume Greyed out on Windows server 2019
You often would have experienced that when you need to extend a specific partition running out of space and you go to the disk management and right click on the specific partition, Voila! To extend partition option is greyed out and you can't do anything about it.
Lucky for you, this article might be helpful in this regard there is a unique and excellent tool which can pull off what Disk Manager fails to. We are talking about IM-Magic Partition Resizer SERVER edition .
This problem persists for many operating systems of Windows including many servers like 2003, 2006, 2010, 2013, 2017 and 2019 as well.
How to Extend Partition when Extend Volume Greyed out
There is no need to panic, this is a fundamental problem with Windows and can be fixed very quickly. The partition could not be extended due to no allocated or free space present. And Disk Manager can't do this thus, to extend the volume greyed out you would have to download the IM-Magic Partition Resizer and launch the program. It carries many functions like resize/remove a partition, split, merge partitions, allocate or create free space and many more.
The power to create and merge the partitions is in your hands, and you can use this Amazing and handy tool to do the work for you.
How to Extend Partition when Extend Volume Greyed out
Instructions to Extend Partitions with IM-Magic Partition Resizer
Step-1, launch the software and open disk map, there you can see all the disk elements installed on your system, choose the disk whose partition you wish to extend, or which was greyed out in disk management. Create the unallocated space form other hard drives by using shrink volume or resize a partition.
Step-2, To extend Partition of the specific drive, right click on the drive and click resize/move.
Step-3, Now, you will see the unallocated or free space right next to the respective drive. Move the mouse towards the right when double arrow shows.
Step-4, This way you are merging the low space drive with the unallocated space. And at the end Apply changes. Your drive has been successfully extended using IM-Magic Partition.
This tool is really a lifesaver and is remarkable and compatible with many Windows Servers. To extend volume greyed out Windows Server 2019 and other servers IM-Magic Partition Resizer is the first choice.
Word to the Wise
You can easily download IM-Magic Partition Resizer server by visiting the official Webpage athttps://www.resize-c.com/ , But it is not a freeware and can only be used as a free trial, which means that you can download it for free and use it for a limited amount of time, Of course, you wouldn't be able to explore all the features, but it will do the necessary work of merging and extending partitions just fine.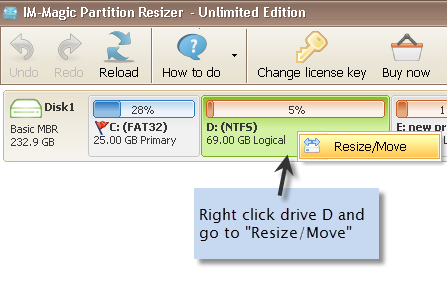 Extend Partitions with IM-Magic Partition Resizer
Once your trial version is expired, now you can choose to upgrade to the premium version and select the package which is common with your interests. Often people get it confused with freeware and when they realise that it is "pay to use", they feel deceived. So, here is the alert that IM-Magic Partition Resizer SERVER edition is not a freeware, but can be used as a free trial version for a limited supply of time.
[Guide] Steps to extend volume without data loss
This step by step guide will show you the right way to extend any volume using  IM-Magic Partition Resizer Unlimited edition.
Step-1  Download install, and launch the program.
Step-2 Right click the large volume to produce unallocated free space.

Steps to resize your disk partition
Step-3  Then right click c and drag the border to acquire the free space.

Steps to resize your disk partition
Step-4 Apply the changes.