Summary
This article shares the method to merge partitions on the same disk or from two disks.

Free Partition Merge Software Download
Download IM-Magic Partition Resizer Free to resize disk partitions on the same disk for free.
Table of Contents
Merge partition on Windows 11/10/8/7/Vista/XP
Merging two partitions without losing data would be an easy and safe job to perform by IM-Magic Partition Resizer which is 100% freeware on Windows 11/10/8/7/Vista/XP, the PC platform. As an outstanding partition manager to merge partitions, it can do the job flawlessly.
Why you need Partition Resizer
Windows does not provide such merging function for disk volumes when users need to convert two partitions or more into one partition
Partition Resizer is 100% freeware on Windows PC Win11/10/8/7 etc.  Windows Server users may need a cost for its Partition Resizer Server edition.
100% safe to use. It employees a Roll-Back Technology that it wont make any damage to your PC if there were expected power failure and you may cancel the merge at will if you change your mind in the process of merging.
[Video Tutorial] How to Merge Partitions
How to use Merge Partition with Step by Step Guide
Preparation: download freeware Partition Resizer for PC. If you are using Windows Server OS, download Partition Resizer Server Edition.
Step one: start the Resizer and then right select the C system volume and then allocate its 'Merge Partition'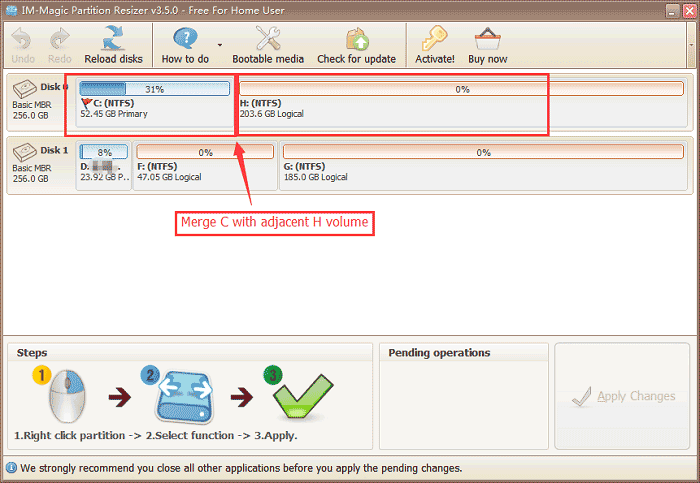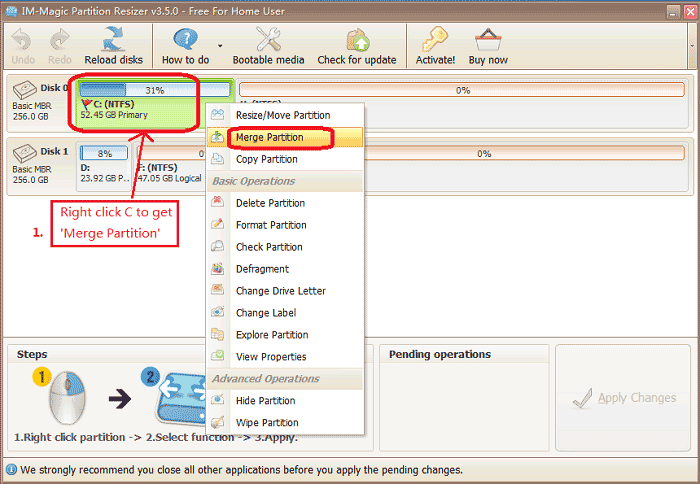 Step two: select the partitions you want to merge, ie select c and H and then set the location of merging to get all partitions merged to C volume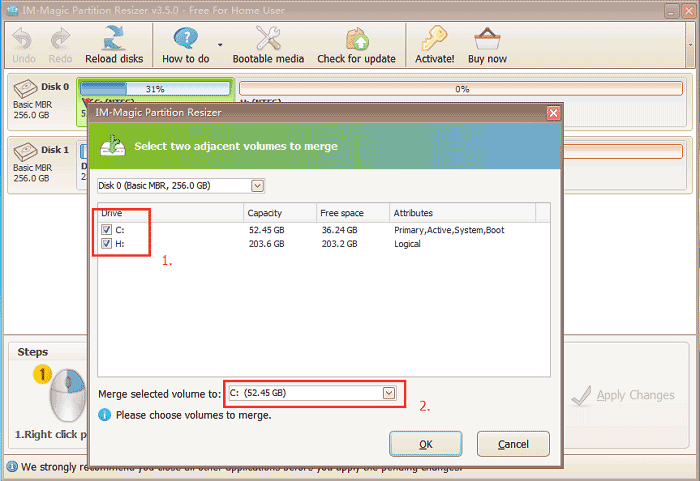 Step three: apply the changes by confirming yes and you will see its notice of power off to get merging started.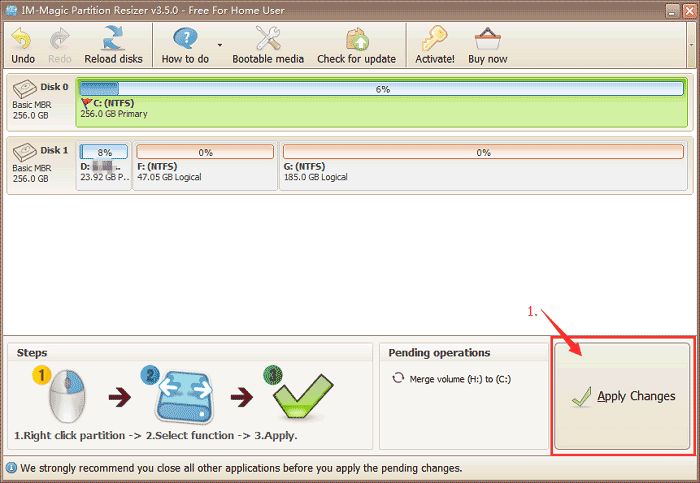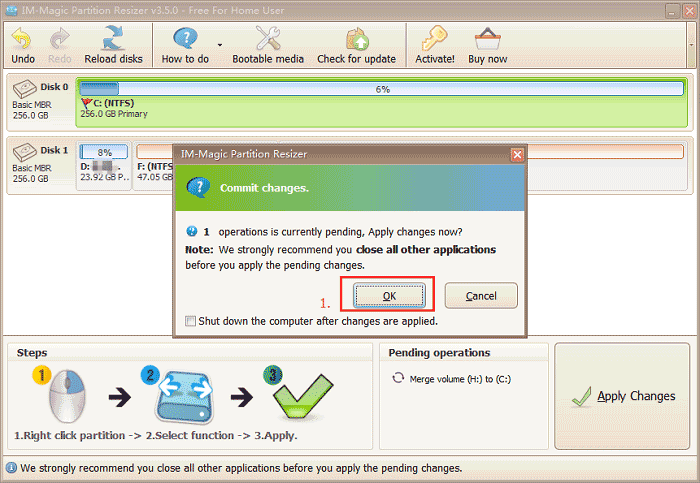 It only takes a few minutes for the merging and everything will be done perfectly. Then open the software to see its big C system volume, or you may open your 'My Computer' and see you already have a large C drive. Then C is successfully merged with its neighborhood drive.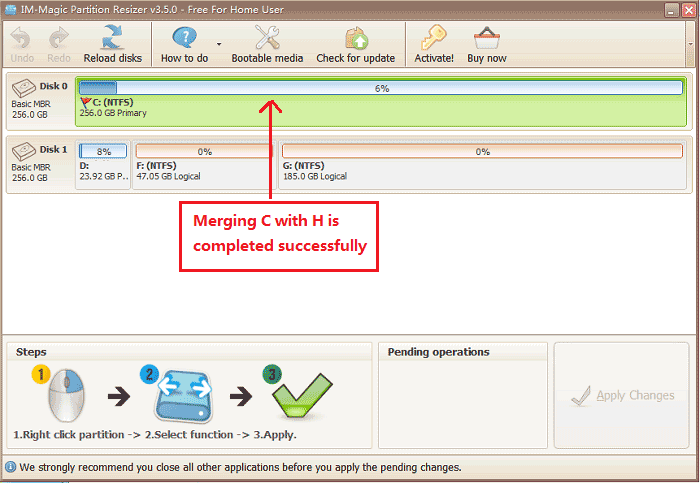 Merge Partitions on Windows Server 2003/2008/2012/2016
Windows Server is a group of operating systems released by Microsoft, it's first edition is Windows server 2003, Windows server supports RAID volume, which is quite popular.
If your computer system is Windows server, you can also merge partitions with IM-Magic Partition Resizer.
Steps is the same as the instructions above.
It is a common problem that the running speed of your computer is getting slower and slower. It is because the capacity of your hard disk drive is getting tight, which will effect the operation of your computer. So if you want to make your computer run faster, it will be needed to extend the spare space. Then you will need to merge partitions on windows server.
Attention:
If the two partitions you want to merge is not adjacent, you need to shrink the space from one of the two partition first, and move the space to next to another partition. You can follow the instructions to make it.
Note:
This tutorial introduces the merging of c drive with its adjacent volume. Please note the following
1, this merging requires rebooting since it is c volume involved, it wont require a rebooting if you are trying to merge partitions as long as the system c drive is not involved.
2, the merging can only be applied to adjacent two partitions on the same disk, if you want to combine two partitions not close to each other, then you may need to backup data to another place, delete one partition to make the space unallocated, and then redistribute the unallocated space to any partition by 'Resize/Move' function.
Download IM-Magic Partition Resizer Free Edition



For Windows Server all versions ==> Download IM-Magic Partition Resizer Server