Is there any freeware to resize disk partition on Windows 11/10?
Today, when you buy a new computer, the hard disk has been divided into several partitions and the operating system has been installed on the partition. During the usage of your computer, you may need to resize hard disk partition due to the unreasonable disk space allocation.
Whether you have upgraded your computer to Windows 10 operating system or your computer ran Windows 10 slowly, you probably need a free partition tool to redistribute disk space.
Content Table - 5 free ways
Part1 - Freeware to Resize Partition in Windows 10 64bits&32 Bits (3 Steps)
You can use free partition software IM-Magic Partition Resizer Free (100% freeware) to resize any partition including the system partition on Windows 11/10/8/7 computers without losing data, no formatting disk, nor repartitioning hard disk, nor reinstalling operating system
Download IM-Magic Partition Resizer Free Edition


(Completely Freeware for Windows 11/10/8/7)
Preparations: Download and install the freeware on your computer. Get your disk connected to computer if it was an external disk.
Step 1, Run IM-Magic Partiton Resizer, right click the partition that you want to resize. And click 'Resize/Move' function. For example, resize the big volume if you want to change the volume size (shrink it, or resize it for another partition).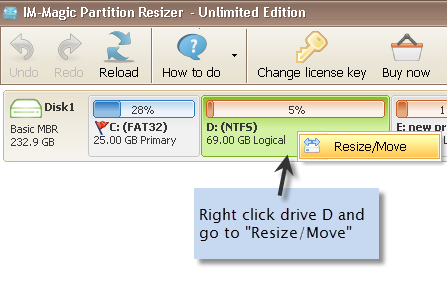 Step 2, Shrink the volume by moving its border to the left/right.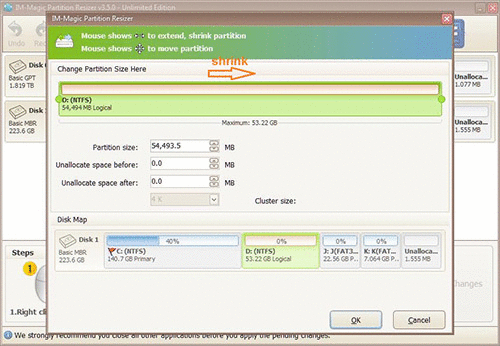 Steps to resize partition by making it smaller
Note: if the target volume is C drive that you want to resize, you may shrink D or any large volume by moving its border to the right, and make free space next close to the c drive, ie, drag the border from the left to move the border right forward.
Step 3, Right click c volume you want to extend to claim the free space, go to 'Resize/Move' function, and then claim the free space by moving its border right forward (The way to get free space claimed)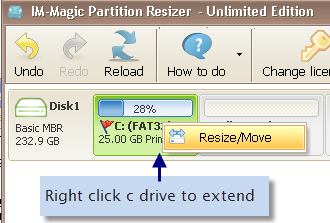 Steps to resize your disk partition
Step 4, Click 'Apply' button to get it done.
This freeware is for Windows 11/10/8/7/Vista/XP/2000.
For Windows Server all versions ==> Download IM-Magic Partition Resizer Server
Part2: Resize Partition with Disk Management in Windows 11/10/8/7
It is also completely free of charge to resize partition in Disk Management in Windows 11/10/8/7.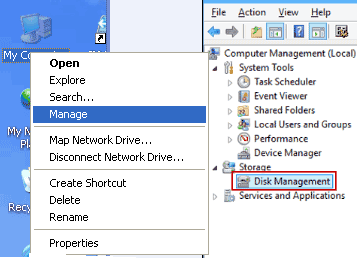 Resize disk partition with Disk Management: open disk management
When there is free space, you may use disk management 'Extend volume' to resize partition for free. No free space? You may use 'Shrink volume' to make some free space in disk management too.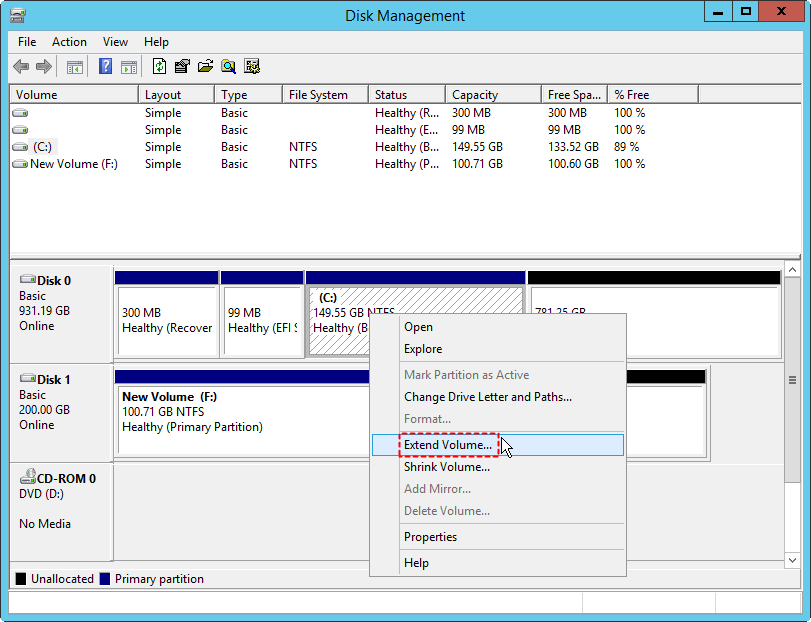 Resize disk partition with Disk Management
Also read: move space from d to c drive

Note: if disk management is not able to do the job especially when extend volume or shrink volume greyed out, you may use freeware Partition Resizer Free to do the job.
Part3: Resize partition Windows 10 cmd diskpart
What is the need for extending Disk Partition?
Are you facing the issue of a warning displaying on your Windows PC screen for storage space running out? It means disk volume is suffering from lower space on disk. It gradually makes your PC slow and is unable to load the apps smoothly.
For resolving this issue the user can uninstall various programs or files that are not needed or try moving a few applications to another drive. Furthermore, you can also go for another option by extending the volume or partition on your PC.
Diskpart assists the users as an in-built tool to do the job of creating an extension of the partition.
Let us find out more about this process in detail below:
Steps to Follow:
Step 1: First you need to proceed with pressing either 'WIN+R' or start with typing 'diskpart'. Then you have to press the enter key to open it.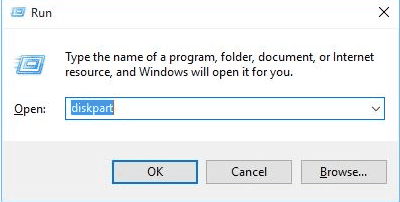 Step 2: Now you will be able to see the prompt for Diskpart. Herein you have to proceed with typing these commands below in the same order one below the other:
List disk
Select disk 0 (0 indicates the disk of partition location)
List partition
Select partition 4 (This indicates the partition area for target)
Extend size=100 (Herein 100 indicates the size of the to be extended partition in MB)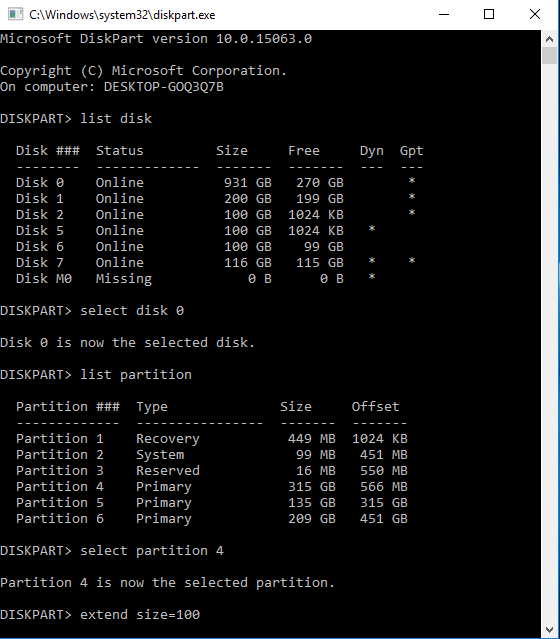 Once done, you will see a reminder for successful extended partition through Diskpart. As soon as your work is done you need to type exit and it will bring the process to an end. In case you are using a dynamic disk then instead of using a 'partition' you can use 'volume'.
Part 4: Resize Partition Windows 11/10 bitlocker
Windows bitlocker works towards protecting your useful data in your PC by encrypting the whole data stored on the volume of the system. It utilizes a microchip by the name of Trusted Platform Module (TPM) for assisting with protection of Windows OS and eradicates data tampering.
Decryption of Bitlocker Drive by Using Built-in Bitlocker Decryption Tool in Windows

Bitlocker can be used for decrypting the disk or partition first and then you can move ahead with resizing the same with IM - Magic Partition Resizer.
Steps To Follow:
Step 1: First you have to open the run dialog by pressing Windows + R. Then in the given space type Control Panel and proceed with clicking on Ok button.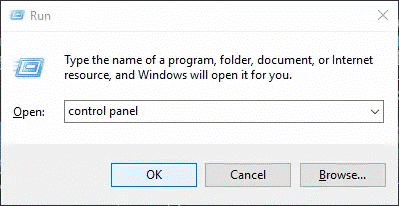 Step 2: Then by clicking on large icons, increase the size of icons to view them clearly and proceed with clicking on the option of 'Bitlocker drive Encryption'.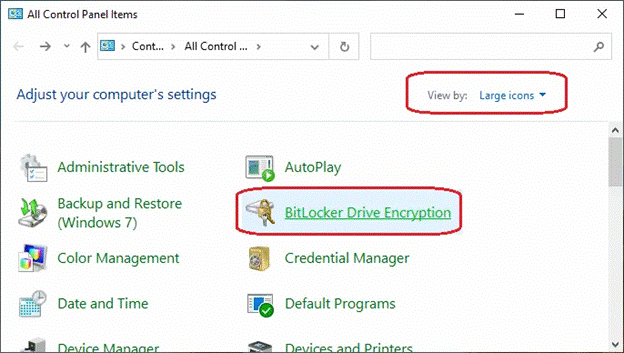 Step 3: Now make a selection of the drive you wish to decrypt. As soona s you are done press 'Turn Off BitLocker.'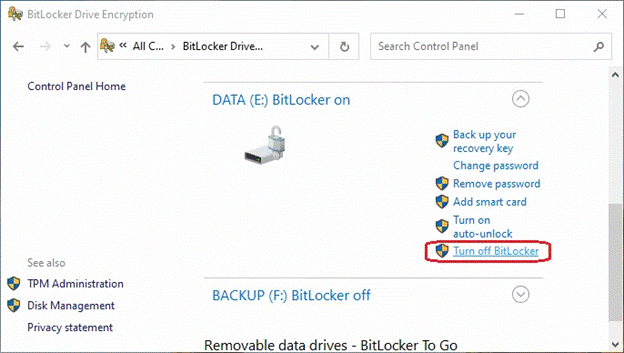 Step 4: You will see a pop up window displaying a prompt that the process for decryption will take some time. Once you are sure to proceed, begin the decryption process by clicking on 'Turn off Bitlocker.'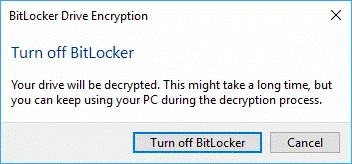 Step 5: You can keep an eye on drive decryption from the system tray icon. Once you double-click on it you will be able to view the process for decryption.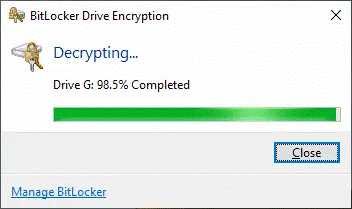 Once you are done with the decryption process, the next step will be to use IM Partition Resizer to resize the Windows partition.
IM-Magic Partition Resizer is a free software that assists the user in expanding, shrinking, moving, or merging partitions without damaging their useful data. It helps the users to rearrange their disk partition in a useful way in a few clicks without touching the files.
Steps to Follow:
Step 1: First you have to shrink a large volume on the same disk wherein you are looking for expanding a volume to make some free space.
Step 2: Thereafter, you have to redistribute the free space. It will be given next to the one you wish to extend with IM-Magic Partition Resizer.
Step 3: Now you have to claim or add the free space to a smaller partition to get an extension for your volume.
Part 5: Resize Partition Windows 10 Powershell
When you find that the partition on your PC is running out of some extra space you can utilize Powershell for solving this purpose. Powershell lets you resize partitions, or shrink large partitions for creation of unallocated space and also make extensions for small spaces to use them.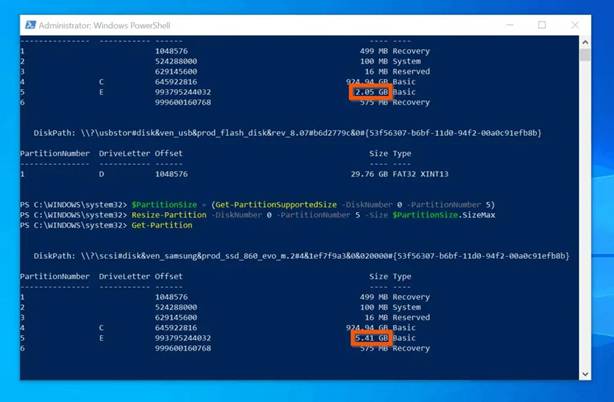 Steps To Follow:
Step 1: First you have to locate the search bar on your PC and then type Powershell in the same. Thereafter, you have to proceed with clicking on Run as Administrator. Herein you will also receive a prompt for User access Control and then move ahead by clicking on Yes option.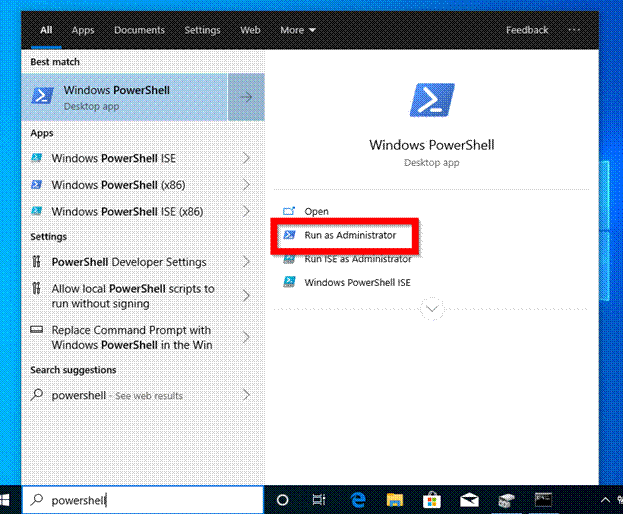 Step 2: Next on the prompt for Powershell you need to proceed with identification of the disk with the partition you wish to resize. Then, you have to write Get-Disk cmdlet and move ahead with pressing the Enter button.
Pro-Tip: You have to note down the number for the disk you wish to allocate a partition facility on, and then proceed with steps.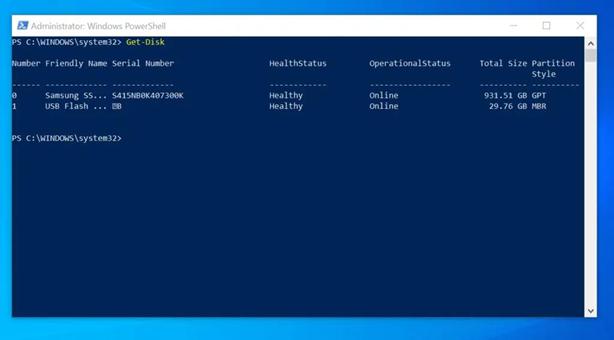 Step 3: Thereafter, you have to go for identification for the partition number to be resized and then proceed with entering the Get-partition Cmdlet. Then you have to proceed with pressing the enter option.
Pro-Tip: Herein you have to write the partition number you are looking for resizing.
Step 4: For getting the max size of your partition you can make use of the PartitionSupportedSize Cmdletand then pipe the resulting value to a variable.
Partition size = (Get-PartitionSupportedSize - DiskNumber- Partition Number)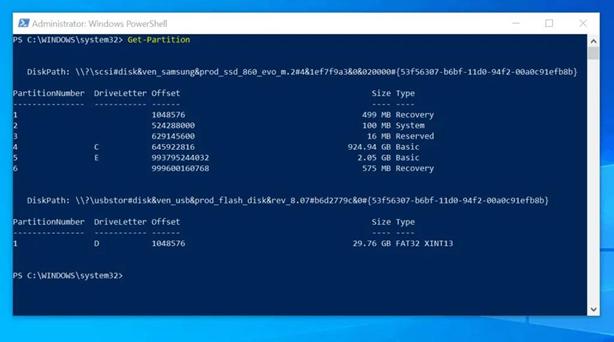 Step 5: In the final step you have to go for resizing the partition on your Windows 10 by utilizing PowerShell. For this you need to make use of Resize-Partition Cmd.
Resize-Partition -DiskNumber - Size PartitionSize.Size Max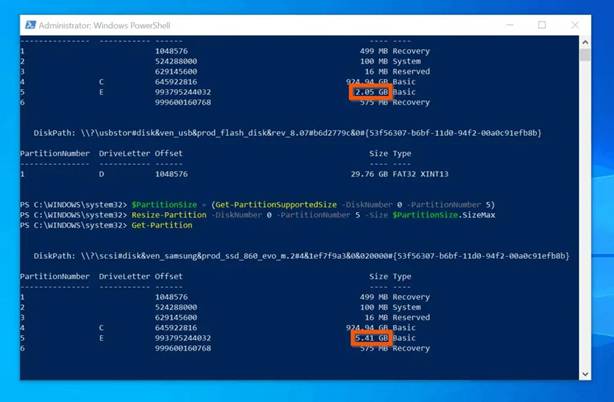 Part 6: resize efi partition windows 11
EFI stands for Extensible Firmware Interface and it is a partition that is available on the primary hard drive utilized by the PC using UEFI- unified Extensible Firmware Interface. When you are looking for an EFI partition you need to format it with a FAT32 file system that contains many utilities such as device drivers, boot loaders, bitlocker data, etc. If you do not wish to make it more complex you can utilize our easy to use software- IM-Magic Partition Resizer. It helps you with resizing of any partition without hampering or loss of any sort of data. For this you do not have to repartition your hard disk or reinstall the OS as well.
You can download the software by clicking on : https://www.resize-c.com/
Free Solution for Partition Resizing on Windows 10 without Software (Data needs to be moved to another disk)
It causes some inconvenience more or less whether it is system partition or data partition runs on low disk space. Therefore, it is necessary to reallocate disk space on Windows 10 to resolve the low disk space problem. Here are some possible free solutions for partition resizing on Windows 10:
1. Free repartition hard disk
You can repartition hard disk so as to reallocate more space to the partition which has low disk space on Windows 10. You need to backup data before repartitioning hard disk.
2 Reinstall Windows 10 system
You can reinstall Windows 10 system and reformat system partition to free up disk space on system partition. You also need to backup important data since it will erase everything after reinstalling operating system.
3. Free up Disk Space on Windows 10 system partition without resizing disk space
If it does not cause any trouble due to system partition low disk space issue, you can also merely free up disk space without resizing disk space on Windows 10. First of all, you can move all data from desktop to another drive or you can delete all unnecessary files. Then, you can perform Disk cleanup regularly on C drive to free up disk space.
Now it may allow you to reallocate disk space on Windows 10 with all solutions above, but you should be careful to avoid data loss.
Also read: how to free up disk space on Windows 11/10
Last updated on Feb 7, 2023