Summary
This tutorial will share IM-Magic Partition Resizer to all Windows users to convert MBR disk to GPT disk for free without losing data even for the system disk.

MBR to GPT Disk Converter Download
Download IM-Magic Partition Resizer Free to convert MBR to GPT disk. It is free from risks.
This article contains the following two parts
How to Convert Disk MBR to GPT without losing data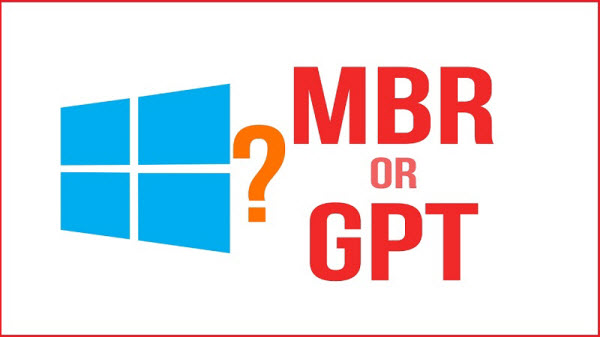 If you want to convert MBR to GPT disk without losing data in Windwos 11/11/10/8/7. IM-Magic Partition Resizer Free has the function of converting MBR to GPT that ensures 100% no data loss with only a few simple clicks. You can follow the steps below to convert MBP to GPT disk.
Download IM-Magic Partition Resizer Server for all Windows Server 2003/2008/2012/2016/2019/2022.
If you are running Windows 11/10/8/7, download the following free version to convert disk gpt for free.

Step 1:
Download, install and run IM-Magic Partition Resizer Free Version which is totally free for home users. Right click the disk you want to convert and choose "Convert to GPT Disk".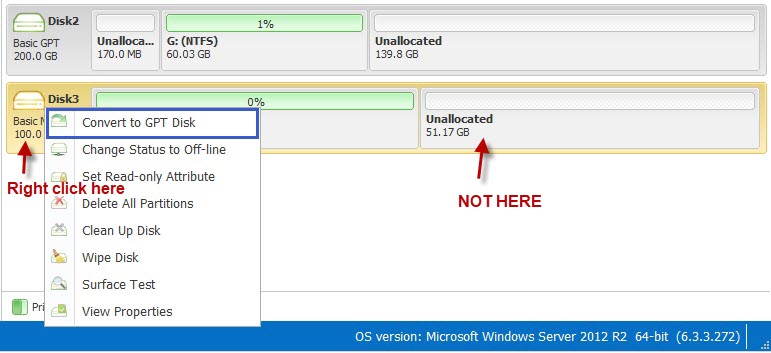 Step 2:
Click "OK" to convert the disk.
Step 3:
Click "Apply" in the software to accomplish the converting.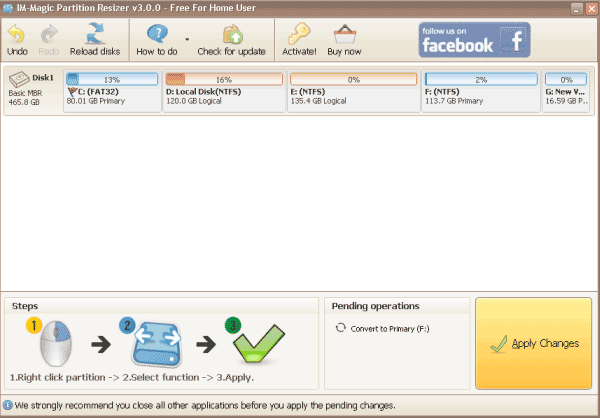 Pay Attention
IM-Magic Partition Resizer is a completely free program that enables you to convert MBR to GPT disk effectively and easily without losing data.
However, after converting, you cannot convert the GPT disk back to MBR disk.
Important Note: if a disk contains system/boot partition, it cannot be converted to GPT directly or your system would become unbootable. A bootable version can make this work.
How to Convert Disk That Runs System Volume to GPT Without Losing Data
If your computer disk includes the boot volume, the system volume, you may run bootable iso and run Partition Resizer in WINPE to convert system disk from MBR to GPT without data loss.
Step1. You need to insert a blank CD, DVD or USB to computer in advance. Without CD/DVD/USB, you need to rely on third-party burn software to make bootable disk.
Download portable version or the partition magic bootable iso
Step2. Run the partition magic software and select "Bootable media" (You need to install  Windows AIK/ADK).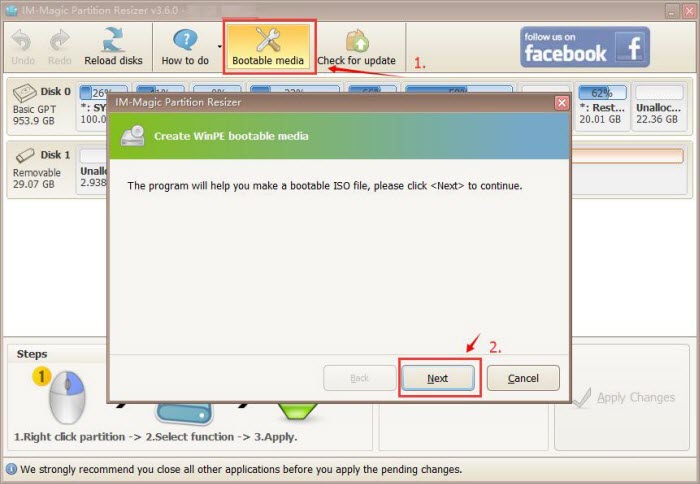 Step3. Select the option to create bootable disk and then follow the wizard to complete it.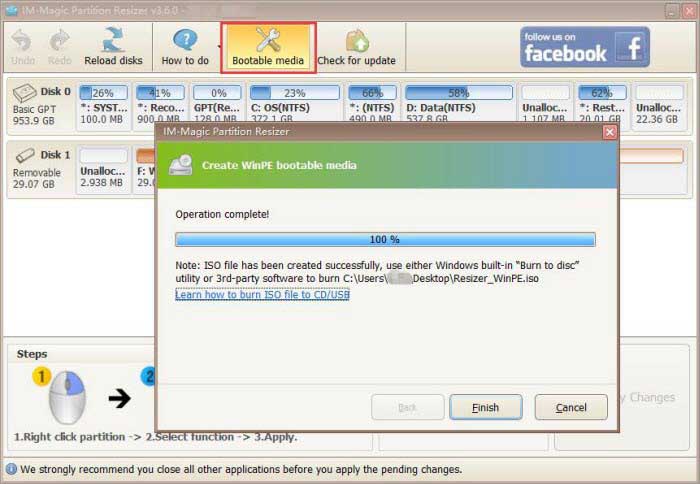 And then you will have an iso file in the end.

Everything will stay the old ways, the data, the operating system won't be effected by the converting disk to gpt when you run the Partition Resizer in a bootable WinPE mode.
Step 4 - After the software load the disk map, right click the disk that includes the boot volume, go to option 'Convert GPT'. Confirm the changes, and the disk will be converted to gpt without losing files or making damages to the boot volume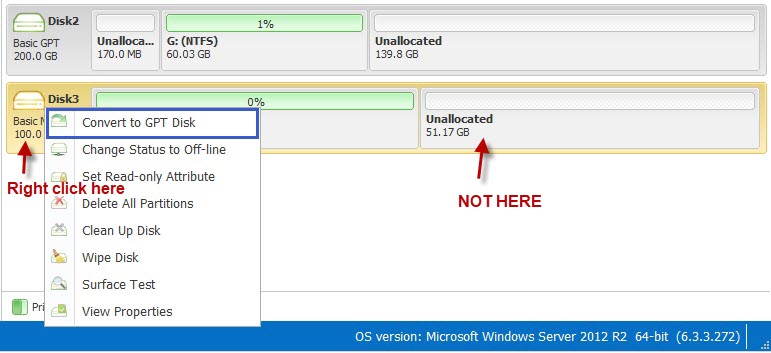 Diskpart Convert MBR to GPT Command Prompt (Data Loss)
Here are the steps using Diskpart for GPT convert.
Note: Diskpart command would erase all files on the disk when you type the following command lines to convert disk mbr to gpt.
1>. Type list disk to view the disk information.
2>. Type select disk n to select the disk that needs to be converted in GPT.
3>. Type convert gpt to convert the select disk into GPT disk.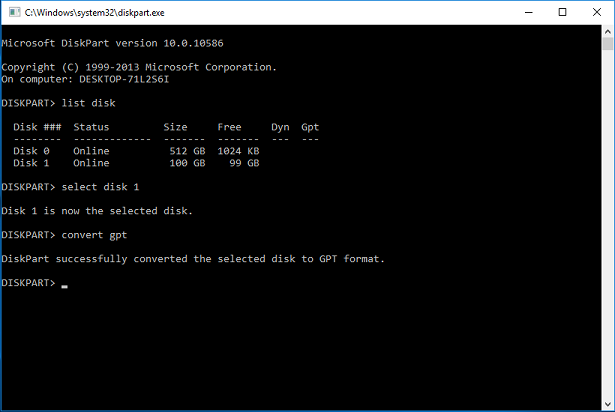 Convert MBR to GPT Command Prompt without Losing Data
Gptgen.exe is able to convert disk from mbr to gpt without losing data with the following command prompt
-w \\.\physicaldriver1 (You need to replace 1 with the disk you want to convert)

Video - how to use gptgen.exe command prompt to conver disk mbr to gpt without losing data
Our advice: Free tool Partition Resizer can help conver mbr to gpt without losing data with simple clicks and it has portable edition.

Why Convert MBR to GPT Disk?
MBR, namely Master Boot Record, is the first sector of a hard disk. Usually, MBR contains primary partitions, extended partition and logical partitions. MBR is widely used by lots of people, but sometimes, you may want to convert MBR to GPT disk due to some reasons. MBR has the following disadvantages:
MBR disk only supports disk size up to 2TB
MBR disk only supports 4 primary partitions at most, or 3 primary partitions plus 1 extended partition.
MBR cannot exist in a media that cannot be partitioned.
Therefore, if the disk size is up to 2TB or if you want to create more than 4 primary partitions, you may need to convert MBR to GPT disk.
About GPT Disk
GPT, namely GUID Partition Table, provides a more flexible principle for partitioning a hard disk. GPT has been developed only a short time, but its advantages are visible. Therefore, more and more people are interested in learning more about GPT disk and want to convert MBR to GPT disk.
Sometimes, you may want to convert MBR to GPT. How much do you know about MBR and GPT disk? Well, when building a new hard disk in computer, you often need to format the new hard disk in order to make it available. When formatting the hard disk, Windows system will give you two options: MBR and GPT. Simply say, both MBR and GPT are two different modes of formatting your hard disk and both of them have their own advantages and disadvantages.
Advantages of GPT Disk
GPT disk supports disk size more than 2TB
GPT can support unlimited number of partitions
GPT has no limitations to the size of partitions
Every partition on GPT can have a same partition


Although GPT disk has those advantages, it also has its limitations that GPT cannot work on all Windows operating system. For example, Windows XP and Windows 2000 are unable to support GPT disk. If you don't convert GPT to MBP disk on Windows which cannot support GPT disk, you will be unable to access data. Therefore, you can boot from a GPT disk only if your computer has an operating system Like Windows 7 or Windows Vista that supports GPT disk and the motherboard has an EFI BIOS.

For Windows Server all versions ==> Download IM-Magic Partition Resizer Server