How to Free Shrink Volume to Create New Volume or Extend Volumeon Windows 10 in Disk Management
In fact, you can simply shrink and create new partition on Windows 10 without relying on any other tool because you can accomplish the task under Windows 10 Disk Management:
Step1. Right click "This PC" and then click "Management".
Step2. Click "Disk Management"
Step3. Right click the partition that has much free space and click "Shrink Volume" option.
Step4. Enter the amount of space and then click "Shrink" button. Now, you only need to wait patiently before the shrinking process is completed.
You can get some unallocated space after shrinking
Step5. Right click the unallocated volume and select "New Simple Volume"
Step6. You can set the size and assign a drive letter to this volume and then format this volume
Step7. When the formatting is successfully, you can see a new volume.
If shrink volume is disabled, or if you want to shrink volume with 100% data untouched, be free to use freeware Partition Resizer Free that works flawless in Windows 10/8/7.
Shrink Volume in Windows 10 with Freeware and Redistribute Unallocated Volume for Windows 10
If you want to add unallocated space to another partition rather creating a new volume on Windows 10, you have to move the unallocated volume close to the partition you want to extend. For example, if the unallocated space is behind D drive, but you want to extend C drive on Windows 10, you should move the unallocated space close to C drive. Unfortunately, Windows 10 Disk Management has no ability to move partition, so you probably need to use a partition tool for Windows 10.
Move Unallocated Space with Windows 10 Partition Software
IM-Magic Partition Resizer Free is a partition manager, which is compatible with all Windows platform to extend volume, shrink volume, move volume and more. Therefore, you can rely on this software to free to move unallocated space close to the partition you want to extend. This partition software provides safe solution for partition management without touching any previous data or hurting the operating system. Even if the process is interrupted due to sudden power off or other reasons, it does not cause any damage to your computer or hard disk.
Download IM-Magic Partition Resizer Free Edition


Step 1- Right click a volume to shrink, and go to its function 'Resize/Move'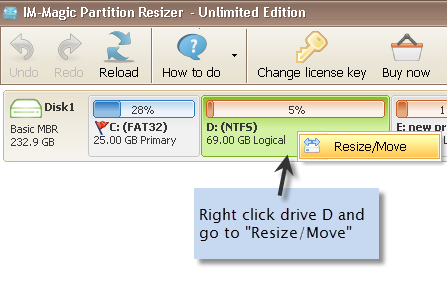 Step 2- Shrink the volume by moving its border rightward, and then click OK.
Shrink D drive and extend C drive with IM-Magic Partition Resizer
Step 3 - Click 'Apply' in the software to make the changes operated. And then the shrinking volume is done with freeware Partition Resizer Free in Windows 10.
What's next -> Redistribute the free space to some other volume? You may simply right click partitions to move/extend volumes with this freeware too.
Also read: how to shrink partition to extend c drive
How to shrink or move disk volume on Windows 10? When referring to Windows 10 disk management, many people will come up with partition resizing, partition formatting, partition deleting, etc. Shrinking partition and move partition are two important processes for partition resizing on Windows 10. Whenever you want to extend a volume on Windows 10, you probably need to shrink volume first of all so as to create some unallocated space and then move the unallocated volume close to the partition you want to extend. Since shrinking and moving partition play such an important role in partition resizing, this article will share all free methods to shrink partition and move partition on Windows 10.
Why Do You Shrink Partition in Windows 10?
Shrinking volume is a process to squeeze some free space from a disk partition, after which the free space usually shows as unallocated volume. Usually, you may need to shrink partition on Windows 10 in following situations:
1. You want to move some free space from one partition to another partition that is running out of disk space on Windows 10. In this situation, you have shrink the partition that has much free space at first so as to squeeze some unallocated space and then you can add it to the partition that you want to extend.
2. You want to create new partition on Windows 10. Sometimes, you may want to create a new volume on your computer because there is not enough volume for data storage.