How to Shrink a Partition
Steps

1. locate the partition to shrink and right click it to go "Resize/Move"
2. shrink the drive when the mouse shows double arrows
3. done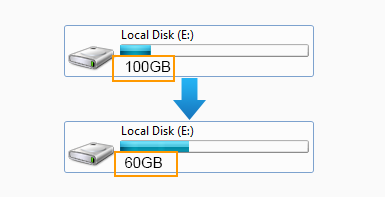 Free Disk Space:
If you want to shrink a partition which has a lot of free space, you may use IM-Magic Partition Free, which is able to make a volume smaller without losing a file on the drive for free. Later, you may add the free unallocated space to another partition to get it extended without losing data too.
Plantform:
For Windows Server 2000/2003/2008/2012 ALL versions compatioble, please use IM-Magic Partition Resizer Server.
For Windows XP/Vista/7/8, please use IM-Magic Partition Resizer Free.
Steps to Shrink a Volume
Step 1:
Right click the partiton which you want to shrink, and go to "Resize/Move" option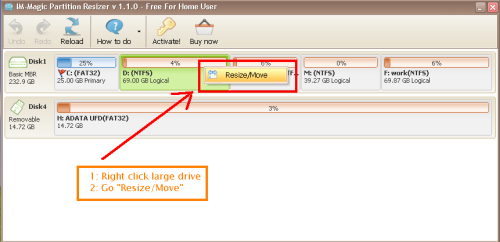 Step 2:
At the "Resize/Move" screen, place your computer mouse to the edge of its partition. When the mouse shows <->, you may shrink it by narrowing its edge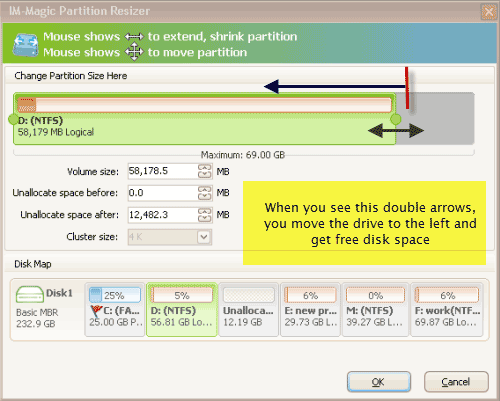 Step 3:
Free disk space is the fresh air that you need to add it to another space to get expanded. The UNALLOCATED SPACE shall be right at the side of the partition you want to expand. You can make it by moving other partitions. (You may right click the partition to move by "Resize/Move" function too.)

Download Proper Version of IM-Magic Partition Resizer
For Windows 8/7/Vista/XP/2000 ==> Download IM-Magic Partition Resizer Free
For Windows Server All versions ==> Download IM-Magic Partition Resizer Server
More Related Articles You May Like
Copyright © 2017 IM-Magic Inc. All rights reserved. Windows® is trademark of Microsoft Inc., and Partition Magic® is trademark of Symantec Inc registered in the U.S. and other countries . IM-Magic's software is not developed by or affiliated with Microsoft nor Symantec Inc.