Summary
Want to shrink C drive and create another drive? Want to divide C drive into two partitions? Want to shrink volume and extend another volume ? Now I will introduce a useful freewarel for you to shrink C drive boot volume in Windows 11/10/8/7 for totally free.
Table of Contents
Introduction
Often computer manufacturers prefer to ship computers and laptops having only a single partition "C-Drive" and many users seem to roll conveniently with this choice, but there are others which do not like the idea of having only one partition in their systems. Some users specifically need to have two or more partitions for them to function efficiently.
This article very well addresses the needs of those specific people, they can choose to shrink C drive to make room for new partitions and allow themselves to work correctly. This can very well be achieved on all versions of windows including 11/10/8/7 as well. By using a Freeware named "IM-Magic Partition Resizer" , this incredible tool can handle every kind of disk management operation with speed and reliability and without having to delete any of your valuable data.
Shrink C drive Windows 10 Without Formatting
Many people would be concerned about losing their delicate and essential data, and Disk Management offers no other solution except formatting the C drive altogether and then, making partitions out of it. This is surely not a way to go. That is why IM-Magic Partition Resizer is here to help.
This fantastic tool can shrink C drive for you without ever having to format the full drive in the first place. Where disk management in windows find certain limitations to execute the task, it can do the same thing with the blink of an eye. Users don't have to worry much about their essential files and other vital data. It will be right there where you left it.
Step by step guide:
Step 1: Download and install the freeware

Step2: Right click c drive and choose RESIZE/MOVE PARTITION
Step 3: Move the border of c drive leftward to shrink it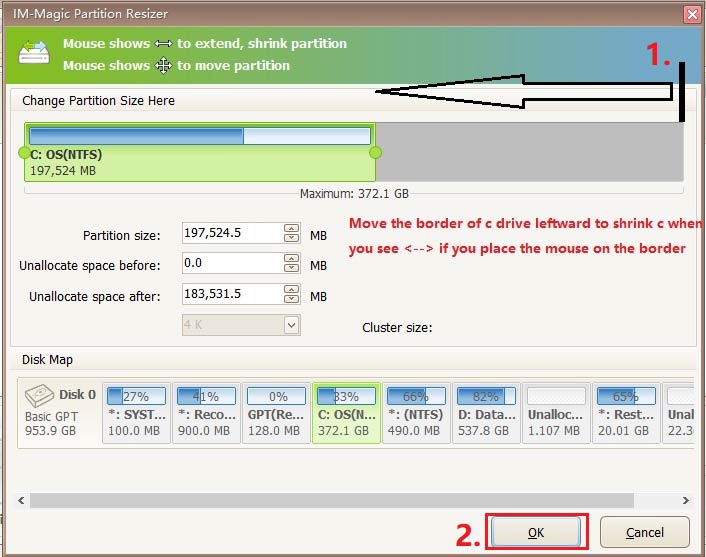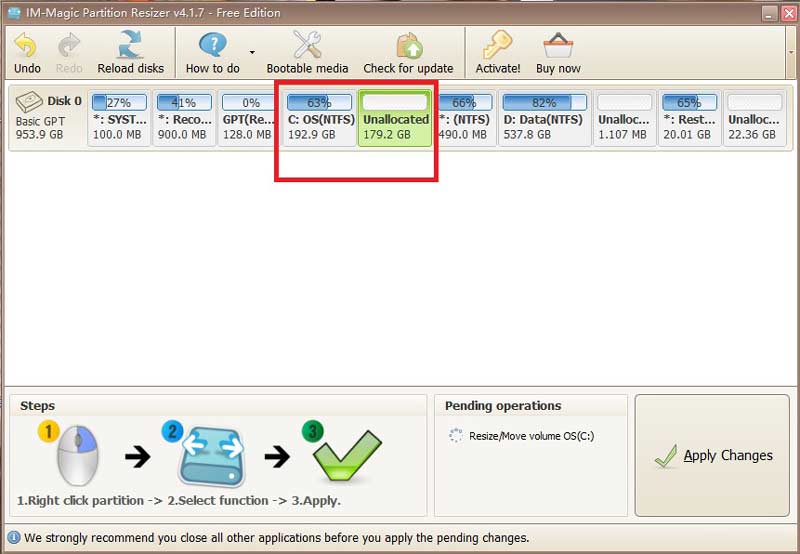 Resize partitions with partition manage tool
Step 4: Click APPLY to make the changes.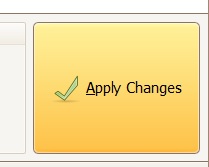 Shrink C drive for windows server 2003/2008/2012/2016 SBS r2
And for those who are mostly concerned with the server type of the Windows need not to worry. IM-Magic Partition Resizer is fully compatible with the following versions of windows;
Windows Server 2003
Windows Server 2008
Windows Server 2012
Windows Server 2016
Windows Server SBS r2
All these server configurations work fine with the IM-Magic Partition Resizer, and there is no problem in Shrinking C drive for these specific Windows SERVERS.

How to shrink system partition without reinstalling for free
If you had lost all hope regarding shrinking C drive and making new partitions and was ready to reinstall Windows just for this basic problem, Stop! Right there; you don't need to do this. IM-Magic Partition Resizer is here to help. It will shrink down the size of C drive and create enough space for you to make new partitions.
Step#1 Launch the IM-Magic Partition Resizer and allow it to load the disk map.
Step#2 Once all the available disks are available to choose from, right click on the C drive and select "Move/Resize".
Step#3 When the new window appears, scroll the mouse over to the left and choose how much space you want to shrink on C drive.
Step#4 Once decided to leave the pointer there, and a new Window saying "Are you sure to proceed?" will pop up, click Yes and save the changes.
You have successfully shrunk C drive. The new unallocated space can now be used to create further partitions as you please!

To download this fantastic freeware or learn more information, feel free to stop by our website;
Shrink space from another disk
RAID array is required if you want to shrink disk space from another disk and then redistribute the free space to another disk.
The following video shows how to build disk RAID array.