Summary
If you want to repartition your partitions, you may need to shrink the partitions. This page is about how to shrink partition with CMD diskpart for totally free.
Table of Contents
Reasons to Shrink Partition Volume
You can shrink partition with cmd Diskpart. One common question with most PC's users is that; is shrinking c drive server 2003/2008/2012 diskpart possible? The good news is that it is possible to do so. Just like you can extend your partition using the diskpart command, you can also shrink partition using the sane diskpart command. It is pretty much easy only if you follow the steps involved carefully. However, the best way to go about shrinking partition still is using the IM-Magic Partition Resizer Server edition. You can also use IM-Magic Partition Resizer Free if your computer is Windows 11/10/8/7. You do not have to worry about losing data when using the IM-Magic Partition Resizer software.
How to Shrink Partition using Diskpart
First, launch the type in 'cmd' into the Start space.
#1: Type cmd
This will bring out the cmd program, click and run the program. Another window will come, in this window, type in 'diskpart'.
#2: Type diskpart
If properly typed in, that should pop up another window. In this new window, type in 'list volume'.
#3: Type list volume
Before you get to this stage, it is necessary that you already know the exact number of the disk you want to shrink. Shrinking the wrong number could cause havoc on your PC. Then type in select volume (and the volume number).
#4: Type select volume *(volume number)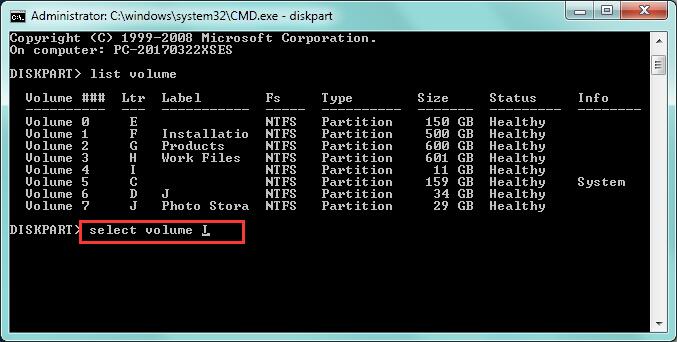 shrink volume cmd
After you have selected the volume number, then type 'shrink (volume number)=(size number)'. Afterward, your partition should be properly shrunk to the desired volume you want it to be at.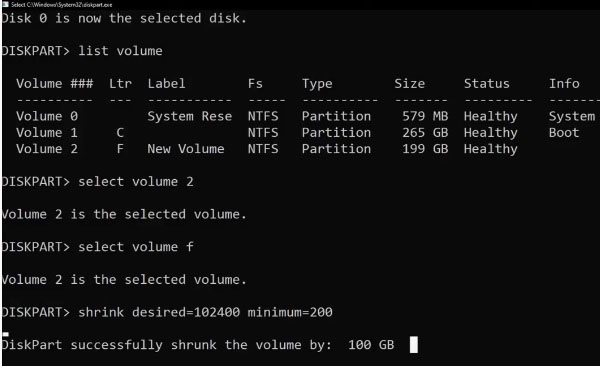 #5: Type shrink *=
However, note that you may run into some problems when you are trying to shrink volumes using diskpart. For instance, shrinking a volume may not move some files. These files are the paging file or the shadow copy of the storage area. And also, you may not be able to shrink beyond the space those files occupy.
Video - how to shrink volume using cmd
Using IM-Magic Partition Resizer Free to Shrink Partition
Using the IM-Magic Partition Resizer Free Edition to shrink partition guarantees against any data loss. While there are so many software programs out there promising the same thing, this does what it says. To use IM-Magic, first get it installed on your computer, then launch the software. All your partitions will be shown, then click on the particular one to shrink and click 'Resize/Move'. Then drag the arrows to the desired place you want to shrink the disk to.

[Guide] Steps to extend volume without data loss
This step by step guide will show you the right way to extend any volume.
Step-1

install, and launch the program.
Step-2 Right click the large volume to produce unallocated free space.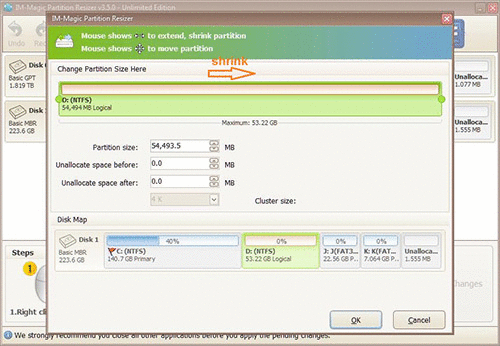 Steps to resize your partition when you can not extend volume
Step-3  Then right click c and drag the border to acquire the free space.
Steps to resize your partition when you can not extend volume
Step-4 Apply the changes.
Other related articles that you may want to read
How to shrink D and extend c drive
Reasons to Shrink Partition
Reasons for wanting to shrink partition volume abound. The first and most common reason for shrinking partition volume is that you want to release some unallocated space for extension of another disk partition. This is indeed necessary as you cannot increase the volume of a full partition if there is no unallocated space that could be added to intended disk for an extension. Another reason is that there is redundant space on one of your partitions lying without use. Adding the free space to the partition running your Windows files would really be a very big boost to your PC. Another reason could be that you need to create another partition altogether to store some very important files and make the files on your PC more organized. Everything all bores down to proper disk space management.