Summary
Want to extend the C drive but accidentally find the extend volume option on the Windows system greyed out? Don't worry, this article will introduce a freeware to extend partition when extend volume greyed out on Windows 10/8/7.
Table of Contents
Cannot Extend Volume on Windows 10
"I tried to extend my C drive at Disk Management yesterday , but I find the extend volume grayed out at Disk Management on my Windows 10 system. What's the problem? Can I extend the partition when the extend volume greyed out?"
This can be a common situation for Windows users, no matter for Windows 10/8/7/XP/Vista, or Windows server system, extend volume option greyed out will cause users much trouble managing the hard disk partitions. Why does this problem happen?
Reasons Why Extend Volume Grayed out Windows 10/8.1/7
People would like choose Disk Management to manage the disk partition when they want to extend, shrink, format the partitions. You can right-click the "Computer", choose "Manage" to go, then you can enter "Disk Management". There are all your disk partitions listed. You can choose the partition you need to manage, right click it, choose "Extend Volume", "Shrink Volume", "Format Volume", etc. If you see the Extend Volume option grayed out on your computer, it means that there is no unallocated space on your hard disk. In this situation, you need to spare some free space first, then you can extend your partitions.
How to Enable Extend Volume in Windows 10
When the Extend Volume option on your computer grayed out, you want to extend the partition, you need to shrink another partition first. You can right click the drive next to the partition need to be extended and choose "Shrink Volume", spare enough space which you want to add to another drive you want to extend. Then there will be some unallocated space adjacent to the partition, the "Extend Volume" will be available.
But this process may cause you data loss problems on the partition, if you want to extend your disk partitions when the extend volume grayed out, the best solution is to use a partition manage tool. Here are some free partition manage software you can try.
I will recommend IM-Magic Partition Resizer Free, which is a freeware to manage disk partitions, you can use to extend, move, shrink, resize, format, wipe, create partitions. It is compatible with Windows 10/8/7/XP/Vista, it also has server edition which is designed for all the server systems.
Free Disk Partition Management Tool Download
(1208)

Free Download Disk Management Tool to Manage Disk Volumes without losing data and get extend volume greyed out problem fixed with freeware.
IM-Magic Partition Resizer Free has an effective partition manage capability, you can make it in a minute, what important is this tool is totally free.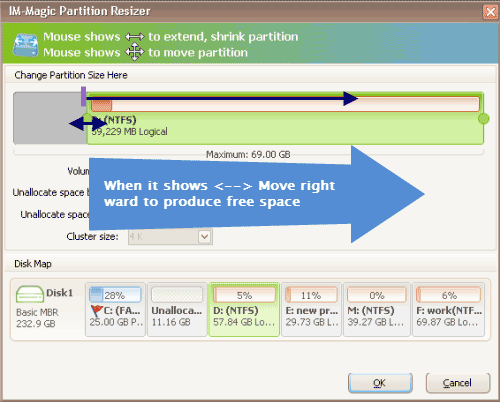 Extend partition when the extend volume greyed out on server sbs 2011
It is very easy to use, after download and install this freeware, you can choose the partition, right click it, choose "resize/move partition", then you can move the mouse to extend or shrink the partition easily. It is totally safe, and will do no harm to your data. You can totally trust it.