When you open the disk management to delete the disk volume in order to repartition the disk, you may find that the option 'Delete Volume' greyed out and it cannot be selected.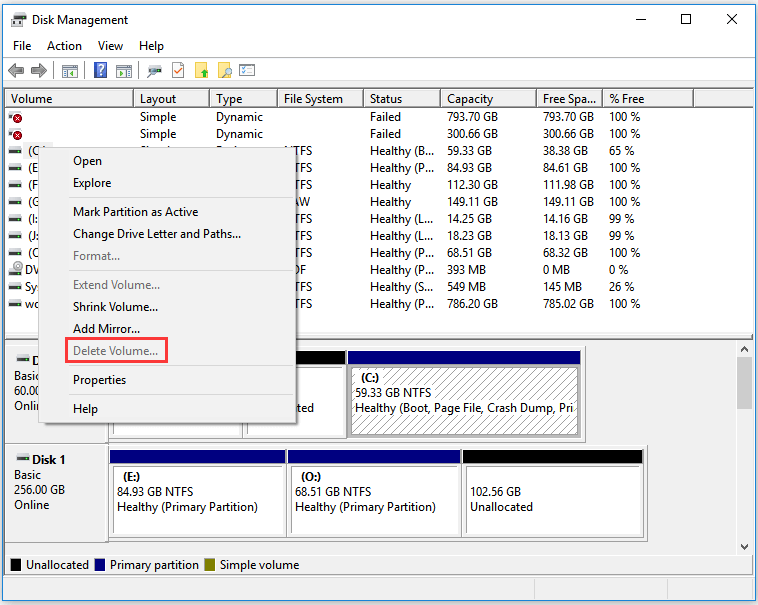 When delete volume is available, it looks like this following image.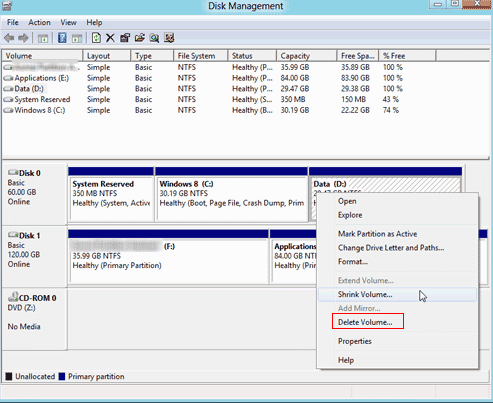 When the disk is occupied (page file, system file, or virtual memory files?), even when all files in the partition are deleted and the computer is restarted. It remains the same, and a reformatting disk also indicates that it is occupied.
Deleting all files won't work, you need to remove the setting to get rid of the problem if the partition was set to store system files such as the page file, system file or virtual memory etc.
What causes the 'Delete Volume' Option to Grey Out on Windows 10?
The Cause:
Well, if the 'Delete volume' option is greyed out for you in Disk Management on Windows 11/10/8/7 or Windows Server machines, it can be due to the following causes
Page file: If the the existence of Page file saved on that particular volume, the very one you want to delete, then you won't be able to get it deleted due to the existence of the Page file.
System files: If the partition that you are trying to delete has system files installed on it, you won't be able to do so due to which the 'Delete volume' option is greyed out for you.
virtual memory files: It may be that the virtual memory is set on the partition to be deleted, so the formatting/deleting the volume won't work.
The Solutons:
This article includes the following solutions
Solution one - Reset partition properties and delete virtual memory settings
Solution two - Free space cannot be deleted in extended partition, create new volume and delete it
Solution three - Delete partition with Diskpart
Solution four - Delete one or all partitions with the free software im magic partition Resizer
Solution 1 - Remove virtual memory from partition
Here are the steps to get virtual memory removed from the partition that you want to delete:
1. First right-click This Computer (or THIS PC) and click properties, which will show System Properties for you.
2. Click Advanced tab, click settings in the pop-up system window.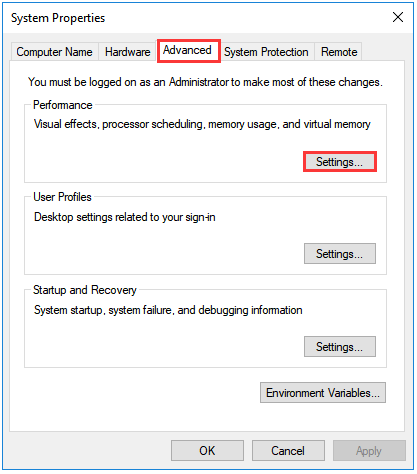 3. In the pop-up system properties window, select Advanced Options > > and click Change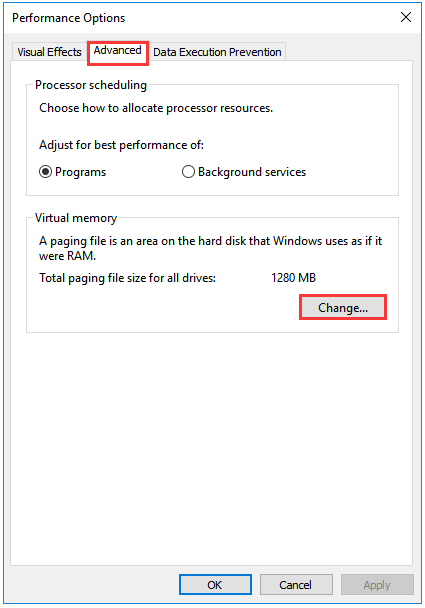 4. In the pop-up performance window, select Advanced Options > > virtual memory options and click change
5. Pop up the virtual memory setting window, select the partition to be deleted in the drive (volume label) > > set as non paged File > > Click setting, and then click OK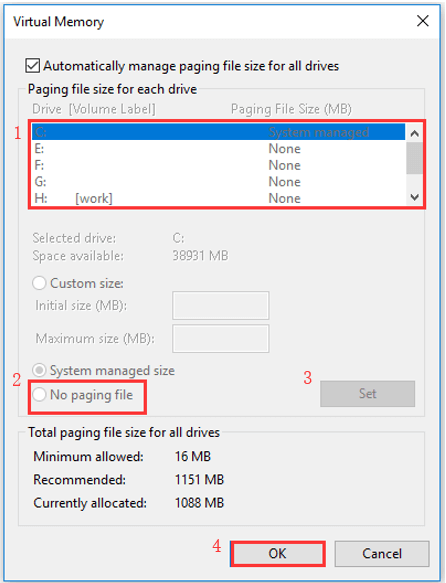 6. After setting, a window will pop up indicating that the computer needs to be restarted to take effect. Click OK and restart the system
7. After restarting the system, open the disk management again, and the partition can be deleted normally (do not forget to back up important data before deletion)
2, Free Space on Extended Partition Cannot Be Deleted, Delete Volume Grayed Out
Free space on extended partition could not be deleted, and the delete volume on free space also greys out.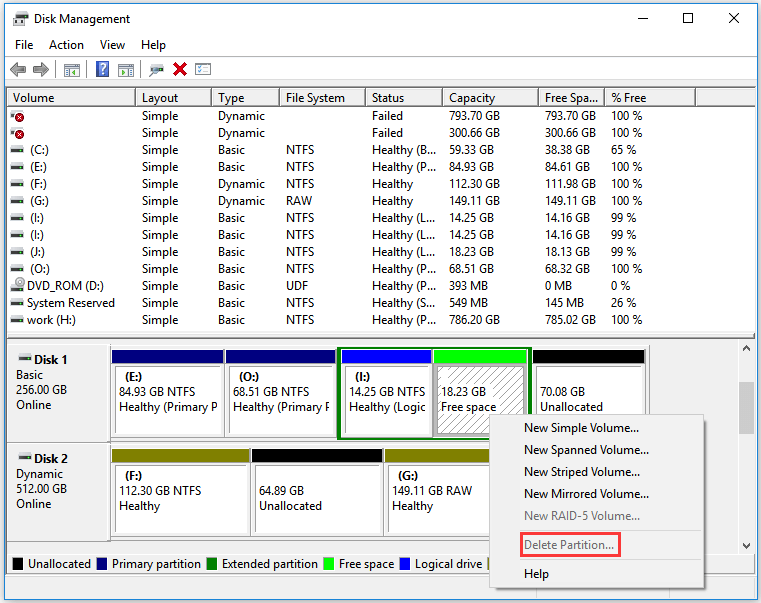 Solution: Create new volume, delete volume will be enabled
1, Right click the Free space, create new volume, and confirm the changes
2, Right click the new volume that used to be the free space, and then delete volume/delete partition will be available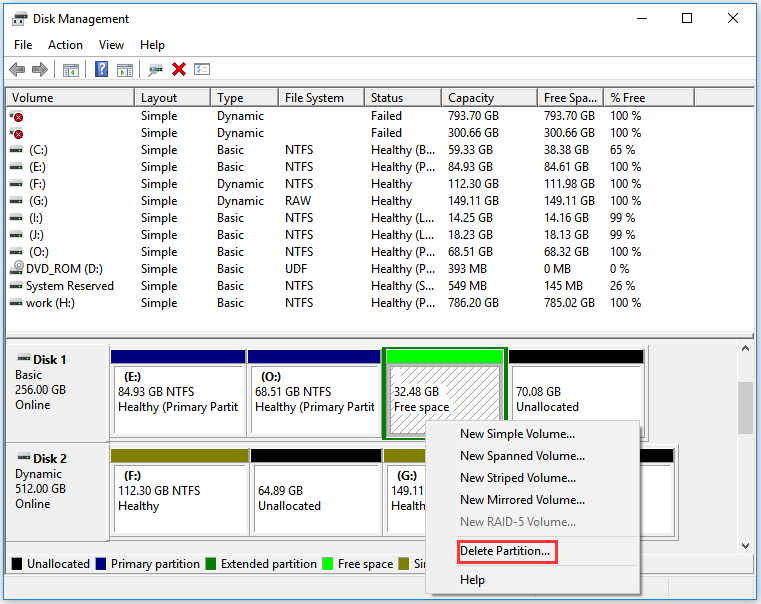 Does not work? Try the following ->
Delete nearby logical partitions(usually on the left side of the free space) on the same disk, delete them at first, and the whole disk will become free space to remove.
Step 1 Run Disk Management again if you have closed it. And then delete the logical partitions in the extended partition by right-clicking it and then choosing the Delete Volume option.
Step 2 - Delete partition and confirm the changes.
Note: Please backup all data before the deletion.
3, Delete partition with diskpart by force delete
Sometimes, when we use Windows to manage disk partitions, some partitions may not be deleted, that is, there is no operation item to delete volumes in the right-click shortcut menu.
At this point, we can complete the operation according to the following steps: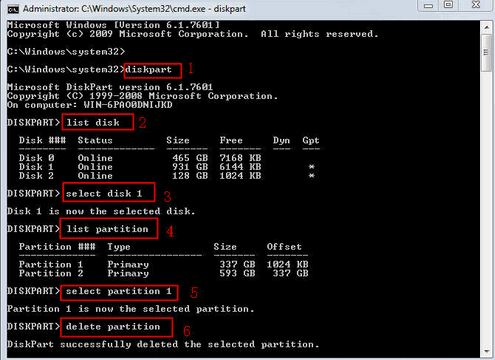 If the above cmd does not work, then you may force delete partition using diskpart override command prompt.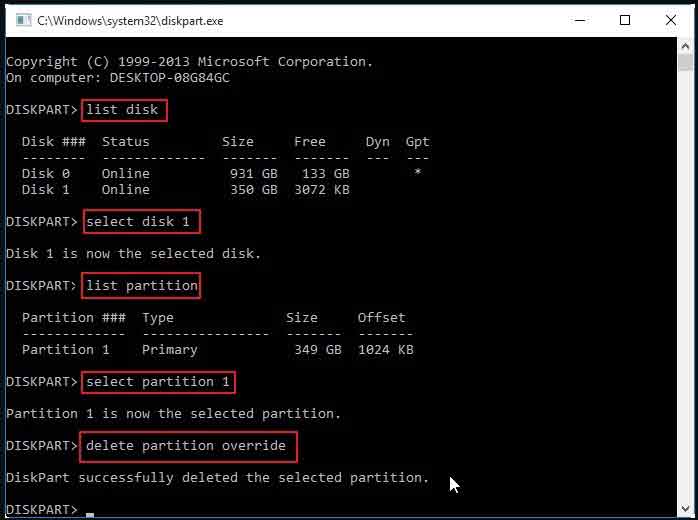 Step 1: run the command line CMD as an administrator and enter diskpart.exe;
Step 2: enter rescan to scan the hard disk settings (This step can be omitted)
Step 3: enter list disk to list the disks
Step 4: enter the select disk number and select the disk
Step 5: enter list partition to list the partitions of the current disk
Step 6: enter the select partition number and select the partition to be deleted
Step 7: enter 'delete partition override' to delete the specified partition
Delete recovery partition: If you want to delete recovery partition using cmd diskpart on Windows 11/10/8/7 or Windows Server, you may follow this video instead.
3、 Delete one or all partitions with IM-Magic Partition Resizer Free
When delete volume greyed out in disk management, you may try free software IM-Magic Partition Resizer which can not only delete one partition, but it also could delete all partitions on a disk for free. Here are the steps to get partition deleted when it cannot be deleted under disk management.

Step 1, Download, install Partition Resizer Free for Windows 11/10/8/7 computers, and open it
Step 2: Right click the disk partition that you want to remove, and an option 'Delete Partition' will be available on the pop up box for you to delete volume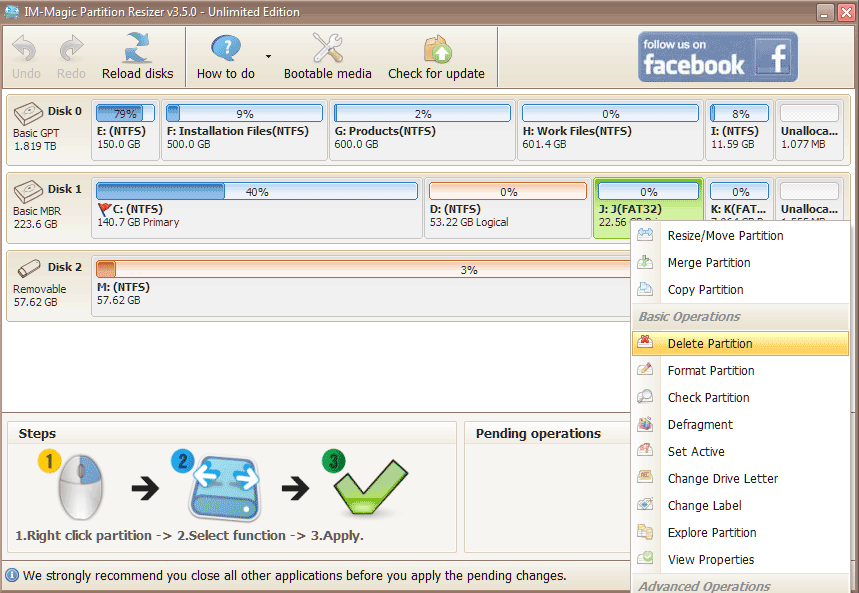 Step 3, Confirm the deletion
Delete all partitions? You may click the disk icon instead of one partition and an option 'Delete All Partitions' will be available for you by this free tool.
Step1. Right click the disk (.e.g. disk 1) instead of partition and select "Delete All Partitions".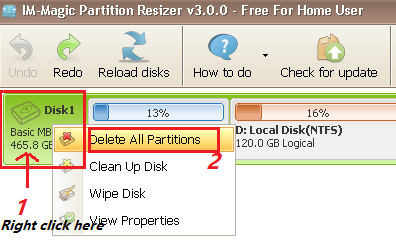 Step2. Confirm to delete the selected disk and then click "Apply Changes" button.

Deleting partition for Windows Server: IM-Magic Partition Resizer Server is for deleting volumes on Windows Server 2003 2008 2012 2016 2019 2022 all versions and editions.(This is a paid edition)
NOTE:
1. You cannot delete a system partition on any Windows computer.
2. All data on the deleted partition would be erased permanently.
Delete partition to extend another partition? Try Free Software IM-Magic Partition Resizer
If you wanted to delete volume in order to redistribute free space to another disk volume, you may do this with free software IM-Magic Partition Resizer that will let you redistribute free space from any place to the one you want to extend without losing data or deleting partition.
Moving free space to the partition you want to extend by moving the partitions in between without losing data with Partition Resizer ensures 100% data safety.
This following photos show how to move partitions for free and keep data and OS safe.
Step 1 - Right click the partition you want to move, go to resize/move partition

Step 2 - When you see the mouse become a cross arrow, move partition rightward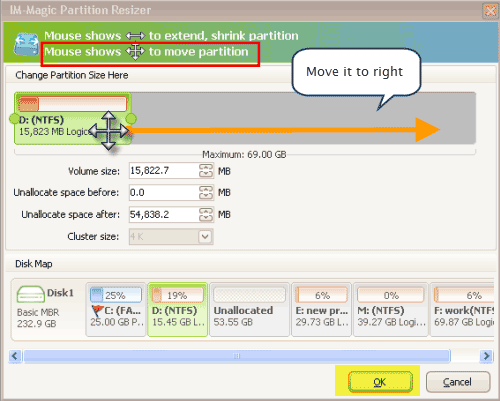 Then the free space will be moved to the left side of partition D in the above photo
Step 3 - Right click c drive, go to its popup option 'Resize/move partition' for example to extend c volume. You may extend c drive when the mouse became the two directions arrow, drag the border to claim the free space rightward, and click OK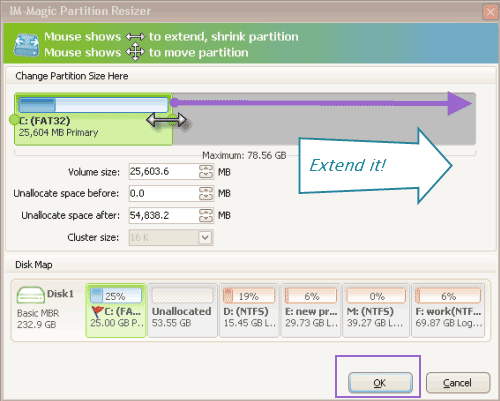 Step 4 - Click APPLY button in the software to make every step applied.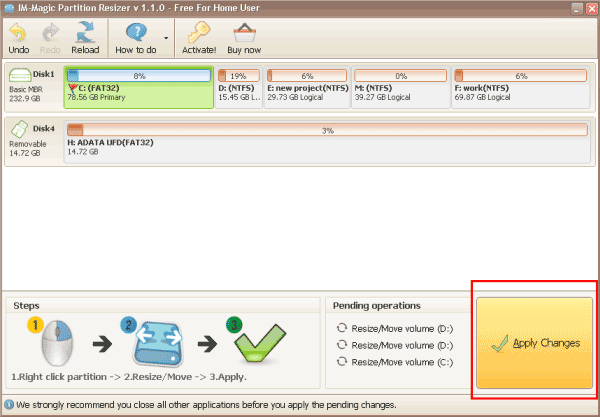 And you will get a size extended boot volume.
More functions from Partition Resizer:
Partition Resizer provides more functions for disk partition management including converting logical partition primary, changing disk mbr to gpt, shrink partition, merge partitions, extend partition, delete partition and more.
More details can be found here https://www.resize-c.com/howto/
Download Proper Version of IM-Magic Partition Resizer
For Windows 11/10/8/7/Vista/XP/2000 ==> Download IM-Magic Partition Resizer Free
For Windows Server All versions ==> Download IM-Magic Partition Resizer Server
FAQS
Q: Cannot delete partition in Disk Management Windows 10
A: It could be the following causes when delete partition is not available
1, The system volume cannot be deleted
2, The free space has logical partitions on its left side that shall be deleted at first
3, The partition has been set to save system files such as Page files, System files that shall be removed at first (This is a detailed guide on this page that shows how to remove the setting)
You may delete partition when it is unable to delete volume by the following ways.
1, Delete partition using diskpart override command
2, Free software IM-Magic Partition Resizer is able to delete partition
3, If you want to delete system partition, you may use Partition Resizer in bootable iso to delete system partition