Summary
If your C drive run out of space, you can find the best solutions here to extend c drive for with cmd diskpart or other free solutions.
Table of Contents
C Drive is Full How to Fix
When your C drive is full and you want to extend it, you can use the command based Windows utility i.e diskpart. Diskpart has replaced disk command utility with more advanced features.
Using the diskpart commands, you can extend, create,delete,shrink,clean,delete and perform other disk resizing tasks. If you want to extend your C drive, and you see your unallocated space next to C drive then it is is simple to extend your C drive using diskpart. You need to go to RUN->Type diskpart.exe and press OK.
Resize partition cmd diskpart, resize c drive
Once you are in Diskpart, you can type in commands to resize partitions. For example you want to extend your C drive. You run the command - list volume and see the unallocated partition next to your C drive that you want to extend. You run the next command - extend size command and the drive is extended.
If the unallocated space is not next to C drive, then you can delete the next partition and extend your C drive. Both the partitions C and contagious partition must be of the same file system. This way you can extend C drive. Deleting a partition means you are deleting the data stored on the drive. If the file system of the next drive is not NTFS then then you need to format the next drive in NTFS. Diskpart supports only NTFS partitions.
The basic diskpart commands:
1. Run->diskpart.exe: This takes you to diskpart command mode.
2. List Disk: To view the disks connected with your system.
3. List partition: To view the partitions
4. Select partition: To select the partition. If you want to do any disk activity on any partition, you must select the partition first.
5. Shrink-To shrink the drive. This creates unallocated space which can be added to other drive.
6. Extend- To extend your drive.
7. Format- To format the partition
8. Merge-For Merging partitions.
9. Create-To create a partition.
10. Delete-Use this command to delete a partition.
The diskpart is a command based utility. Most of us are not comfortable and sure in when typing commands to do any resizing activity. If you type a command and by mistake press enter, you will not be allowed to cancel the activity. This is a risk when you are not sure about diskpart.
To resize c drive or any other drive without much thinking, use other disk resizing tools available in the market. IM-Magic Partition Resizer Free edition is a free tool which does most of the important disk related job.

How to Resize Partition with IM-Magic Partition Resizer Free edition
This tool is free to use. The scenario which we discussed where it is not possible to extend your C drive is easily solved by this tool. It lets you move the unallocated partition to the right side of C drive. This way you can extend your C drive. With IM-Magic Partition Resizer Free edition you can shrink and merge partitions without loosing the files. The tool is designed with rollback technique which keeps the data safe when your computer is shutdown when performing any resizing activity.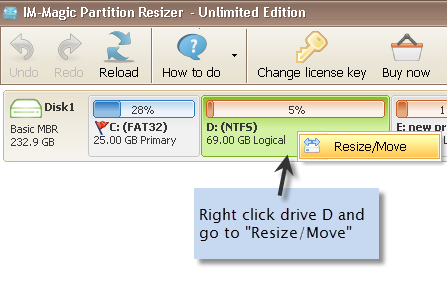 Resize partition with IM-Magic Partition Resizer free
The tool is available free for all windows versions and for server editions, you can download the trial version. You can learn more about IM-Magic Partition Resizer Free edition by visiting the below website:
There is also a server edition of IM-Magic Partition Resizer you can try. You can use IM-Magic Partition Resizer server or IM-Magic Partition Resizer Unlimited.
[Guide] Steps to extend volume without data loss
This step by step guide will show you the right way to extend any volume using  IM-Magic Partition Resizer Unlimited edition.
Step-1  Download install, and launch the program.
Step-2 Right click the large volume to produce unallocated free space.

Steps to resize your disk partition
Step-3  Then right click c and drag the border to acquire the free space.

Steps to resize your disk partition
Step-4 Apply the changes.