Summary
This page is about how to make unallocated space on Windows server 2008 r2, we will introduce disk management and other useful solutions.
Table of Contents
How to make unallocated space on your disk Windows server 2008
You want to create free space in your disk from Windows server 2008 r2 disk management. You have good amount of unallocated space in your disk and now you want to allocate this unallocated space to other drives. You can extend your drives by allocating the space from unallocated space partition or you can shrink the other drives to create unallocated partitions.
SBS 2008 disk management expand/shrink/delete volume and more
To create unallocated space from SBS 2008 disk management you need to shrink the other drive or drives. The shrink option available in disk management tool takes out the free space from the drive and create an unallocated space partition. You can then format this partition and give a drive name.
Generally, you create unallocated space to have another drive or when you want to expand the size of other drive. The drive extension is possible only when the newly created unallocated space is just behind it. That means the unallocated space must be at the right side of your drive that you want to extend.
If it is not, then you have to delete the next partition. The delete partition creates an unallocated space and then you can specify the size that you want to allocate to the drive from this unallocated space partition. Before deleting the drive, you must backup your data as the data is lost when you delete a partition.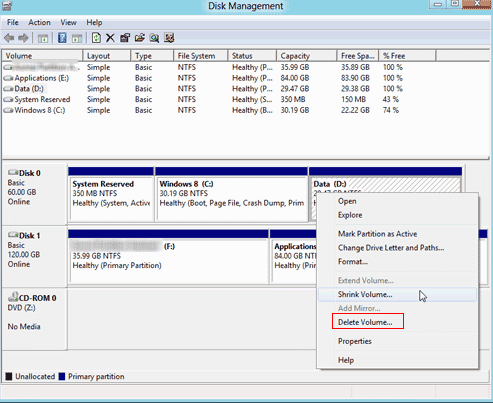 Server 2008 disk management to manage the partitions
There are many limitations in built-in disk management tool to extend your drive or do any resizing task. And it is not safe as you lose data when you delete a partition. So, is it possible to expand your drive without loosing data?
Safe alternative:partition resizer server
Yes, there are third party tools which are safe alternative to Windows built-in disk management tool. There are many partition resizers available in the market and one of them is IM-Magic Partition Resizer Server edition. You can extend your drive or merge your drives without loosing any data. Is it? Yes, and not only you can extend or merge your drives you can perform tasks like format,delete, move,create partitions without much hassle. With drag and drop feature you can move the partitions. By moving the unallocated space next to your drive makes the drive ready for extension. This also prevents you from deleting the partition and loosing the data.
With IM-Magic Partition Resizer Server edition, you can perform disk resize activity without touching any data. The other amazing thing that you can do is you can convert your NTFS to FAT32 without loosing your valuable data. The 1-second extend partition feature extends your partition in one second. The tool is simple to use and capable to perform tasks which is not possible or quite complicated to do using disk management tool.

[Guide] Steps to extend volume without data loss
This step by step guide will show you the right way to extend any volume using IM-Magic Partition Resizer Unlimited edition;
Step-1  Download install, and launch the program.
Step-2 Right click the large volume to produce unallocated free space.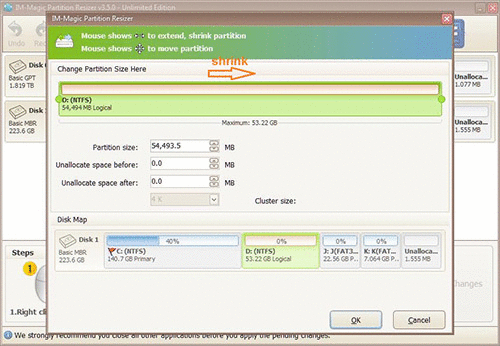 Steps to resize your partition when you can not extend volume
Step-3  Then right click c and drag the border to acquire the free space.

Steps to resize your partition when you can not extend volume
Step-4 Apply the changes.
The server edition is available for all the Windows server editions and good thing is you can try out the trial version to see how it works. To know more about visit:
https://www.resize-c.com/server/