Table of Contents
Introduction
Now with the assistance of IM-Magic Partition Resizer you can perform a ton of functions easily at home without having to ask for any tech assistance! Manage your disk partitions yourself within minutes. Get the best technology to secure your data. Free Resizer that will help you redistribute, move, convert, copy and resize all the partitions without losing any data at all.
Create Partition Using Diskpart for Windows 11/10/8/7
If you are looking for the best option to merge, sink, expand and move your data in the most secure way possible, Magic Partition Resize is all you need. It is free and does not only require a lot of your money. All you have to do is give the command and it will work itself.
IM-Magic Partition Resizer is available for ALL Windows Server OS including Server 2003/2008/2012/2016 R2 SBS.
IM-Magic Partition Resizer is the best service for you that will perform various functions and task. Resize the system partition and save your data. Moreover, users do not have to worry about keeping their computers from shutting down during the resizing. Unique roll-back power will aid the process.
IM-Magic Partition resizer that will shrink your disk volume with zero loss of data. Minimum formatting will be needed. Users also have the benefit of re-arranging the data to increase the performance of their computer system.

Create Partition Using Diskpart for Server 2003/2008/2012
Doesn't matter if you are not a tech genius because with the help of IM-Magic Partition Resizer Server Edition you can extend windows server partition easily yourself. No loss of data is done during the process of disk partition.

Step 1:Click the disk drive first drive. Shrink one partition first, after there is some unallocated space, you can create new partitions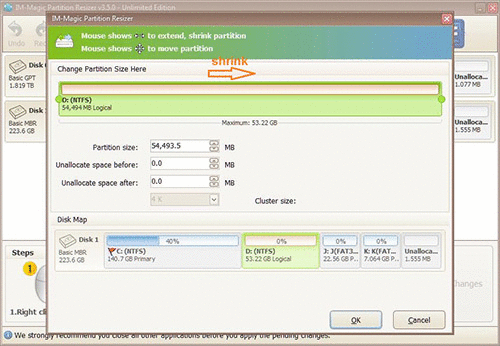 Shrink D drive and extend C drive with IM-Magic Partition Resizer
Step 2:Choose "Create Partition" option from the toolbar.
Step 3:Click on "Apply Changes" in the bottom right so that the process begins.
These simple and easy steps will help you merge data, copy and resize your files, shrink and rearrange disk volume and what not!
Providing a range of partition management tools as well. The tools provide extraordinary aid to extent, resize and shrink partition. Enlarge, change and re-distribute disk volume within minutes. You can also wipe inside data to ensure privacy. Moreover, IM-Magic Partition Resizer Server Edition is great to move partition and merge data. It is a safe and secure process which follows a simple procedure that can be carried out by anyone.
Users can also rearrange and create new partitions. Cope data to backup disk space and delete unwanted partition where you can clean disk temp files which you no longer need.
Furthermore, this new edition provides a great way for users to defrag disk. It is able to keep a check on all the errors. Use modern technology which is safe to use keeping your data secured ensuring your privacy. You can also convert file system from ntfs to fat32. This is done through a simple easy process.