Summary
If you have many small partitions on your hard disk, you may want to better manage them. With this free partition tool, you can delete the partition for free.
Table of Contents
Why You Need to Delete the Partition
More often there comes a situation in which another volume or drive needs to be extended or resized. So, it all comes to that which volume is going to have a fall. It means in order to let's say resize c drive another drive or volume needs to be deleted. Surely; there are many ways to do so, use "Disk Management" to get the job done, or we can use the command prompt (CMD).
Deleting a drive is a fundamental step, and there are no complications attached to it, we can delete a particular drive or volume by using "DISKPART" command in cmd.
Delete Partition CMD Diskpart
In order to delete partition cmd diskpart, here are the steps.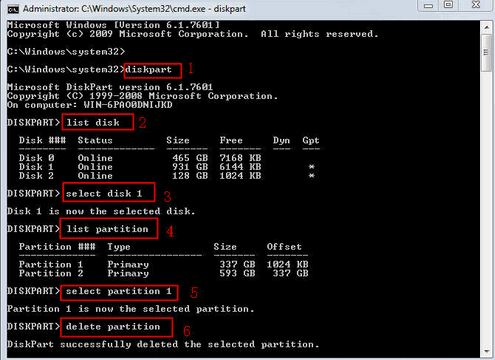 Step1: Open up the command prompt or "run as administrator". A new cmd window will appear. Next type the command "DISKPART". The basic disk management tool of the cmd will open.
Step2: Now, execute another command "LIST DISK". This command will reveal all the disks installed on the system.
Step3: Type the next command "Select Disk 0 or 1" once selected
Step4: List partition
Step5: Select partition *
Step5: Delete partition.
The particular partition will be deleted immediately.
Now type "EXIT" to close the command prompt window. The particular partition has been deleted using CMD. But it is advised to use other tools and software as CMD can be tough for some people and possibly damage the whole drive.
Free to Delete Partition with IM-Magic Partition Resizer
In order to delete, merge, resize, extend or shrink partition try using this fantastic tool IM-Magic Partition Free Edition. It is a unique tool which can perform any disk operation and is also user-friendly as well. To delete a specific partition using IM-Magic Partition Resizer follow the steps below;
1. Launch the IM-Magic Partition and allow the disk map to load correctly.
2. Once loaded choose the partition which you want to delete, click right button and choose "Delete Partition" option.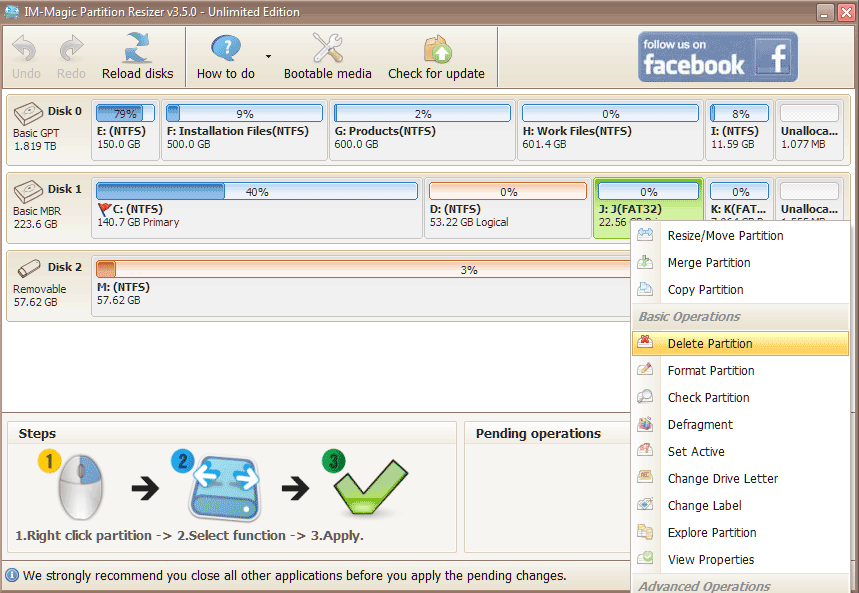 Delete partition with Partition resizer
3. It will ask you to have a backup of your relevant data as all the data will be deleted along with the partition. "Already have a Backup?" click "Yes".
4. You should move your files to other drives or backup the essential data, which you may need for later use.
5. Finally, click "Yes", and the process will start. Once completed the deleted partition will show as unallocated space.
Your particular disk or partition has been successfully deleted. Now you can choose the "Create Partition" option to create a new partition of the deleted one OR you can choose to merge the partition with any other space deprived partition as well.
IM-Magic Partition Resizer Free Edition not only saves your time but also provide very simple and straightforward solutions for your day to day problems relating to the disk operations.
For further information or to download the IM-Magic partition Resizer Free Edition visit our website:
We will facilitate you at our site in relation with your questions about the product and any additional information.
Also read: how to delete partition on Windows 11/10