Summary
Unable to extend the partition? You can get information about how to shrink volume on server 2012 and resize your partitions.
Table of Contents
How to shrink partition without data loss?
With Windows disk management, you can shrink any volume to create free space. You can then create a new volume from this free space.
To Shrink volume on server 2012, use disk management tool. You can go to disk management by either right-clicking on windows on bottom left and selecting disk management or by typing diskmgmt.msc from the run option.
In disk management you can see all your drives(volumes) along with unallocated space. Right click the drive which you want to shrink. Ensure you have enough free space on the drive which you want to shrink. Select Shrink Volume. In the next window mention the size to shrink in MB and click on shrink button. The drive will be shrunk and unallocated space will be created right side of the selected drive.
There would be a situation when your computer is having only one partition or you have allocated more space to C drive. Now you want to create other volume by resizing partition Windows server 2012. If you try to shrink C drive, the shrink operation may fail. Since C drive stores system files, some system files are unmovable. This restricts built-in disk management tool to shrink the C drive beyond the locations of these unmovable files.
To fix such shrink problems, use a third party software which not only shrinks your C drive but are also capable to perform many disk related activities. One of the best tools to shrink volume on server 2012 is IM-Magic Partition Resizer.
IM-Magic Partition Resizer Server edition and IM-Magic Partition Resizer unlimited edition
The shrink problem that we discussed above can be easily fixed by using this tool. The C drive can be shrunk beyond the locations of unmovable files. Your data is always safe and intact when you are shrinking any drive using this tool. The rollback feature keeps your data safe if your computer is shutdown accidentally while performing shrink.
Download and install free trial version of IM-Magic Partition Resizer Server/unlimited edition.
Follow these simple steps to shrink volume on server 2012:
1.Right click drive and select Resize/Move Partition: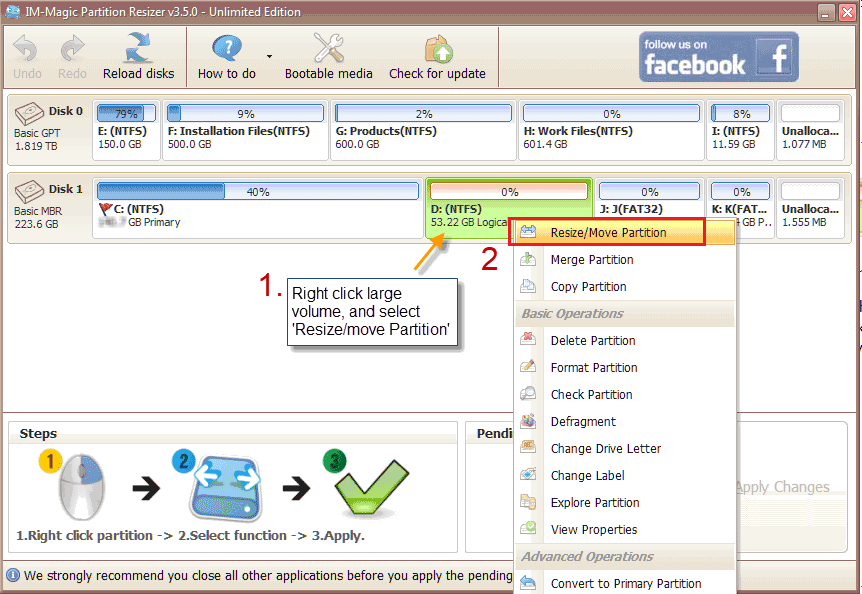 Resize partition without partition tool.
2.In the next step, drag the left border with your mouse to shrink the D drive and press OK. You can create unallocated space on left or right side by dragging the left border or right border.
Steps to resize your partition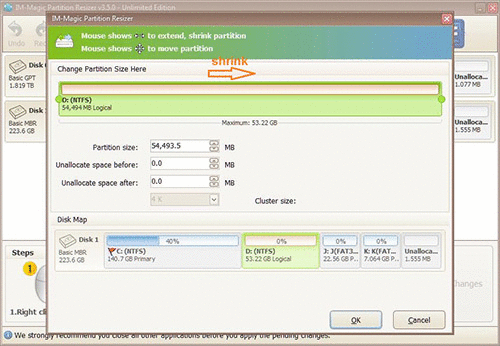 Steps to resize your partition
3.You will see your drive size is reduced and also an unallocated space is created as shown below.

You can follow the same steps to shrink your C drive. You need not worry about unmovable files.
The good thing is that this tool is available for all the windows versions. With the trial version you can test the IM-Magic server edition and see how good it is designed to do the disk resizing tasks. If you are satisfied, you can buy the paid editions to perform other tasks on your drives without much effort and technical knowledge.