Are you looking for partition magic for Windows Server 2012? As you know, partition magic is a partition tool which is able to mange disk space on Windows 2000, XP computers when you meet problems like low disk space on hard disk on your PC back about 20 years ago.
However, traditional Partition Magic does not support Windows Server 2012. Therefore, if hard disk partition is running on low disk space on Windows Server 2012, you may use IM-Magic Partition Resizer Server, a partition magic that can work on Windows 2012.
Guide - How to use Partition Magic Software for SBS 2012 or Windows Server 2012 R2
It's 100% safe with IM-Magic Partition Resizer Server that provides a way back magic even in the processing of resizing your disk, your os won't get hurt even unexpected accidents took place in the process of disk changing.
Example - here we would share you a guide for resizing disk with Partition Resizer.
Step 1 - Shrink disk partition to produce unallocated space with Partition Resizer Server.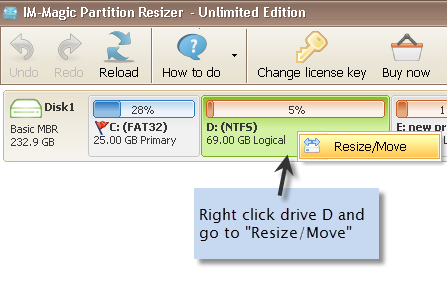 Right click D to shrink partition in Server 2012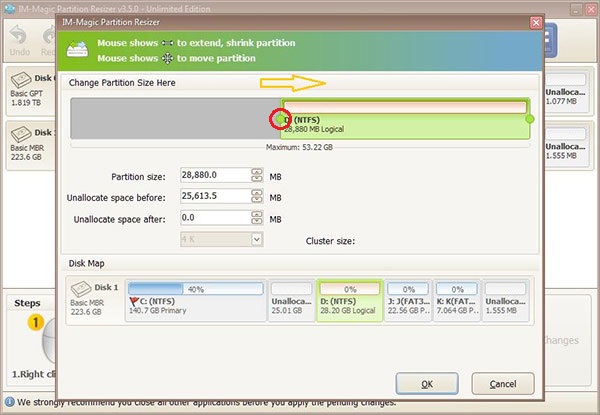 Move the border of large drive with Partition Resizer
After the resizing, unallocated space is available for resizing the volume on Server 2012.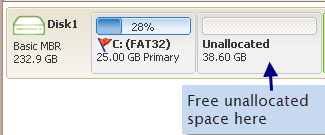 Free unallocated space is available after the shrinking
Step 2 - Right click the drive you want to expand, go to its 'Resize/Move' to start extending, if your drive is more complicated, you may go to the video collection page to know more tutorials https://www.resize-c.com/video/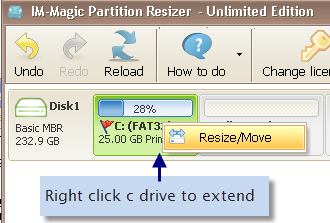 Expand c drive by right click c volume in server 2012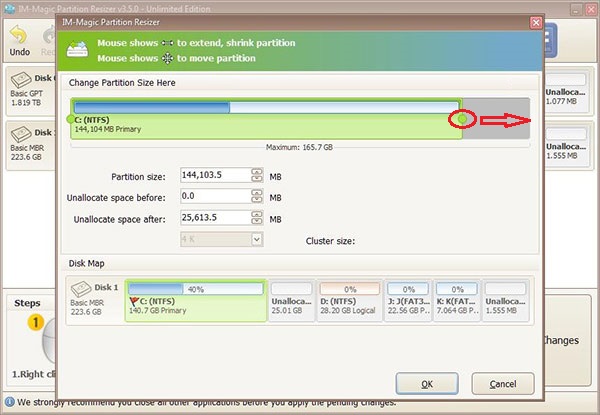 Expand c drive by right drag its border to claim more space
Step 3 - Apply changes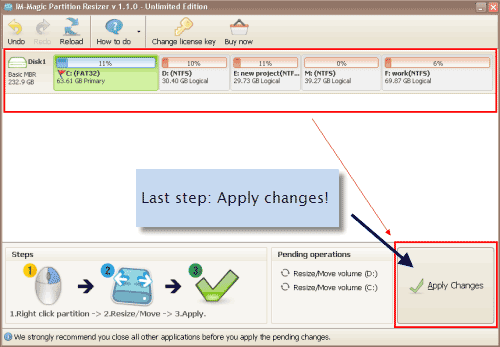 Expand c drive
See c drive is expanded in the following photo.

Expanding c drive successed with IM-Magic Partition Resizer Unlimited
Download IM-Magic Partition Resizer Server Edition


IM-Magic Partition Resizer Server also works on Windows SBS 2012, with which you are able to redistribute disk space when you get low disk space warning message on Windows SBS 2012 system partition or data partition.
Note: if you are extending partition with free space from non adjacent free space, you may right click partition in between and move it by the same 'Resize/Move'.
Also read: how to move unallocated space
Video - how to shrink partition and extend volume with Partition Magic 2012 Server
Other functions from Partition Resizer
Copy partition: You may backup data from any disk partition to unallocated space as backup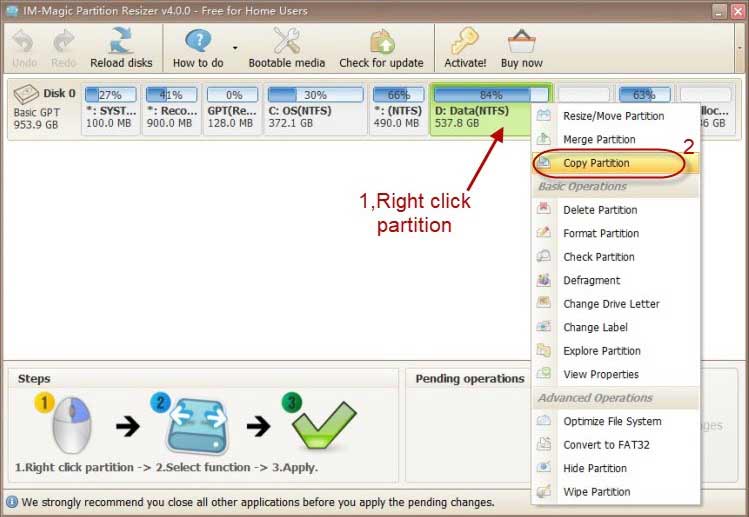 Resize/Move Partition: You may use it to shrink, move, extend partition without losing data
Merge Partition: Merge a volume with unallocated space
Defragment: Disk defrag to speed up server performances
Check Partition: Find and repair bad blocks on hdd or ssd, usb, sd card etc.
Convert to FAT32: Change file system to fat32 without losing data
Format Partition: Format disk partition
For more details: More functions from Partition Resizer Server
Download Partition Magic Bootable for Windows Server 2012 R2
In addition to Windows built-in partition magic tool, you can also download partition magic software for Windows Server 2012, Windows 2012 R2 and Windows SBS 2012.
IM-Magic Partition Resizer Server has partition magic bootable edition which is compatible with Windows Server 2012, SBS 2012 and 2012 R2, so you can use this partition software to manage disk space when Windows 2012 built-in disk management tool fail to resize hard drive.
Step1. You need to insert a blank CD, DVD or USB to computer in advance. Without CD/DVD/USB, you need to rely on third-party burn software to make bootable disk.
Step2. Run the partition magic software and select "Bootable media" (You need to install  Windows AIK/ADK).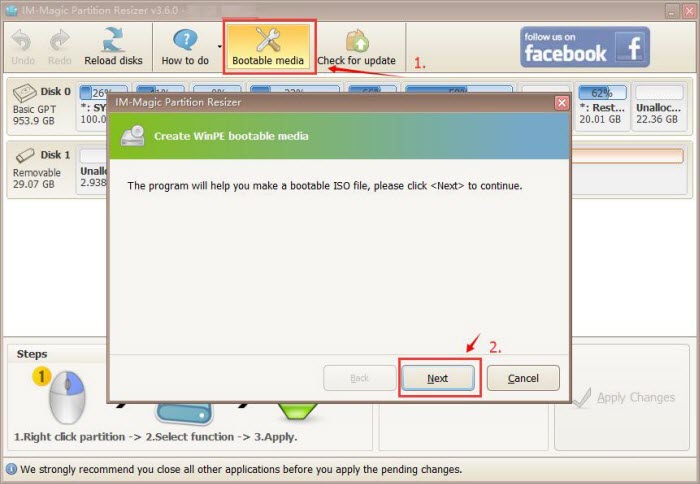 Step3. Select the option to create bootable disk and then follow the wizard to complete it.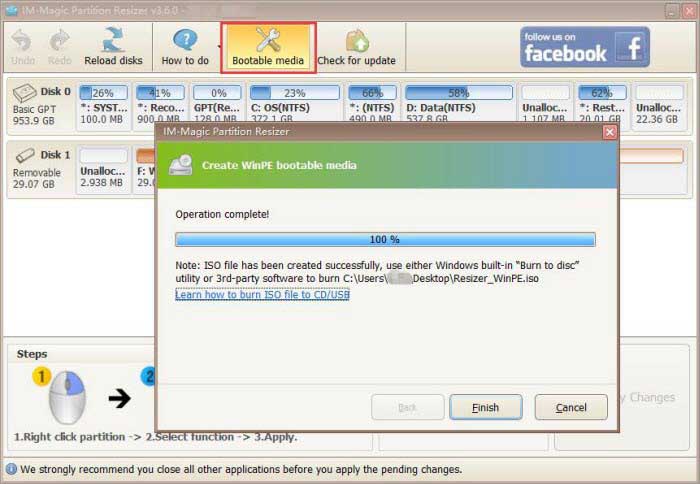 And then you will have an iso file in the end.

Also read: partition magic iso
Windows Server 2012 Built-in Partition Magic – Disk Management
Windows 2012 is the Server edition of Windows 8, so the Disk Management of Windows Server 2012 has the same function with Windows Disk Management. Windows 2012 Disk Management works as a partition magic, which enables you to mange disk space for free. Usually, you can perform following operation with Disk Management in Windows Server 2012:
>> Shrink partition
>> Extend partition
>> Delete partition
>> Format partition
>> Change drive letter and paths...
Windows 2012 Built-in Partition Manager Fails to Resize Disk
Although Windows built-in disk management works as a partition magic, it has some limitations. Therefore, you may fail to resize hard disk by using disk management tool on Windows 2012.
1. You cannot add unallocated space to system partition when it is not contiguous to the C drive under disk management
2. You cannot move free space from one hard disk to extend another hard disk partition
Solution: IM-Magic Partition Resizer Server can do the above jobs when it's unable to do the job under Disk Management.
Situations You Need Windows 2012 Partition Magic Tool
Simply say, you need partition magic tool because you want to resize hard drive on your computer. As you know, a hard disk has usually been partitioned into several partitions before you can use it. Then, why do you want to resize hard disk on Windows Server 2012? Here are some possible situations that you need to use Windows 2012 partition magic tool to resize hard drive on PC:
1. System partition is running out of disk space
System partition is important on every computer. If Windows Server 2012 reports low disk space on system partition, you may need to resize hard disk. In order to fix system partition low disk space problem on Windows 2012, SBS 2012, 2012 R2, you can run partition magic to reallocate disk space without needing to repartition hard drive.
2. Create new partition on Windows 2012, SBS 2012, 2012 R2
Sometimes, you may want to create one or more partitions on Windows 2012, SBS or R2, you can also use partition magic to redistribute hard disk space. Usually, you just need to use the partition magic to shrink a partition that has much free space and then you can get some unallocated space. You can create new partitions with the unallocated space easily.
Last updated on Feb 7, 2023