Are you looking for partition magic for Windows Server 2012? As you know, partition magic is a partition tool which is able to mange disk space on computer when you meet problem like low disk space on hard disk on your PC. However, traditional Partition Magic does not support Windows Server 2012. Therefore, if hard disk partition is running on low disk space on Windows Server 2012, you may want to look for a partition magic that can work on Windows 2012. This article will share partition magic for Windows 2012 Server to mange disk space.
Windows Server 2012 Built-in Partition Magic – Disk Management
Windows 2012 is the Server edition of Windows 8, so the Disk Management of Windows Server 2012 has the same function with Windows 8 Disk Management. Windows 2012 Disk Management works as a partition magic, which enables you to mange disk space for free. Usually, you can perform following operation with Disk Management in Windows Server 2012:
>> Shrink partition
>> Extend partition
>> Delete partition
>> Format partition
>> Change drive letter and paths
…
Windows 2012 Built-in Partition Manager Fails to Resize Disk
Although Windows built-in disk management works as a partition magic, it has some limitations. Therefore, you may fail to resize hard disk by using disk management tool on Windows 2012.
1. You cannot add unallocated space to system partition when it is not contiguous to the C drive under disk management
2. You cannot move free space from one hard disk to extend another hard disk partition
Situations You Need Windows 2012 Partition Magic Tool
Simply say, you need partition magic tool because you want to resize hard drive on your computer. As you know, a hard disk has usually been partitioned into several partitions before you can use it. Then, why do you want to resize hard disk on Windows Server 2012? Here are some possible situations that you need to use Windows 2012 partition magic tool to resize hard drive on PC:
1. System partition is running out of disk space
System partition is important on every computer. If Windows Server 2012 reports low disk space on system partition, you may need to resize hard disk. In order to fix system partition low disk space problem on Windows 2012, SBS 2012, 2012 R2, you can run partition magic to reallocate disk space without needing to repartition hard drive.
2. Create new partition on Windows 2012, SBS 2012, 2012 R2
Sometimes, you may want to create one or more partitions on Windows 2012, SBS or R2, you can also use partition magic to redistribute hard disk space. Usually, you just need to use the partition magic to shrink a partition that has much free space and then you can get some unallocated space. You can create new partitions with the unallocated space easily.
Download Partition Magic for Windows Server 2012 R2
In addition to Windows built-in partition magic tool, you can also download partition magic software for Windows Server 2012, Windows 2012 R2 and Windows SBS 2012. IM-Magic Partition Resizer Server is a partition magic which is compatible with Windows Server 2012, SBS 2012 and 2012 R2, so you can use this partition software to manage disk space when Windows 2012 built-in disk management tool fail to resize hard drive.
Partition Magic Software for SBS 2012
IM-Magic Partition Resizer Server also works on Windows SBS 2012, with which you are able to redistribute disk space when you get low disk space warning message on Windows SBS 2012 system partition or data partition.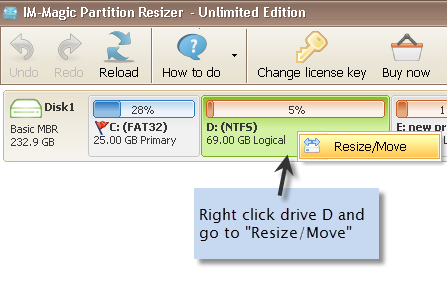 Download IM-Magic Partition Resizer Server Edition