Summary
To make batter use of the disk space, sometimes you may need to merge two partitions or resize partitions , here I will show you how to merge two partitions on Windows server 2012 r2 easily without losing data.
Table of Contents
Why you need to merge two partitions
There is a diverse variety of Windows Users out there, and all of them have made their devices personalised according to their needs. Some users prefer that their drives should have multiple partitions , while some are satisfied with only a single combined partition, So, they won't have to deal with other Partitions. It is just a matter of choice.
If you are latter which prefer having all of your files and data in one partition, then you have come to the right place. Some PC manufacturers divide the drives into multiple partitions for the ease of the user, while others make a single partition. Whatever may be the scenario IM-Magic Partition Resizer Server Edition can manage various operations regarding Disk Management. It can merge, extend, delete, resize partitions and can also allocate free space to extend partitions .
How to merge partitions on Windows server 2012 r2
There are two simple ways to merge Partitions using IM-Partition Resizer SERVER edition;
Delete one partition and Expand the other
For this method, you would have to delete an entire partition and use that allocated space to combine with the drive which you want to expand. But before removing the partition, it is advised to back up your data and then proceed.
How to do it
Step 1
Launch the resizer and then right-click the primary partition(C:) partition and then allocate the
Merge Partition.
Step 2
Select the partitions you want to merge and then, click on delete partition. WARNING: All of your files and data will be permanently deleted.
Step 3
The deleted partitions will appear as greyed volume disks, now set the location of merging to the single drive, to get all the merging in one drive.
Step 4
Apply the changes and a Window suggesting to Restart your system to start the merging will appear. Click Ok to grant permission to start merging.
Step 5
After the process has been completed, all your drives would have been successfully merged into a single partition.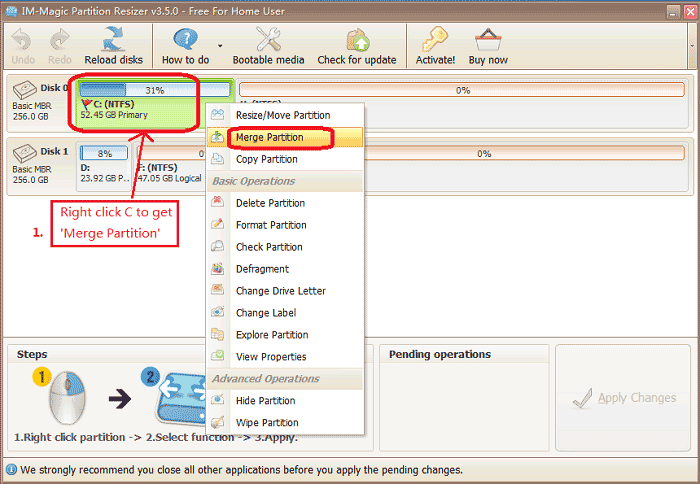 Merge partitions with IM-Magic Partition Resizer server

Only merging Two Partitions
Instead of merging the whole drive into one partition, you can choose to just merge two partitions into each other. All the steps remain the same except this time you don't delete every single partition, your only focus is to delete one partition and merge it with the other.
To merge partitions Windows Server 2012 r2 we highly suggest IM-Partition Resizer SERVER edition. Because Windows does not provide such merging function when users need to convert two partitions or move into one partition. Resizer is 100% safe to use and comes with a Roll-Back technology it won't do any damage during power failures, and you may also cancel the merge any time if you change your heart.
IM-Partition Resizer is a freeware, but in order to use IM-Partition Resizer, Server Edition Users may have to pay for using it without any troubles.
For further queries, information and astounding articles, check out the content on our website:https://www.resize-c.com/