Summary
IM-Magic Partition Resizer Server helps to expand server disk partition when the c drive cannot be extended by Diskpart command natured by Windows.

Download IM-Magic Partition Resizer Server for resizing disk space without disk formatting and os reinstalling on server os.
Cannot Extend a Disk Partition with Diskpart in Server 2003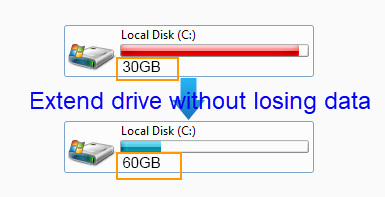 Diskpart is a hard disk partition tool on Windows, which is able to help users manage disk partitions such as create partition, delete partition, extend partition and merge partition and so on. However, when you use Diskpart to extend disk partition on Windows Server 2003, you may receive the following error message:
"The volume you have selected may not be extended. Please select another volume and try again"
If you receive this error message, you may be unable to extend the partition. Therefore, you may need another partition utility to meet your need to resize the disk partition. That would be IM-Magic Partition Resizer Server.

Extend System Drive by Using Third-Party Partition Utility
If you want to extend a system partition but the extending cannot be accomplished by using Diskpart, you can rely on third-party partition utility. IM-Magic Partition Resizer Server is partition resizer for Server, with which you can extend,shrink and move any partition including system drive without change data on the disk. This software is user-friendly, so anybody can handle it. You can accomplish the system partition extending by following the below guide.
Step-by-Step Guide to Extend System Partition on Windows 2003 when DiskPart is Not Able to Perform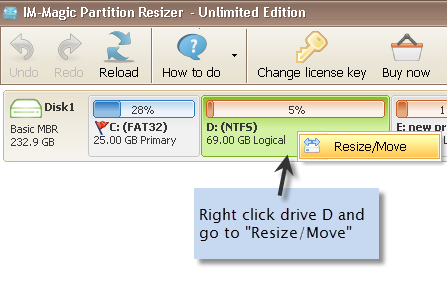 How to redistribute disk space in Windows Server 2003
Step 1:
Run the IM-Magic Partition Resizer Server, the software will show you the free space and used space of all partitions on your computer. Right click a partition that has lots of free disk space and select "Resize/move" option.
Step 2:
In the pop-up Window, you can move the arrow to decrease the size of the selected partition to create a free disk space. The free disk space will be shown as an unallocated volume.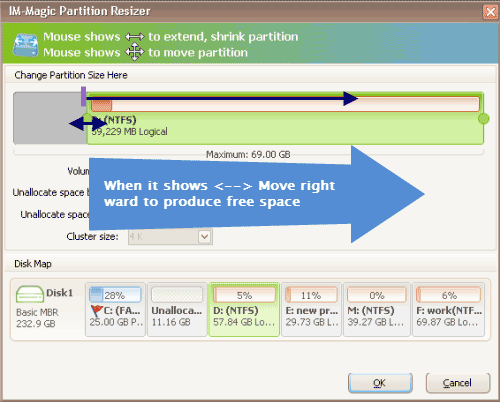 Shrink other large partition to produce free space for C drive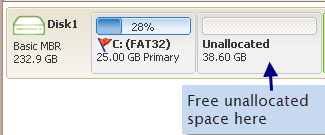 Step 3:
Move the free disk space close to the system drive. Right click the system partition and choose "Resize/Move" option.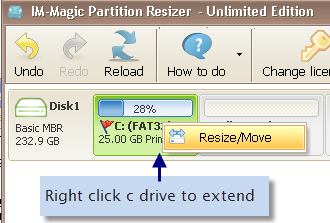 Right click c drive to get started with extending c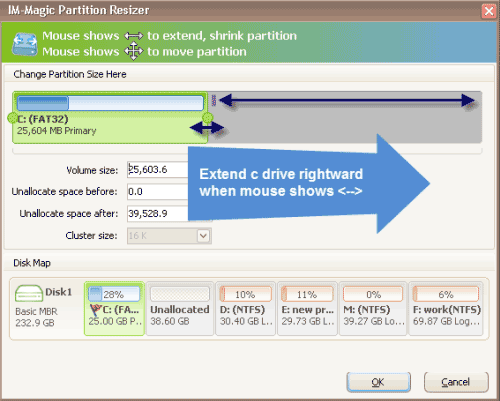 Step 4:Move the arrow to increase the size of system partition.
Click "Apply" button.
Download IM-Magic Partition Resizer Server Edition

Extend, Shrink and Move System Partition without Data Loss
IM-Magic Partition Resizer Server has the main functions of extending partition, shrinking partition and moving partition. When you resize any disk partition, the data will remain on the original place without any modification. Therefore, this partition software is 100% a safe and reliable utility for any Server user. Compared with other similar partition software, IM-Magic Partition Resizer Server is able to resize disk partition without rebooting the Server. In another word, you can resize disk partition only with a few mouse clicks.
Why Cannot You Delete or Move Files from System Partition
There is no doubt that it is the easiest method to free disk space by deleting or moving files, but why cannot you do so? First of all, file stored on system partition are usually system programs or data related to system OS. If you delete those files or move them to another partition, it may affect the performance of the system and have influence on your Server. In addition, it will waste a lot of time to delete or move files. Therefore, it is not recommended to delete or move files to free up a system partition when it runs on low disk space.
Resize NTFS and FAT Partition without Rebooting
Lots of partition resizer tools would ask you to reboot your Server in order to apply changes to resize the disk partition. If you forget saving some important files before resizing partition, you may lose the data after rebooting the Server. But with IM-Magic Partition Resizer Server, you can resize disk partition without rebooting your computer. Therefore, not any piece of data will lose even if you forget saving it before resize Server disk partition. This software assists with resizing both NTFS and FAT disk partitions on Windows Server OS including Windows Server 2003, Server SBS 2003 and more other Server OS.
Sometimes, you may need to extend C drive on Windows 2003 with Diskpart in VMware, in which situation the partition software also enables you to perform partition resizing in VMware on Windows Server 2003.

For Windows Server all versions ==> Download IM-Magic Partition Resizer Server