Summary
Want to extend volume on the Windows server 2003 diskpart but system failed to extend volume? This article will show you how to solve the problem and extend partitions in Server 2003.
With the low disk space problems on Windows Server 2003,2008, 2012 and so on, extending disk partition has become one of the biggest query related to SBS. The main reasons why Windows SBS faces the low disk space problems is its extra tools, features, and updates. As the SBS starts to update certain features after a few weeks of installation, the size of the operating system also starts to grow – thus occupying more storage space. To free up disk space, it is recommended to extend volume by resizing c-drive.
How to extend volume in Windows server 2003
Before trying to free up disk space, it is recommended to apply some common solutions to free up disk space. They are as follows
Delete unnecessary programs from the computer
Empty Recycle bin
Delete all temporary files
Utilize the disk-cleanup setup
Check the computer for viruses using a reliable antivirus program
Diskpart extend c drive with unallocated space server 2003
Diskpart is a built-in partition tool with a command-line interface. It can handle several computer objects including volume, disks, and partitions with the specified commands and direct input. However, you must transfer the control to a specific disk or partition to perform any operations.
Diskpart Extend C-Drive
Following are the steps to extend c-drive using Diskpart
Press Windows+R and type CMD in the dialogue box. Press OK.
Type diskpart in the command-line interface and press Enter.
After this, type list volume and again press Enter.
Type select volume x and press Enter.
Type shrink desired = volume in MBs and press enter.
Now type select volume x (system partition) and press Enter.
Then type extend desired = volume in MBs and press Enter.
Close the command prompt by typing Exit and press Enter.
Extend volume on windows server 2003 with partition resizer server
Note that diskpart can only extend and resize c drive if the shrunk space (unallocated space) is available right next to it. if there is another disk or partition between the unallocated space and c-drive, then diskpart cannot resize c drive. This where the majority of people get stuck and claim they cannot extend the volume on Server 2003.
To combat this situation, windows server only leaves you a single solution that is using a third-party disk management tool.

IM-Magic Partition Resizer is one of the best options for Windows SBS 2003. It doesn't only provide the ability to shrink, extend, and resize partitions, but also let you resize partitions of your choice. Here is how you can resize c-drive usingIM-Magic Partition Resizer Server or Unlimited Edition.
Open IM-Magic Partition Resizer Server/Unlimited Edition
Right click on the data partition and click "Resize/Move".
Drag the storage field to the left to shrink the free space. Pres OK.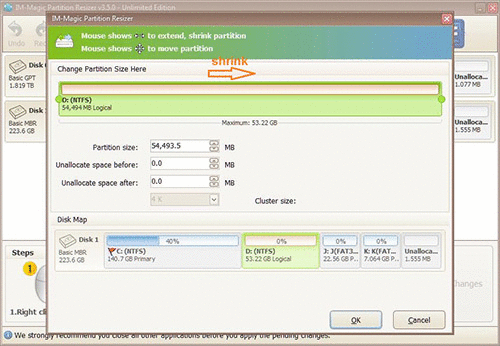 Steps to extend volume on windows server 2003
The separated space will gray-out and is called unallocated space.
Open the c-drive and acquire the grayed-out unallocated space to resize the partition.
Steps to extend volume on windows server 2003
Note that if the unallocated space is not adjacent to c-drive, you will need to open the partition between them, and move the unallocated space to the left again. Learn morehere.