Table of Contents
Introduction
There are different ways to resize partition Server 2008 R2. The Operating System and software are installed on C drive. The background services also resided in C drive and occupy good amount of space. The C drive space reaches to its capacity mostly because of unwanted software installed and files which are no longer required. You have not cleared your temporary files, and browser history and cache files for a long time.
How to Extend C drive
Even after doing the system cleanup and moving the files to other drives, you would not be able to release much space. If you have good space and unallocated space in your hard disk then you can very well extend C drive. That means you are adding the unused space from the other partitions of the same hard disk. This process is called extending your drive.
Extending your C drive is nothing but increasing the C partition .
Windows Server 2008 R2 has in-built disk management tool which is used to extend your drives.. You can also perform tasks like extend,merge, shrink, format and defragment. You get a view of all the partitions of your hard disk from disk management tool.
Increase partition c size on server 2008 r2
Extending C drive is not simple using this tool. The C drive can be extended only when you have unallocated space partition next to your C drive. You cannot expand your C drive if the unallocated space is next to other drives. Even if you try to shrink the very next drive, let's say D drive and try to expand C drive, you won't be able to do so. When you shrink any drive, the unallocated space is created next to donor drive.
To add the unallocated space that is not right side of your C drive, you must move the unallocated space next to C drive.
To move the unallocated space adjacent to C drive, use the third party tools. The tools are GUI and very simple to use. Since it is a server edition and messing up with the things will cost your business and operations, I suggest you to use the server edition of IM-Magic Partition Resizer.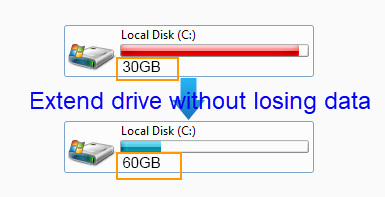 Increase partition c size on server 2008 r2

Increase boot c volume space for server 2008 with IM-Magic Partition Resizer
The name itself says it is a disk resizer. You can shrink or increase the drives. To overcome C drive extending problem, you can use the IM-Magic Partition Resizer SERVER edition. The tool extends your C drive whether the unallocated space is next to C drive or not. You can also shrink other drive and use it for extending the C drive. Not much technical effort is required to perform this from this tool. Just use your mouse to move your uallocated chunk next to C drive. It is drag and drop.
The data on the hard disk is untouched when you do any operation using this tool. It is backed up by feature called roll-back technology which keeps your data safe incase the system is shutdown when doing any resizing activity.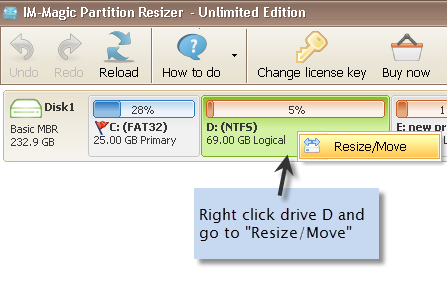 Increase boot c volume space for server 2008 with IM-Magic Partition Resizer
The server edition is not free, however you can try the free version. The single purchase can be used for all the server systems and has more functions there. The server edition can be used to perform other important tasks as well like formatting and merging partitions without touching your files.
[Guide] Steps to extend volume without data loss
This step by step guide will show you the right way to extend any volume using  IM-Magic Partition Resizer Unlimited edition.
Step-1  Download install, and launch the program.
Step-2 Right click the large volume to produce unallocated free space.

Steps to resize your disk partition
Step-3  Then right click c and drag the border to acquire the free space.

Steps to resize your disk partition
Step-4 Apply the changes.
To know more about IM-Magic Partition Resizer SERVER edition login to https://www.resize-c.com/server/