Summary
If your C drive is full of useless files, you can find solutions here to delete temporary files in Windows server 2008 r2.
C drive is full
Windows Server 2008 R2, no doubt, comes with a lot of benefits including optimized performance, new features, and constant updates. However, these updates and features also affect the performance of the computer with low disk space problems. In simple words, low disk space can slow down a computer and crash the certain system or partition software.
In such a scenario, many people try to delete unused files and programs and end up deleting the case-sensitive system files – thus crashing the OS. As this article talks about deleting temporary files when using Windows Server 2008 R2, let's get straight to the point. And the point is, deleting temporary files cannot harm your computer in any way.
How to Free Up Space on c drive Windows Server 2008 R2
Following solutions can be used to free up space on c-drive windows server 2008 r2
Deleting temporary files
Using disk cleanup
Removing unnecessary programs
Note that the above solutions can either free up GBs of data or just a few MBs.
How to Delete Temp Files in Windows Server 2008 R2
There are two ways of deleting temporary files on Windows Server 2008 r2. The simplest one is following
Press Windows+R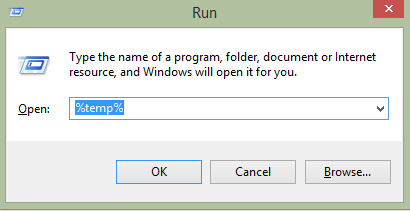 Type "%temp%" and press ok
A new window with a lot of files will open
Select and all delete these files to free up disk space
On the other hand, you can also use the Disk Cleanup Utility to free up disk space. Disk Cleanup removes the unnecessary files, delete temporary files, and rearranges the data to help the computer run effectively.
Press Windows+R
Type "cleanmgr" and press ok
Select the partition and complete the process
Extend c drive with IM-Magic Partition Resizer
If deleting temporary files does not help you free up enough space to get rid of low disk space problems, it is recommended to use a partition resizer and extend the c-drive. IM-Magic Partition resizer is one of the best disk management software that allows you to shrink, extend, create, delete, format, and resize the partitions with just a few clicks. It comes in 4 different editions
The best thing about using this third-party disk manage software is that it provides efficient data security and all your personal & system data remains untouched. Click here and learn more about the working and features of IM-Magic Partition Resizer.

[Guide] Steps to extend volume without data loss
This step by step guide will show you the right way to extend any volume using  IM-Magic Partition Resizer Unlimited edition;
Step-1  Download install, and launch the program.
Step-2 Right click the large volume to produce unallocated free space.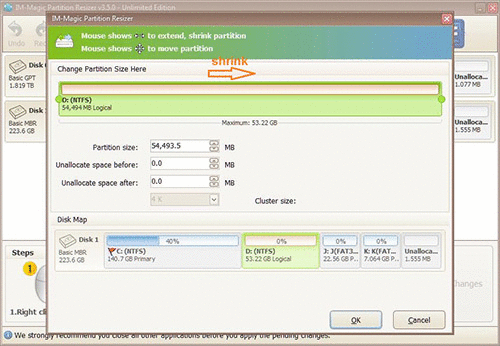 Steps to resize your partition when you can not extend volume
Step-3  Then right click c and drag the border to acquire the free space.
Step-4 Apply the changes.