Summary
Want to know how to enable disk cleanup server 2008/2012 r2 without reboot? This article will show you how to enable disk cleanup in server 2012 r2, and also show you how to free up your disk space, extend your disk partitions.
The added features and useful updates are the main reason why people go for Windows Server series at the first place. Windows Server is an amazing operating system specially designed for small to medium enterprises. However, many people experience low disk space on Windows server 2008 and 2012 R2. And if you're reading this article, there are greater chances that you're experiencing low disk system space and unable to find the disk cleanup tool in the server.
Enable/Install disk cleanup Windows Server 2012 r2
I'm amazed myself because they didn't add the disk cleanup tool (cleanmgr.exe) in Windows Server 2008/2012 R2 by default. But you can still enable this option by using a Server feature known as "Desktop Experience". However, after enabling the Desktop Experience, you must reboot your system. Moreover, it installs many other components, tools, and updates on the computer. Anyways, if you are willing to reboot the system, follow the steps below
Step 1 - Click Server Manager on bottom left, and then click the 2nd option "Add roles and features". And confirm the following steps that come along and leave everthing as default settings.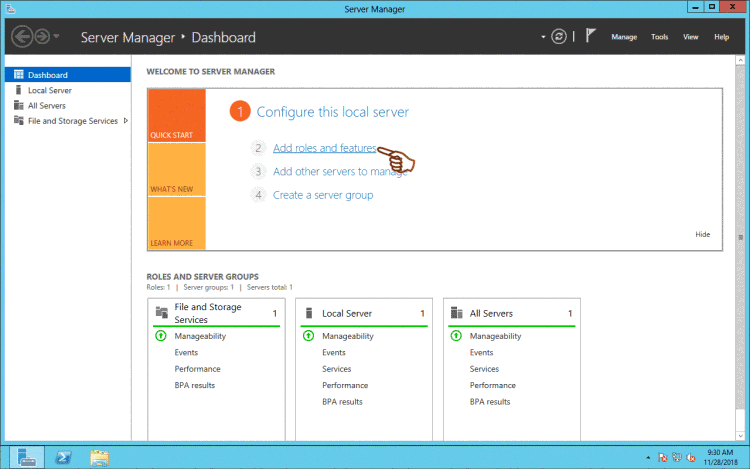 Step 2 - Click the triangle to unfold User Interface and Infrastructure, and then click the check-box in front of "Desktop Experience".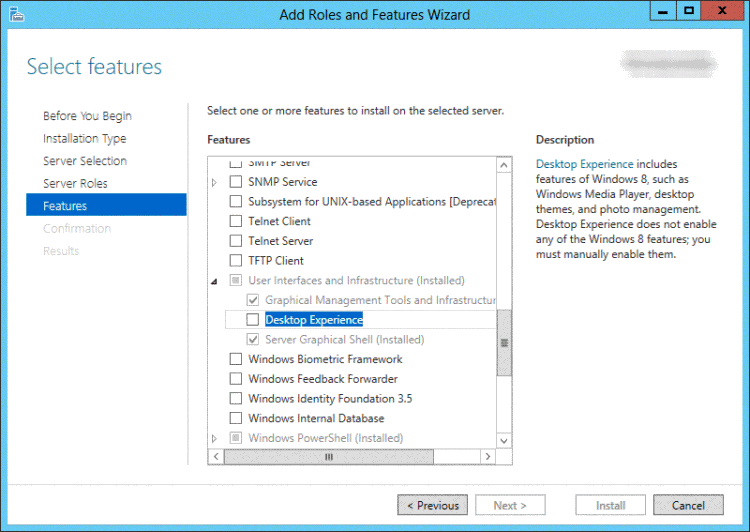 Step 3 -Get 'Desktop Experience' selected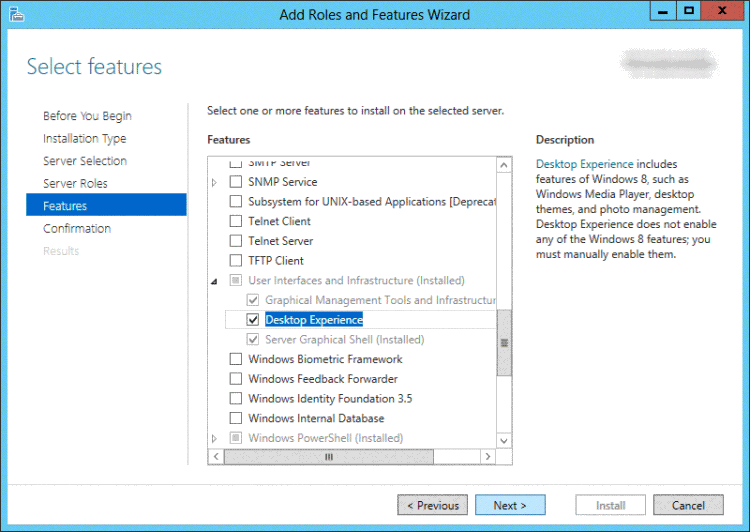 Step 4 - Click 'Include management tools', and click Add Features button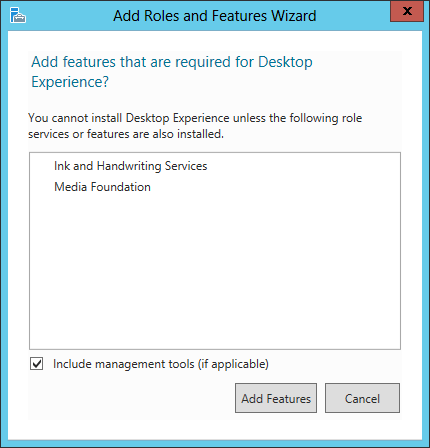 Step 5 - Confirm the installation by clicking 'Install'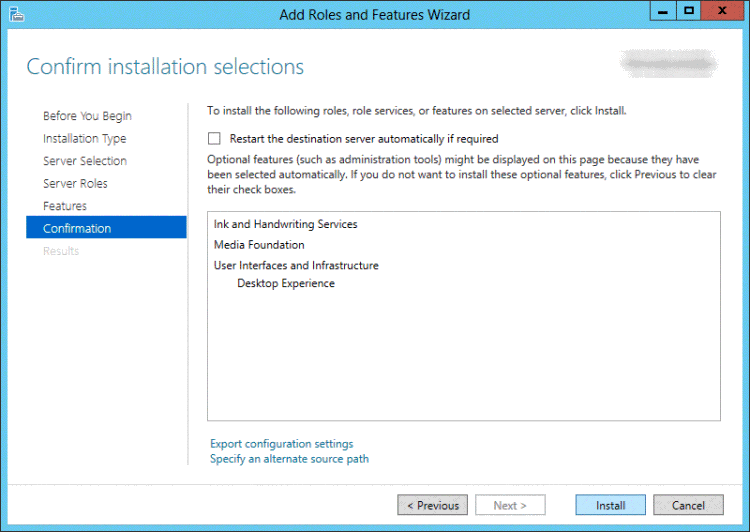 Or you may use this following steps if possible
Simply go to Programs and Features
Under the Features Section click on Enable Desktop Experience
Done!
Solution 1 to Enable Disk Cleanup Server 2008 R2 without a reboot
Copy the files at the following location
C:\Windows\winsxs\amd64_microsoft-windows-cleanmgr_31bf3856ad364e35_6.1.7600.16385_none_c9392808773cd7da\cleanmgr.exe
C:\Windows\winsxs\amd64_microsoft-windows-cleanmgr.resources_31bf3856ad364e35_6.1.7600.16385_en-us_b9cb6194b257cc63\cleanmgr.exe.mui
After you have found the files, copy the file cleanmgr.exe to C:\Windows\System32\, and copy the cleanmgr.exe.mui to C:\Windows\System32\en-US\. After this
Press Windows+R
Type "cleanmgr" and press enter
Disk cleanup will pop-up
It's that simple
Solution 2 to Enable Disk Cleanup Server 2012 without a reboot (Not R2)
Note: Windows Server 2012 R2 needs an another method which is included in the following part. This one just works for Windows Server 2012.
STEP 1: Press Windows and X together on the keyboard and select Command Prompt (Admin), or PowerShell (Amdin)
STEP 2: Copy and paste the command text in the command prompt window and press Enter to execute.
copy C:\Windows\WinSxS\amd64_microsoft-windows-cleanmgr_31bf3856ad364e35_6.2.9200.16384_none_c60dddc5e750072a\cleanmgr.exe C:\Windows\System32\

STEP 3: Copy, paste and execute the second command:
copy C:\Windows\WinSxS\amd64_microsoft-windows-cleanmgr.resources_31bf3856ad364e35_6.2.9200.16384_en-us_b6a01752226afbb3\cleanmgr.exe.mui C:\Windows\System32\en-US\    

Unfortunately, Windows Server 2012 R2 does not support the above method and shows an error message if applied. Therefore, you must use the Desktop Experience feature to install/enable the Disk Cleanup utility.
You can use the following method to enable disk cleanup on Windows Server 2012 R2.
Install Desktop Experience
Reboot the computer
Copy these files %windir%\system32\en-US\cleanmgr.exe.mui and %windir%\system32\cleanmgr.exe and paste them to any directory
Uninstall the Desktop feature
Reboot the server
And then copy the above files to the same directories as in Windows Server 2008 R2
Third Party Disk Management: IM-Magic Partition Resizer
If the Disk Cleanup utility does not help you to free up enough disk space, then you can resize the system partition to make space for new programs. IM-Magic partition resizer lets you shrink, extend, create, delete, format, and resize partitions without any data loss risks. Here is how you can resize disk drive using IM-Magic Partition Resizer without data loss.

Install and open the IM-Magic Partition Resizer Server or Unlimited Edition
Right click on the data partition with enough free space and click on "Resize/Move"
Drag the cursor to left over the bar indicating used/free space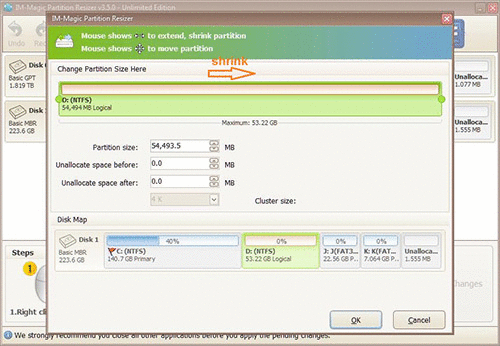 Steps to shrink large disk space in Windows server 2012
The shrink space will be grayed-out and marked as unallocated space
Open each partition and move the unallocated space to the left until it reaches right next to c drive
Skip the above step if unallocated space is already adjacent to c drive
Open the c-drive and acquire the unallocated space
Steps to extend c disk space in Windows server 2012
Note that all the system and application files remain untouched during the whole process. IM-Magic partition resizer will not harm your computer or its content in any way. And if you still fail to free up disk space, add a new hard disk or change to a bigger one.
New added disk can be combined to the Server volumes using RAID array and then you can reditribute disk space from new disk to old disk.