Summary
This page is about how to create new partitions and better manage the disk partitions on Windows system. Then you can manage various data under legible category.
Table of Contents
Why You Need to Create Partition
If you don't manage your partitions on the Windows system computer, you may find your computer run less and less smoothly, and you will also feel terrible to find your files among the sea of various data.
Creating partition enables you to make better use of the unallocated space. If you only have two partitions on your disk, with one for operation system and the other is to save data, the disk operation probably can't meet your demands to manage the data. If you create partition to make a better category of the partition space, you will find it easier.
How to Create Partition on Windows Server 2012 with Disk Management
The first way to manage partitions is the Windows Disk Management, which is a Windows built-in function. You can right-click "My Computer", choose "Manage" option, enter "Disk Management". But for creating partition, Disk Management tool is unable to make it.
How to Create Partition on Windows Server 2012 with Command Prompt
Notice: use command prompt to create partition will format the disk, if you have important data on it, you need to make a backup or choose another way.
1. Press "win+R", type "CMD" in the Run window, press Enter to go.
2. Type "diskpart" in the command window.
3. Type "list disk".
4. Type "select disk 1" to choose the disk in which you want to create partitions.
5. Type "clean" to erase all the data on the disk.
6. Type "create partition primary size=30000".
7. Type "format quick"
8. Type "active"
9. Type "create partition extended size=70000"
10. Type "create partition logical size=10000"
11. Type "create partition logical"
Create Partition on Windows Server with Reliable Partition Tool
Here I will recommend a better way to create partitions on Windows system, use partition manege tools to make it. Here is a safe and effective one, IM-Magic Partition Resizer Server, if you use Windows 11/10/8/7/XP/Vista, you can use this program to create partitions on your computer.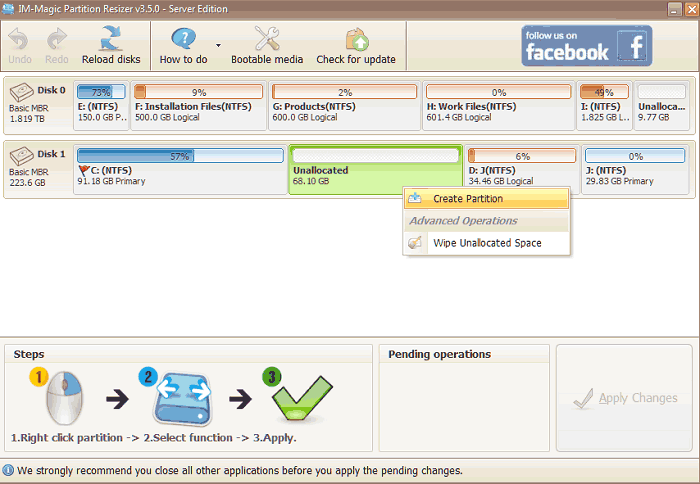 Free to create partition on Windows with free partition tool
You can download IM-Magic Partition Resizer on your computer, run the program, then you can see a list of your disk partitions, you can right-click the unallocated space, choose "Create Partition" to go, then apply the changes.
If you use Windows server on your computer, you can also download a server edition.