Summary
Want to use free paragon partition manager to resize your partitions? You can free download the free partition manager here to resize your disk partitions.
Table of Contents
Resize Disk Partition Using IM-Magic Partition Resizer Free Edition (100% Free)
As a 100% free alternative to Paragon Partition Manager, Partition Resizer is able to do almost all jobs that Paragon Partition Manager performs. Following is a complete guide to resize a disk partition, for example, c-drive, using a data partition E-drive. Note that the disk partitions are arranged in the sequence i.e. C-drive, D-drive, and E-drive.
Launch IM-Magic Partition Resizer Free Edition
Right-click the data partition E-drive and select "Resize/Move" from the drop-down menu.
Now slide the storage-bar to the life and separate the free space. Press OK.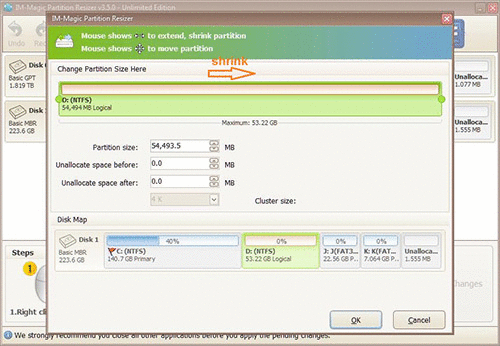 Steps to resize partition Using IM-Magic partition manager
As you cannot add the unallocated space to c-drive unless it is adjacent to it. So, right-click D-drive and select "Resize/Move" from the drop-down menu.
Again, Drag the unallocated grey space to the left so it becomes adjacent to c-drive.
Open c-drive and acquire the greyed-out unallocated space.
Steps to resize partition Using IM-Magic partition manager
Done!
If there are more than two partitions between the unallocated space and c-drive, you will need to move the unallocated space to the left until it reaches right next to c-drive. For further questions or suggestions, click here.
What is IM-Magic Partition Resizer Free could do for you?
Redistribute disk space from one volume to another without losing data
Copy partition to backup data
Convert disk from MBR to GPT
Convert ntfs to fat32 without losing data
Convert disk to dynamic etc.

How to resize partition with free partition manager
Are you facing low disk space problems? Do you want to make another partition on your disk? Want to free up disk space? No doubt, the built-in Disk Management tool by Windows lets you perform several disk operations, it still has many limitations. For example
You cannot resize disk of your own choice.
It has certain administrative restrictions.
Your data is always at risk and more.
Therefore, it is recommended to use a third-party partition resizer comes in handy. Paragon Partition Manager is one of the best disk management tool available on the market.
Paragon Partition Manager Full Version
Paragon Partition Manager 64 bit and 32 bit is a partition resize software, but the free edition offers certain limitations. Though it lets you perform simple tasks, there are multiple features disabled in the free edition.
Considering the above circumstances, you may want to look for a free disk partition software as an alternative.
Alternative Partition Manager Free Download
IM-Magic Partition Manager Free Edition frees you from limitations offered by Paragon Partition Manager. IM-Magic freeware lets you perform all advanced disk operations i.e. delete, format, create, shrink, extend, resize, and more.
Though IM-Magic offers multiple features Following are some special features of IM-Magic freeware:
Data Security: Unlike built-in disk management and other partition resizers, IM-Magic provides 100% data security without any data loss risks.
Compatibility: IM-Magic Free edition is compatible with Windows 10, 8, 7, Vista, and XP.
Roll-Back Tech: The advanced rollback technology of IM-Magic makes it the best partition resizer. Moreover, all data&Os files remain untouched during all disk operations.
Multiple Editions: IM-Magic comes in 4 different editions. The IM-Magic Free & Professional Edition are used for Windows 7, 8, 10, Vista, XP and IM-Magic Server and Unlimited Edition are for Windows SBS series.