Summary
This page is about how to extend volume when it is unable to extend volume with Disk Management in Windows server 2019.
Table of Contents
Background
Windows 2019 servers allow for increased handling of C and D drives to give the user more storage manageability than ever before. However, some users run into a considerable problem as their storage needs increase or change. If it's unable to extend volume server 2019 on your Windows machine, or when Extend Volume grayed out, you need a simple solution that can help you regain control of your computer usage.
Reasons Why the "Extend Volume" is Greyed Out
Two main reasons exist why you might be unable to extend a drive to give it more storage space allotment. These include a lack of open and available space on the second drive – usually drive D – that lies next to the main drive – usually drive C. Of course, people who use a greater number of drives may have various other letter designations. You cannot make something bigger if there is no space to expand into.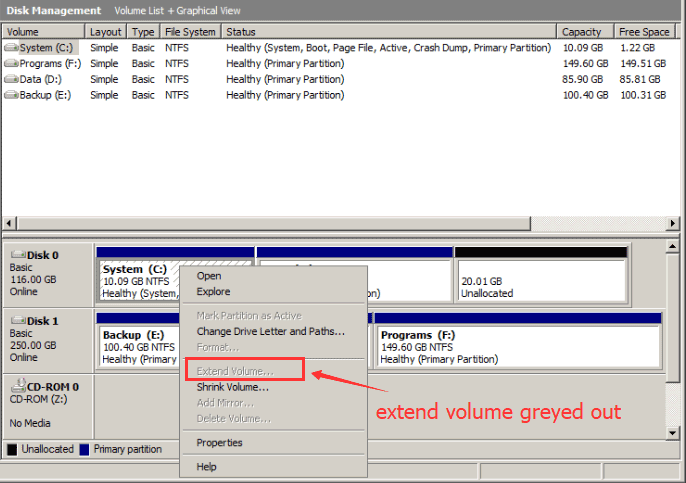 Extend volume grayed out on Windows server
The other reason why "Extend Volume" may be greyed out and unable to be clicked is because the partitions are not supported. For example, this command only works with RAW and NTFS partition types. If you attempt to extend or change the size of other types, the option will not exist.
Also read: Can't expand volume on server 2019
Options to Solve the Cannot Extend Partition Problem
Discovering this problem can be frustrating, and you need a solution to keep your Window computer operating the way you want it to. There are multiple options you can try to regain control of all disk management abilities.
First, check to see if the available space on D drive is adjacent to C drive. If this is true, extending the drive is quite simple. You can complete the change with the normal Windows functions. Check additional drives or partitions for expansion possibilities in other directions.
Unfortunately, the 2019 version still fails to give users the ability to move the unallocated space on the drive. A drastic solution is to delete D drive altogether to give C drive more space. This is, understandably, a poor method of disk space management.
A simpler solution to provide on-going help with the problem of not being able to extend the partition manually is available. You can try a partition manage tool to resize your disk partitions easily. IM-Magic Partition Resizer takes control of the problem and allows the user to re-partition in various ways. This program gets around the problem of no adjacent space available on the alternate drives on your machine.
Once you download and install the program, open it up and get ready to manage all your drives with ease. Each drive is shown clearly with unallocated space amounts and positions next to other drives. A few simple clicks allow you to change the size allocations, remove drives entirely, merge or split partitions, and create more free space from the overall amount available.

[Guide] Steps to extend volume without data loss
This step by step guide will show you the right way to extend any volume using  IM-Magic Partition Resizer.
Step-1 download install, and launch the program.
Step-2 Right click the large volume to produce unallocated free space.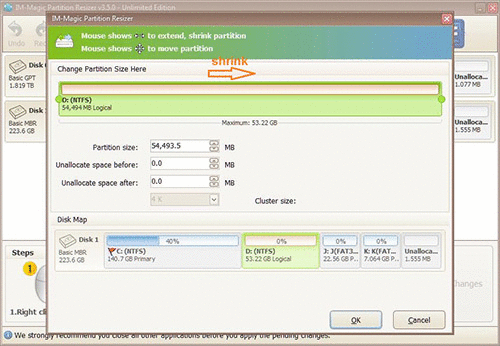 Steps to resize your partition when you can not extend volume
Step-3  Then right click c and drag the border to acquire the free space.
Steps to resize your partition when you can not extend volume
Step-4 Apply the changes.
A free trial is available at https://www.resize-c.com/server/ so you can check out many of the powerful features. With multiple Windows server type compatibility and a highly user-friendly interface, the IM-Magic Partition Resizer can transform your experience with disk management.
Also read: how to increase c drive on server 2019