Summary
This article will show you how to increase hard disk in vmware virtual machine when your vmware virtual machine in low disk space.
Table of Contents
Vsphere increase disk size greyed out
VMware is a very popular cloud-based operating system that lets you run multiple virtual machines from a single computer(physical). It's like an interface between hardware and various operating systems and enables you to partition a single physical server into multiple virtual ones. It's available to most of the OS such as Windows, Linux, Solaris & Netware. Like other physical servers, it also suffers the same problems. The most common and irritating problem is low disk space. When your machine will run out of disk space on your virtual machine, you will keep getting notifications. It's very annoying because you will get the low space notification every single time you turn on the machine. It also greatly affects your machine's performance & will make the speed slower. So the only solution here is to increase hard disk space in VMware virtual machine.
How to increase disk size on VMware Workstation
Before proceeding you need to follow below steps. These steps are very critical and without following them you won't be able to extend disk drive on VMware Workstation.
Step 1: VM should be powered off.
Step 2: If you have saved snapshots you can not expand the space so You will need to delete them first.
Step 3: If your VM is a linked clone, you can not increase disk space on VMware Workstation.
Step 4: find the VMware-vdiskmanager.exe.
Step 5: You need to locate the full path to the Windows Virtual Machine Disk(vmdk).
So let's get started. Now you can increase the disk space easily using the disk manager. Press Windows+Run to start the Run command. Now type cmd and press enter. Command prompt will start. Now paste the following command with specific parameters,
"Partition Name":/Program Files/VMware/vmware-vdiskmanager.exe" –x "actual virtual disk size that you want"GB "full path to the virtual machine's virtual disk"
Now you will see the VMware virtual disk size has been increased. Now if there is free space at the right side then you will be able to proceed. If there is no unallocated space at the right side of the desired space then you will be failed to add space. There is no way here to do it without losing data because now you have to delete any existing partition to increase unallocated space. It also should be at the specific place. To solve this problem I recommend you to use IM-Magic Partition Resizer. It's a freeware and if you are using Windows server then IM-Magic Partition Resizer is the best solution to increase hard disk space. It's completely safe and very easy to use. All your data will be safe and the risk of data loss is not there.
With this tool, you just need to click the " resize/move partition", and drag the cursor to resize the disk space.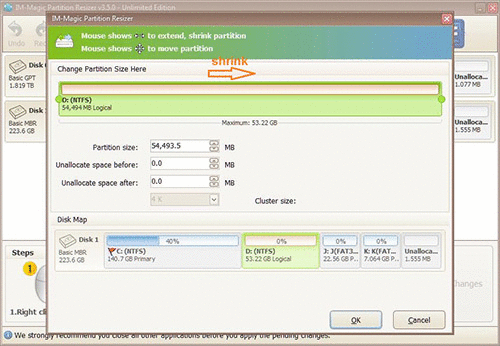 Steps to extend partition in vmware virtual machine