Table of Contents
Introductions
RAID means Redundant Array of Independent Disks. RAID has numerous advantages over the use of the traditional single hard drive. With RAID, you can be certain of having more data security, seamless backup process, and viable disk performance. However, just like every other disk type, RAID can also be exhausted, and you may be looking for how to store up more of your data. Also, you may have been how you could extend the volume of the RAID without having to format or reinstall your windows server. Anyway, do not fret. You can repartition your RAID volume with the IM-Magic Partition Resizer Server edition.
Reasons for Repartition of RAID Volume
There are a few reasons why you may want to resize your RAID volume. Top of those reasons is that you want more space of your future data storage and that you are currently out of volume and you need to create some spaces fast to accommodate your present pressing need for space. Sometimes, we may want to repartition our RAID volume in readiness for a future project we would be working on which require a whole lot of data. Also, our need for a repartition could be our current RAID volume is exhausted and we need to free up or create more space as soon as possible or risk losing the current data we are working on. The latter reason could indeed be more urgent than all other reasons for wanting to repartition. Whenever this need arises, it is known that most people have pushed into formatting or reinstalling their windows server in the attempt at repartition.
The Advantages of RAID Volume
The benefits of using a RAID volume abounds. Because RAID volume is interconnected disks merged to constitute a stronger unit, you can be sure of having a robust and smooth performance unlike when compared to the traditional hard drive. Also, RAID comes at a very low cost. You do not have to spend much to have a RAID volume, which is a very good thing when compared to its service worth. RAID also offers resiliency against crashes. With the traditional hard drive, whenever a crash happens, that could mean the entire loss of your data. However, RAID could help you keep your data through its mirror copy in the rare event that your RAID volume crashes.
How to Repartition RAID Volume for Windows Server 2008/2012/2016 r2 sbs with IM-Magic Software
Repartitioning your RAID volume should not be something you should worry about when you are using the best tool to do it. While there are so many software apps that could help you do that, only a few guarantees smooth operation. IM-Magic Resizer Server Edition will repartition RAID volume for windows server 2008/2012/2016 r2 sbs. Here are therefore the quick steps to follow to do it.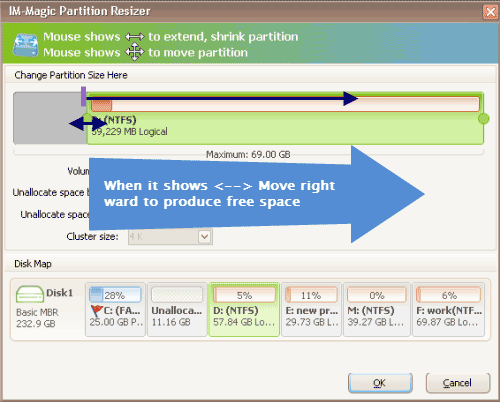 Resize partitions with IM-Magic Partition Resizer
After downloading the IM-Magic resizer software, run it. Pick the RAID volume that is close to the one you want to resize, then shrink it. Go to the volume you want to increase the size and ad the size you just shrank from the other volume. Then click on apply changes to make the changes repartition you just made effective.
[Guide] Steps to extend volume without data loss

This step by step guide will show you the right way to extend any volume using  IM-Magic Partition Resizer Unlimited edition.
Step-1  Download install, and launch the program.
Step-2 Right click the large volume to produce unallocated free space.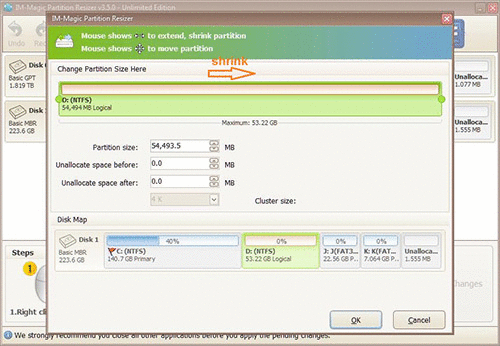 Steps to resize your disk partition
Step-3  Then right click c and drag the border to acquire the free space.

Steps to resize your disk partition
Step-4 Apply the changes.