Summary
This article will show you the best way to extend your C Drive on Windows server 2019. While doing so, it will explain the reasons why the Disk Management is unable to extend it.
Windows Server 2019 Extend Volume at Disk Management
Windows Server 2019 is among the most recent product in the line of servers developed by Microsoft. The storage capacity is structured in a way that it is partitioned into two: the C Drive and D Drive. The c drive volume stores the system's basic programmes. It is also the default space for new software that is installed in it. Software updates also go into the c drive. It carries the minimum storage capacity. Because of this, it is very easy to run out of space.
When this happens, the built-in Disk Management is designed to handle space allocation among partitions. But the Disk Management function may fail you sometimes.
Reason You are unable to Extend C- Drive.
Windows uses the shrink and extend volume option to move unallocated space from one drive to another. This option is available in the Disk Management menu of your server. But sometimes, the disk management option may not work. You may have followed the steps as required for this action, but still, find out that it's not working. The reason you are unable to extend the C Drive using the Disc Management menu on your Windows 2019 is majorly two:
1.The format is different. You may be attempting to combine unallocated space with drives that are of FAT32 format and not the NTFS version. This is likely to give you partition greyed out, which indirectly becomes useless.
2.The unallocated volume is not adjacent (on the right side) to the C Drive. The free space just is on the left side or not close to the volume that is receiving the free space.
How to Extend C-Drive When "Extend Volume Function Doesn't Work.
The best way to resolve this issue is by installing a third party partition kit. Now, it is very important that you take your time in choosing the right kit that will do the job. This is because there are many software programmes around that will claim to do your job for you. One will need to be very careful because not all of them can be guaranteed to be fast, safe, secure and user-friendly. The complexities behind this, such as different file extensions, the size of the RAM and storage, can make it difficult and almost impossible to get a guaranteed result. The result of this is that your data files can get lost or damaged in the process. That is why some of them request that you back up your data before going ahead. Although this is an excellent idea, having to backup takes time and resources. But with IM Magic Partition Resizer, Server Edition, you are guaranteed the best performance in the market.
IM Magic Partition Resizer is a free partition software that is guaranteed to give you top-level performance without loss of data. It is quicker, faster, more efficient and user-friendly. You can download IM Magic Partition Resizer, Server Edition from this link.

How to Extend Partitions with IM Magic Partition Resizer Server Edition.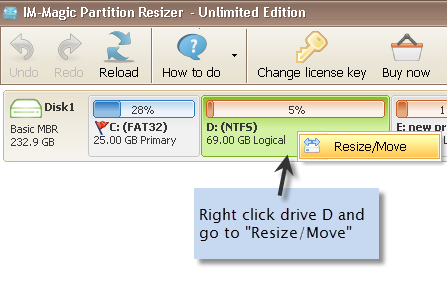 Extend Partition with Partition manager
[Guide] Steps to extend volume without data loss

This step by step guide will show you the right way to extend any volume using  IM-Magic Partition Resizer Unlimited edition.
Step-1  Download install, and launch the program.
Step-2 Right click the large volume to produce unallocated free space.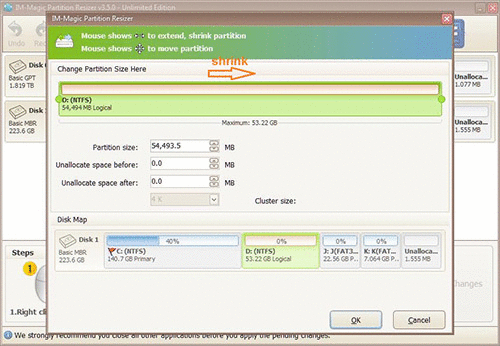 Steps to resize your disk partition
Step-3  Then right click c and drag the border to acquire the free space.

Steps to resize your disk partition
Step-4 Apply the changes.
IM-Magic is compatible with all Windows Server. And it is easy to use.