IM-Magic Partition Resizer Free
Resize System C Drive without losing data -Redistribute disk space for free
Extend any partition without data loss? Download IM-Magic Partition Resizer Free, the free partition magic software to help expand, move, shrink, and merge partitions without destroying the data. It only requires a few clicks from you to command the program move the fences to rearrange the disk partition territory and keep your files untouched.
100% of successful resizing! Portable Edition is supported in Resizer Pro.
Download Freeware

If you need to resize Windows Server partition, IM-Magic Partition Resizer Server works on All Windows Server OS including Server 2003/2008/2012 SBS etc.
Extend C System Drive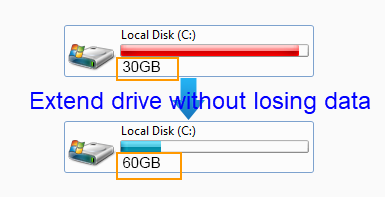 C drive running out of space? IM-Magic Partition Resizer Free helps to increase the boot volume to save your system from reformatting disk, reinstalling operating system, moving data to other places. Resizing the system partition would be an easy job to perform even for tech naives. You may download this freeware to redistribute free space from other volume to system volume and get c drive increased.
100% of Safety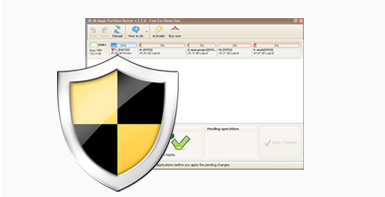 With unique safety power, this program will never hurt your data nor partition and provides a 100% of safety for the whole repartitioning even when your computer was shut down accidentally during the resizing.
Shrink/Extend Partition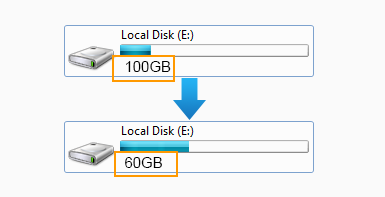 Shrinking/Extending disk volume size without losing data is possible with IM-Magic Partition Resizer Free. You may decrease a large volume which holds too much free space without formatting it. And redistribute the free space to extend other partitions with data untouched.
Redistribute Disk Free Space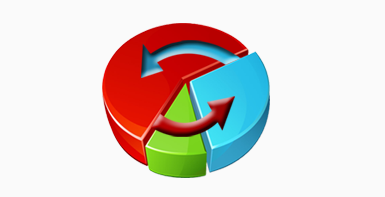 When your disk partitions are either running out of space or with a lot free space, you may use this freeware to re-arrange the fences for better computer performance.
Merge Partitions
By merging partitions, you may want to merge at least two volumes into one. IM-Magic Partition Resizer lets you do this merging partitions a safe way, by shrinking, moving and redistributing the free space.
Useful Partition Operations
IM-Magic Partition Resizer provides other partition management functions besides resizing partitions like format partition, delete volumes, copy partition, create partition, erase partition to keep old data away from being recovered.
Copyright © 2014 IM-Magic Inc. All rights reserved. Windows® is trademark of Microsoft Inc., and Partition Magic® is trademark of Symantec Inc registered in the U.S. and other countries . IM-Magic's software is not developed by or affiliated with Microsoft nor Symantec Inc.