Summary
Cannot extend the c drive on Windows server 2012? Have no unallocated space in the Windows server 2012? You can extend c drive in Windows server with the partition manage tool.
Cannot extend C drive on Windows Server 2012
Windows Server 2012 is very handy and useful, and the good thing about it is that you can adjust and adapt it to your own needs if you want to. Another thing to keep in mind is that some people cannot extend volume Windows Server 2012, which can be a problem if you lack space on any of the volumes. But there are always some ways to deal with this, it all comes down to making the right pick and the outcome can shine in that perspective.
Extend system drive with the system partition manage solution
If you can't extend C drive Windows Server 2012 R2 or the regular version, you can still try to opt for the old school method naturally. Here you will have to go to the administrative tools at first. Then you have to enter Computer Management. You will reach the control and here you have to right click and select Manage on My Computer.
Here you will find the old disk manager and the good thing is that here you can add space to the drive naturally. The problem that comes from this is you can sometimes deal with problems and you have to avoid those as much as you can. It's crucial to adjust and adapt everything to suit your needs and the return on investment will be great. But as you can imagine, you might not be able to extend the Windows Server 2012 volume so easily. There are always some issues that can pop up, as the regular method of doing this is pretty limited and you don't have that much control over it. While it can still work pretty well, adapting and adjusting this stuff is what really matters the most.
Extend c drive space with effective partition manage tool
When you cannot extend volume Windows Server 2012, you need to do whatever you can to figure out a solution. The IM-Magic Partition Resizer Server Edition application is particularly created to handle any situation like this with a professional approach. The results you can get from something like this are second to none, and the good thing is that this app can extend your server volume for just about any Windows Server version, which is exactly what you need.
How does it work?
The first thing you want to do is to install and open the IM-Magic Partition Resizer Server Edition application
Select the volume that you want to extend, right click it and choose "resize/move partition" option.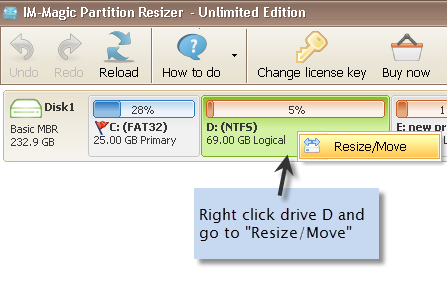 Steps to resize c drive space in Windows server
Drag the mouse to resize the partition.
Steps to resize c drive space in Windows server
Press "Apply changes" and it is finished.
IM-Magic Partition Resizer Server Edition is the ultimate solution for people that can't extend Windows Server 2012 volumes. The application works great even for the later versions and it delivers all the features and value you want in a rather comprehensive package. You should always consider using the best professional tools to acquire great results, and IM-Magic Partition Resizer Server Edition will be able to help you with this. You can obtain professional results and a great experience no matter the situation, just check it out!