Summary
If you find the extend volume greyed out on your Windows server 2012 r2, you can find best solutions in this article to extend C drive.
Table of Contents
Introduction
Windows has made it possible for Windows server 2012 users to be able to shrink and extend volume via Disk management. Although you may have noticed in most cases that the "Extend Volume" option in disk management that appears when you are trying to extend a partition shows greyed out.
That said, your volume greys out basically for two major reasons.
1.Either because there is no allocated space on that hard disk. Which could mean that it is corrupted, or
2.Or that the free space is not in the proximity to the partition that requires expansion.
It is not a common occurrence, but when it does happen can be disturbing. We are going to show you how to extend volume using the Disk Management and also introduce you to a new third-party tool, IM-Magic, that is very reliable and guaranteed to do the job without errors.
Detailed steps -> How to enable extend volume greyed out server 2012
How to extend volume via disk management
To achieve this, you will need to have an external storage device or cloud storage that is large enough to take all your data in a particular drive.
Step One: You can start by opening disk management by right-clicking on the windows icon, and selecting disk management, or search for it on the desktop among the applications.
How to extend volume via disk management
Step Two: Once you are able to identify the drive that needs expanding (c-drive for example), go to the partition with the excess space of which you want to add the space to the c-drive. Then move every data that's in this partition to the external storage.
Step Three: Once the data have been moved and the drive is empty, right-click on it and choose "delete volume". A dialog box will appear, follow the instructions as it is stated until it is deleted. It is important that you delete this volume during this process.
Step Four: With the same method as step three but choosing the extend volume instead. But this time on the c-drive, you will also need to write the amount of space that you wish to move (in bytes).
Note you can also use this step if you wish to expand multiple drives.
How to extend volume using 100% free server partition software
IM-Magic gives you the opportunity to shrink, extend and reallocate free space on your server. It is a free software to download via the site www.resize-c.com. The ability to move, shrink or expand partition makes it possible for you to extend volume greyed out on server 2012 R2. But for you to be able to use this software, there are some that must be in place to achieve the right result.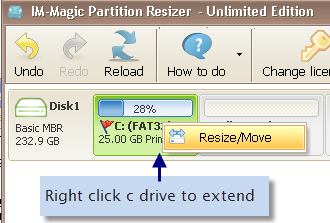 Extend volume using IM-Magic Partition Resizer server
1.Ensure that there is an already existing partition in the disk management menu that has an unallocated volume in it. As it is not possible to extend a partition if there is no free space on either drive of the same hard disk. It is the main feature for this server.
2.Also, check for adequate free space on any other drive on the same hard disk. That is if you don't have any current unallocated volume.
If there is no unallocated space on the disk, you can also shrink another partition besides it and spare some free space first, then extend partition. Follow the steps to extend your partitions.
[Guide] Steps to extend volume without data loss
This step by step guide will show you the right way to extend any volume using  IM-Magic Partition Resizer Unlimited edition.
Step-1  Download install, and launch the program.
Step-2 Right click the large volume to produce unallocated free space.

Steps to resize your disk partition
Step-3  Then right click c and drag the border to acquire the free space.

Steps to resize your disk partition
Step-4 Apply the changes.

Windows 10/8/7 fix -> Extend volume greyed out Windows 10 fix with freeware