Summary
Unable to extend the C drive on Windows server 2012? If the extend volume option grayed out when you want to extend your partition at Disk Management, you will need this wonderful tool.
I cannot extend C drive in Windows server 2012
A lot of people that use Server 2012 know that it can be hard to extend C drive grayed out. In fact, it's impossible to extend the drive once you see it grayed out. It makes a lot of sense as you adapt and adjust everything to suit your needs, and in the end that can be more than ok. It's an adjustable approach and one that does tend to pay off in the end if you do it properly.
Quick jump: 3 ways to enable extend volume greyed out in Windows Server
Ideally you want to take your time as you adjust all of this the right way. People know that it can take a little while for you to find a good partition managemnet tool that can help when you cannot extend C drive. But with a little bit of time and effort put into this, results can be super enticing and interesting to begin with.
[Guide] Steps to extend volume without data loss for Windows Server 2012
This step by step guide will show you the right way to extend any volume using  IM-Magic Partition Resizer Unlimited edition.
Step-1  Download install, and launch the program.
Step-2 Right click the large volume to produce unallocated free space.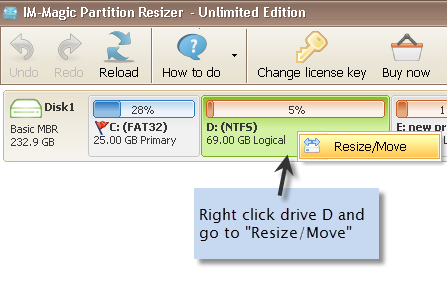 'Resize/Move' large partition to start shrinking large volumes

Steps to resize your disk partition
Step-3  Then right click c and drag the border to acquire the free space.

Steps to resize your disk partition
Step-4 Apply the changes.

Video - how to expand server partition without losing data
More functions and tutorials are available on https://www.resize-c.com/video/
What can you do when you are unable to extend C drive Server 2012?
At first, you will want to use Disk Manager. It's a simple tool that may be able to help. Most of the time that will obviously be a problem, which is why you want to give it a shot at the very least. It's always a good idea to adjust and adapt all these things if they work to your own needs. But that doesn't mean it will be the same great benefit all the time. Once you do that, nothing will stand in your way and results can definitely be more than amazing every time.
It's important to understand the reason why you cannot extend C drive. That will differ from one situation to the next. As long as you push the boundaries and work hard to achieve your goals, nothing will stand in your way. Remember that professionalism and quality are everything here, and you really have to give them a shot if you want a great experience to begin with.
How can IM-Magic Partition Resizer Server Edition help?
What IM-Magic Partition Resizer Server Edition does is it allows you to extend C drive grayed out. All you need to do is to start using this tool and choose the partition that you want to extend. In this case it will be the C drive. You have to choose the amount of extra space that you want to take from other drives, or you can use unallocated space if you want, that's good too, shrink volume and extend c drive. In the end IM-Magic Partition Resizer Server Edition can offer you astonishing results just because the process just takes a few seconds.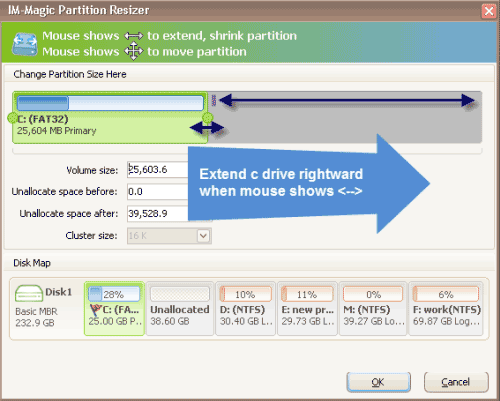 Resize partitions with IM-Magic Partition Resizer
And the good thing is that IM-Magic Partition Resizer Server Edition doesn't require you to format the drive or even restart anything. You can continue working with a larger server size right away. That alone shows the true professionalism that you can get here, and results will be extremely impressive every time. Try it out today and see how much IM-Magic Partition Resizer Server Edition can help you!